2023 College Baseball Showdown
How To Watch College Baseball Showdown 2023 On FloBaseball
How To Watch College Baseball Showdown 2023 On FloBaseball
The College Baseball Showdown is streaming on FloBaseball. Here's what to know about the event featuring five ranked teams, including Vanderbilt Baseball.
Feb 13, 2023
by Joe Harrington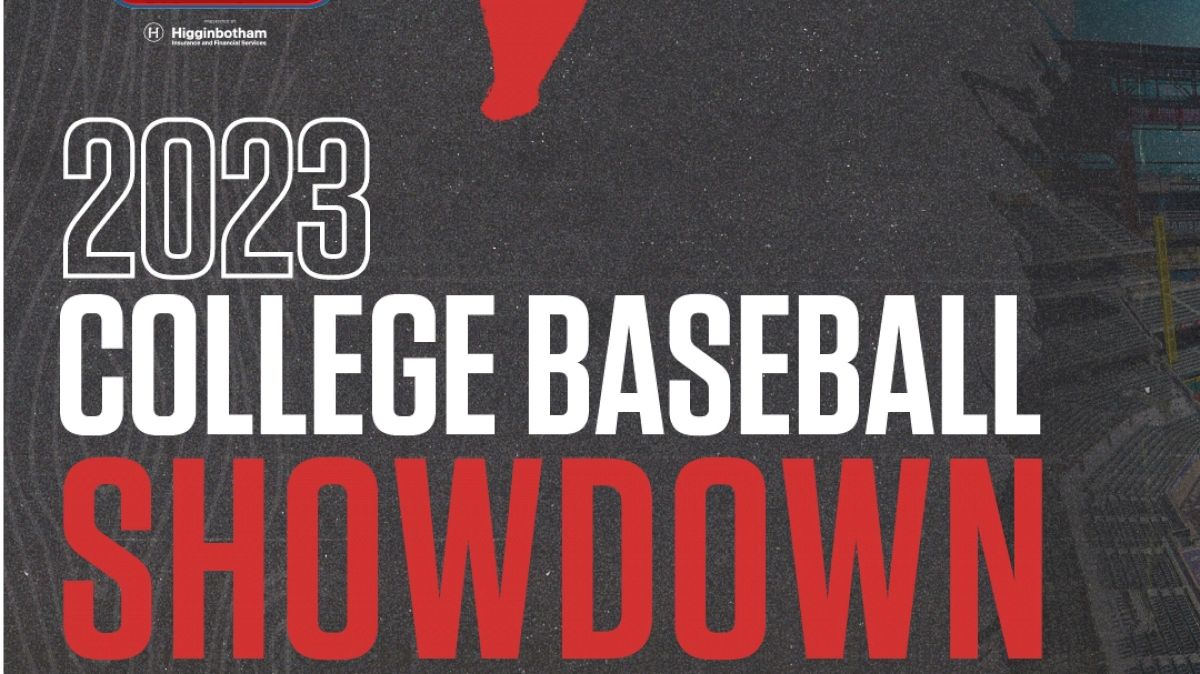 The College Baseball Showdown marks the start of the 2023 NCAA Baseball season for five preseason-ranked teams with College World Series expectations.
The event, entering its third year, is held annually at Globe Life Field in Arlington, Texas, and begins Feb. 17 and ends on Feb. 19. The College Baseball Showdown features three teams from the Big 12 and three teams from the SEC.
Globe Life Field will host three programs that played in the inaugural College Baseball Showdown (Texas, TCU and Arkansas) while three more programs, Vanderbilt, Missouri and Oklahoma State will make their debut at the event.
College baseball teams from across the country begin their seasons on Friday, Feb. 17, the first day of the college baseball season. While there are other preseason events beginning that day, like Snowbird Baseball 2023, the College Baseball Showdown is the only one that features five preseason ranked teams, including several ranked in the top 10 (depending on the poll you're following).
Here's what to know.
College Baseball Preseason Rankings Roundup
What's Coming To FloBaseball In February? A List Of Top Games To Watch
College Baseball Showdown 2023 Schedule
What Channel Is The College Baseball Showdown On?
It's not on a regular TV channel. The College Baseball Showdown is only available to stream on FloBaseball or on the FloSports App.
How To Stream The College Baseball Showdown On FloBaseball
Stream or cast the College Baseball Showdown from your desktop, mobile phone or TV. The FloSports App is available on Roku, Fire TV, Chromecast and Apple TV.
The FloSports app is also available on iOS or Android.
Subscribe To FloBaseball To Watch The College Baseball Showdown
There are several price options and subscriptions available for FloSports and FloBaseball.
A PRO subscription unlocks:
Live events
Event replays
Event results
Breaking news
Limited ads on PRO videos
A subscription allows up to 12 streams on one or many devices connected to the same wifi.
Top MLB Prospects In The 2023 College Baseball Showdown
Texas Looks To Carry Momentum From Last Season's Late Surge Into 2023
Led By Elite Pitching, Arkansas Hopes For A Return To Omaha In 2023
Who Is Playing In The College Baseball Showdown 2023
The three Big 12 teams are:
The three SEC teams are:
Oklahoma State Baseball Brings College World Series Potential Into 2023
Brayden Taylor, TCU Baseball Eye Another College World Series
Vanderbilt Baseball Begins Season At 2023 College Baseball Showdown
College Baseball Showdown 2023 Schedule
Feb. 17 College Baseball Showdown Day 1 Schedule:
12 p.m. ET: Missouri vs. Oklahoma State
4 p.m. ET: Vanderbilt vs. TCU
8 p.m. ET: Arkansas vs. Texas
Feb. 18 College Baseball Showdown Day 2 Schedule:
12 p.m. ET: Oklahoma State vs. Vanderbilt
4 p.m. ET: Texas vs. Missouri
8 p.m. ET: TCU vs. Arkansas
Feb. 19 College Baseball Showdown Day 3 Schedule:
11:30 a.m. ET: Vanderbilt vs. Texas
3:30 p.m. ET: Arkansas vs. Oklahoma State
7:30 p.m. ET: Missouri vs. TCU
Vanderbilt All-American Enrique Bradfield Jr. "Hungry" For More In 2023
Josh Holliday, Oklahoma State Baseball Look For First CWS Since 2016