2023 College Baseball Showdown
Oklahoma State Baseball Brings College World Series Potential Into 2023
Oklahoma State Baseball Brings College World Series Potential Into 2023
A blend of talented newcomers join established veterans for an Oklahoma State baseball roster built to contend for the College World Series.
Feb 8, 2023
by Kyle Kensing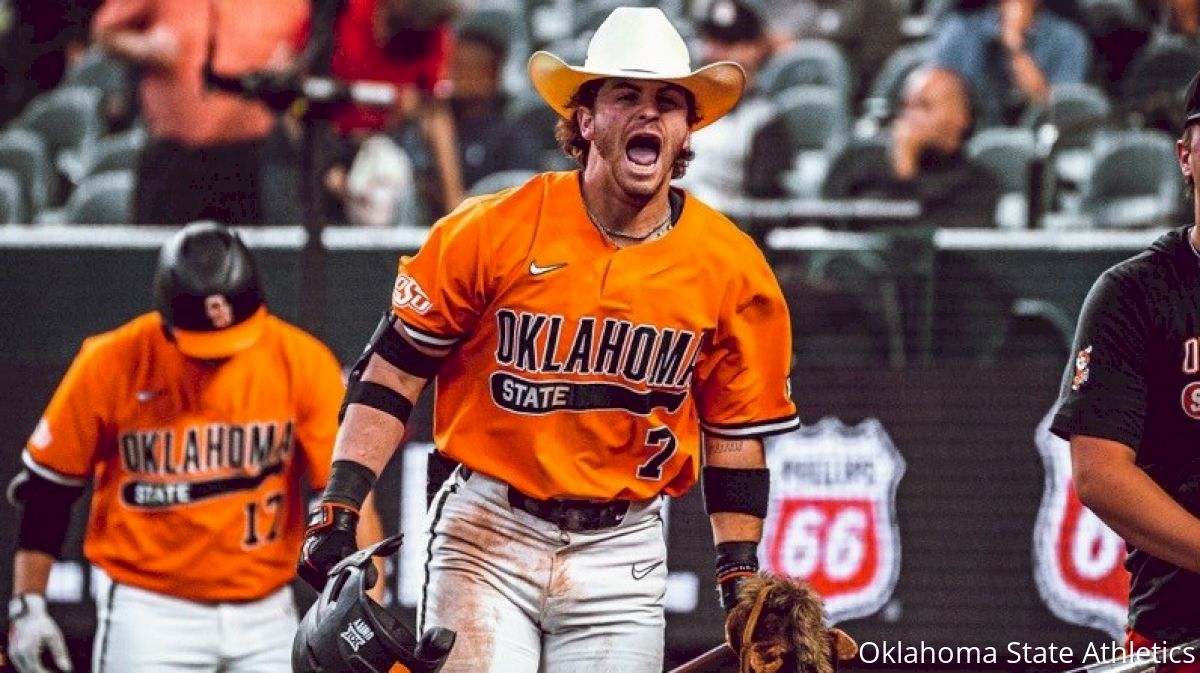 A roster loaded with Major League potential, a challenging schedule and experience combine to give the Oklahoma State Cowboys pieces necessary for a College World Series run in 2023.
Oklahoma State embarks on a new campaign after last year's 44-win finish ranked No. 12 in the Collegiate Baseball, No. 14 by the NCBWA, and No. 9 by the D1Baseball.com preseason polls.
Expectations are indeed high for Oklahoma State baseball, and why isn't exactly a mystery. While the Cowboys replace some standouts — including 1st Team All-American pitcher Justin Campbell and All-Big 12 Conference honorees Griffin Doersching, Roman Phansalkar and Jake Thompson — a blend of established veterans and promising newcomers combine to form one of the most promising lineups in the country.
"It'll be different," Cowboys coach Josh Holliday said at Oklahoma State's media day on Feb. 6. But there is certainly lots to like and certainly [be] optimistic about everybody's ability to be really good in their own way."
Oklahoma State welcomes back standout pitcher Nolan McLean, dynamic second baseman Roc Riggio and shortshop Marcus Brown on the interior of the infield, and brings in one of the 2023 draft class's leading prospects, pitcher Juaron Watts-Brown, as the nucleus of a team with Omaha potential.
"We've just got to capitalize on the time spent together and all the work we've put in throughout the offseason and what we did away from the field," pitcher Ryan Bogusz said. "Really get behind each other and show what we have."
Some of what Oklahoma State has this season is offensive firepower. The Cowboys ranked in the top 20 nationally for total runs scored a season ago with 492. A portion of those were the results of the Cowboys combining for 93 home runs.
McLean set the pace last year with 19 round-trippers, enough to tie for 39th-most among all Div. I hitters. McLean's unique blend of pop at the plate and stuff on the mound, having struck out 39 batters in 25-and-a-third appearances a season ago, makes McLean one of the most intriguing players in all of college baseball.
"I didn't pitch much at all in high school," McLean said at OSU media day. "Obviously, I've always had a pretty strong arm but being able to develop my pitching side of things as well as my hitting side of things has been a lot of fun to see what I'm capable of on the mound."
McLean's likely uptick in pitching responsibilities this season adds him to a rotation with Bogusz, who finished last season with a 3.86 ERA in 54 2/3 innings, and the newcomer Watts-Brown.
Watts-Brown earned Freshman All-American honors last season at Long Beach State to put the final bow on a stellar season. He was the NCBWA National Pitcher of the Month for May, set a Long Beach State program record for strikeouts per nine innings with 13.6, and threw a complete game no-hitter.
RELATED: College Baseball Showdown Has "Omaha Type Feel"
The Cowboys pitching staff can expect plenty of support from the Cowboys defense, including the tandem of Riggio and Brown at second base and shortstop.
"Playing with him up the middle, we've kind of formed a relationship that to me is pretty special," Brown said of playing with Riggio. "Roc has kind of allowed me to come out of my shell a little bit as a baseball player."
Riggio has all the makings of a star, both with his spectacular play and engaging demeanor. He commanded the national spotlight during Oklahoma State's NCAA Tournament run in 2022, extending a hitting streak that began at the end of the regular season with hits in each of the Cowboys' five postseason outings.
Riggio delivered with multiple hits in each of the last four, including a 5-of-7 showing at the plate against Missouri State and a five-RBI effort in a 4-of-5 showing against Arkansas.
The Razorbacks ousted Oklahoma State from the postseason despite Riggio's heroics, as the two teams played three fiercely competitive games. Arkansas won two.
The Cowboys need not wait for the 2023 NCAA Tournament to get another shot at Arkansas. The Razorbacks are part of the stacked field converging on Globe Life Field for the 2023 College Baseball Showdown.
Oklahoma State concludes its three days at the Texas Rangers ballpark facing Arkansas, a day after taking on perennial College World Series contender Vanderbilt. Missouri kicks off the Cowboys' time in Arlington on Feb. 17.
"That's kind of top-tier baseball," Bogusz said. "You dream of playing in a big stadium in a big showdown, you think you are just ready for it. We just want to get on the field and compete with our brothers."