2023 College Baseball Showdown
Vanderbilt All-American Enrique Bradfield Jr. "Hungry" For More In 2023
Vanderbilt All-American Enrique Bradfield Jr. "Hungry" For More In 2023
Vanderbilt outfielder Enrique Bradfield Jr. is a five-tool player and college baseball's biggest star, but he craves more heading into his third season.
Jan 30, 2023
by Kyle Kensing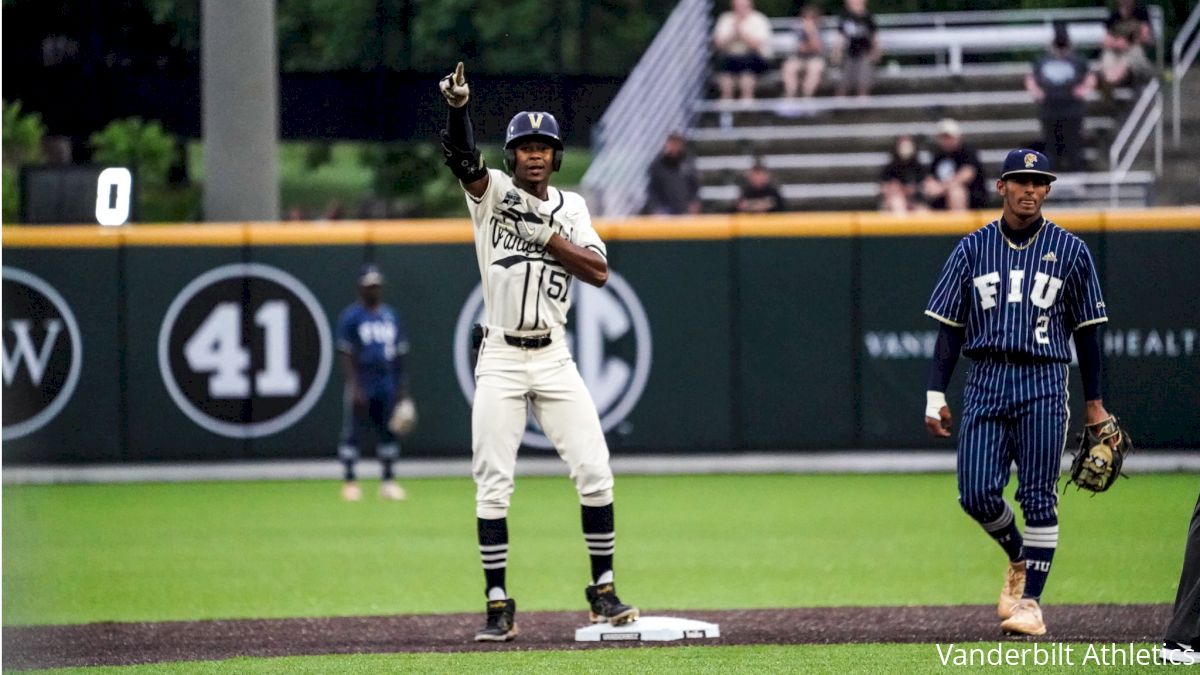 The list of accomplishments racked up through Enrique Bradfield Jr.'s first two seasons at Vanderbilt is downright cartoonish in length: SEC Freshman of the Year, two-time All-SEC, All-Defensive SEC, two-time All-American. Heading into his junior campaign with the Commodores, Bradfield will strive for more.
Vanderbilt coach Tim Corbin says that's just the outfielder's nature, on the diamond and off of it.
"He's a hungry kid," Corbin said at Vandy's preseason media availability on Jan. 27. "He's very competitive in everything he does: He's a Dean's List student, he operates well socially, operates well here. He just has a high care level for what he's doing."
Multifaceted is one way to describe the byproduct of Bradfield's hunger. It certainly applies to his production on the field.
Bradfield excels at reaching base, batting .336 and .317 in his first two collegiate campaigns. Coupled with the 86 total walks he's drawn in his Vanderbilt career, Bradfield boasts an on-base percentage of .433 combined over the past two seasons.
Once on-base, no one is a greater running threat. He stole 47 bases as a freshman, then nearly matched that with 46 as a sophomore — and more importantly, was not caught stealing once for the entire 2022 season. For context into just how staggering a statistic that is, consider the next-most base-stealer in Div. I baseball to go without being caught for the year swiped 18 total bases.
And while Bradfield's base-running remained just as dangerous from Year 1 to Year 2, he demonstrated more power at the plate with eight home runs in '22 — seven more than the year prior.
"I'm always working. Every day is a new progress, new challenge," Bradfield told reporters, adding that he expects his greatest strides are, "Probably my arm strength and defense. That's one thing I can point out."
Progressing defensively after having already earned All-Defensive Team recognition in the Southeastern Conference a season ago has to be an intimidating prospect for opposing offenses.
Credit the work Bradfield put in over the summer.
Bradfield played for USA Baseball's Collegiate National Team and the Cape Cod League's Cotuit Kettleers. He drove in three runs, scored four and stole two bases in seven games with the National Team, and finished with a .348 on-base percentage and four steals in 11 games at the Cape Cod League.
"I wanted to expand my profile and do things I hadn't done before," he said of the summer. "I hadn't been part of a USA team, and I hadn't stepped foot in the Cape. Crossing those two things off my list was something important to me, so I just went ahead and did it."
Consider those hungers fed. Now, with the 2023 college baseball season approaching, Bradfield and his Vanderbilt teammates have another craving to satiate: Leaving Omaha as national champions.
Bradfield's standout freshman campaign played a key part in Vanderbilt reaching its third College World Series final since 2014 and second straight. The Commodores took the first game from SEC counterpart Mississippi State but dropped the next two. Last season, Vanderbilt's NCAA Tournament ended prematurely in a 7-6 heartbreaker against Oregon State in the elimination game at the Corvallis Regional.
"You step foot on this campus, you have one goal in mind," Bradfield said of winning a national title. "I've been here two years and haven't accomplished that goal so I'm looking to get it done."
Of course, Bradfield's multifaceted game plays a vital role in Vanderbilt's pursuit of another CWS championship. But when it comes to his ever-expanding impact, another part the junior outfielder will fill in 2023 is that of teacher.
Corbin praised Bradfield as taking on the task of a sort of coach on the field, imparting on a roster featuring 12 freshmen the knowledge he's gained in two years playing at college baseball's highest level.
Bradfield can't teach his hunger, but if the newcomers approach even a fraction of the desire Bradfield shows, the Commodores' path to Omaha becomes considerably more clear.