2023 College Baseball Showdown
Led By Elite Pitching, Arkansas Hopes For A Return To Omaha In 2023
Led By Elite Pitching, Arkansas Hopes For A Return To Omaha In 2023
Arkansas head coach Dave Van Horn indicated last month that his pitching staff for this season might be the best to ever apply its trade in Fayetteville.
Feb 4, 2023
by Briar Napier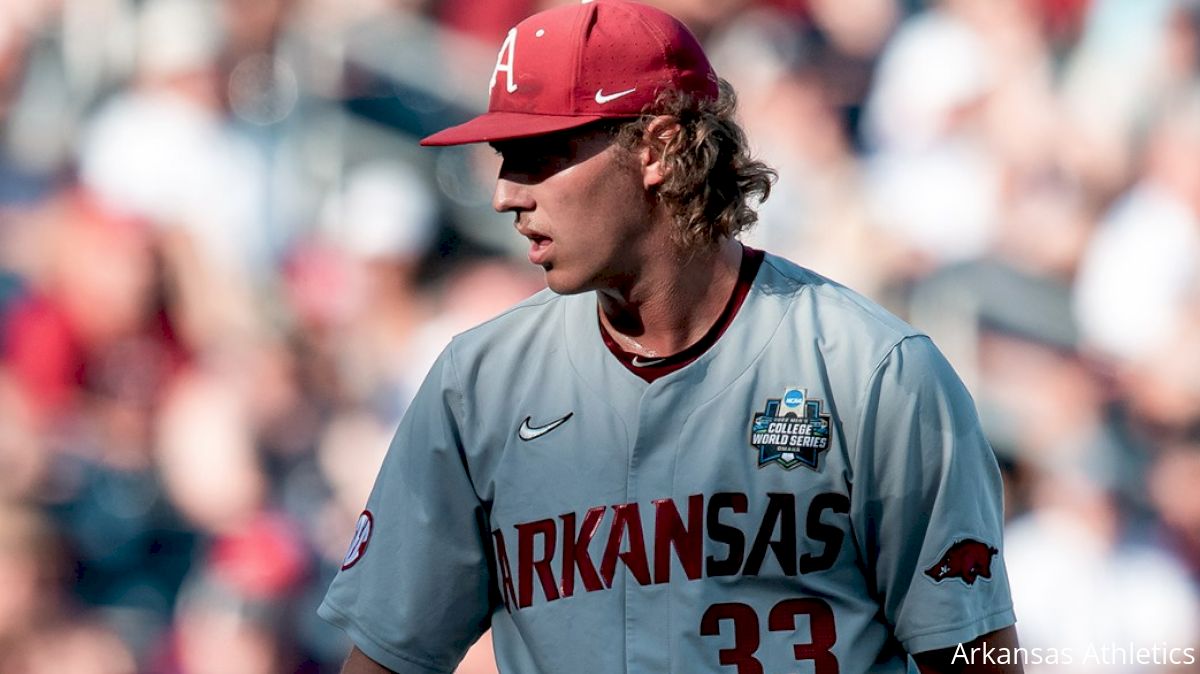 Since Dave Van Horn became the head coach of Arkansas baseball 20 years ago, he's helped take the Razorbacks to near-unprecedented heights in the sport.
So, for him to indicate last month that his pitching staff for the upcoming season might be the best to ever apply its trade in Fayetteville, that's saying something.
"Right now, it's the best I've ever had," Van Horn said when asked about the rotation's depth in a January press conference previewing the season. "Is that honest enough for you?"
Van Horn's statement has plenty of merit, though, and that staff could be the engine behind yet another Hogs trip to Omaha later this year.
Arkansas enters 2023 ranked in the top 10 in five of the six major national preseason polls. The Razorbacks were ranked as high as No. 4 by Perfect Game and a low of No. 11 by Baseball America).
Arkansas, the nation's only team with at least 45 wins in each of the past five full seasons, looks to reach the College World Series mountaintop again for the fourth time since 2018 on the backs of a loaded set of returners and the nation's top-ranked incoming freshman class, per Perfect Game and Baseball America.
The Hogs made the CWS for the 11th time in program history a year ago but were eliminated in the semifinals by Southeastern Conference rival and eventual national champion, Ole Miss.
Proud to be an Arkansas Razorback pic.twitter.com/tVIgaCyrW6

— Arkansas Baseball (@RazorbackBSB) June 23, 2022
With both another year in the always-loaded SEC and a wicked start to the nonconference campaign on the horizon - and the personnel on-hand to take that competition head on - Arkansas, like Van Horn's declaration of its pitching staff, could have its best team ever assembled.
If that's indeed true, a national championship, which despite two runner-up finishes, has eluded the Razorbacks, very much is in the cards.
"It's exciting to be back," Van Horn said. "I mean, the SEC (is) unbelievable this year. It's old, and you have four or five teams in our division that are ranked way up there and are very experienced, whether they played on that team last year or not. So, it's going to be an exciting year.
"This year's nonconference ... some of these guys coming in here, nonconference on the road the first weekend. I know (the first weekend is) neutral-site games, but you win those games, it's really going to help your RPI down the road when they start beating people."
When breaking down the Hogs, it's only right to start with the unit that's gotten so much acclaim as one of the SEC's best, both from this past year and extending into the upcoming one - the rotation.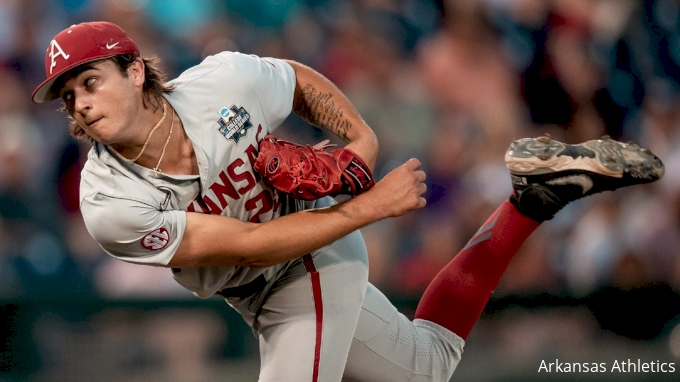 There are a lot of weapons, including many hurlers who came back to the fray after logging a school-record 674 strikeouts as a whole last year.
Van Horn stopped short of officially naming an opening-weekend trio of starters in his press conference, but when a reporter mentioned sophomore left-hander Hagen Smith, redshirt junior right-hander Will McEntire and junior right-hander Jaxon Wiggins in a question regarding the pitchers, Van Horn said that if those three were chosen to be the Hogs' weekend starters, he'd be "great with it."
There's good reason for that.
Smith was a nominee for the SEC All-Freshman team a year ago after he had the look of a seasoned veteran in his first college season, going 7-2 with a 4.66 ERA and 90 strikeouts in 77 1/3 innings.
Wiggins, a 6-foot-6 tower in the circle, went 6-3 and struck out 82 batters in 66 innings.
McEntire was highly praised by Van Horn for a strong NCAA Tournament (including a seven-inning, one-run gem in the CWS against Auburn) and could see his role increase after just 12 appearances in 2022.
Throw Freshman All-American Brady Tygart and his skillset (along with many other names) out of the Hogs bullpen into the mix - the Mississippi native had eight saves last year - and Arkansas' powerful prowess on the mound is bound to win it a lot of games.
Surprise surprise 🥱 https://t.co/cLxUJwf5uN

— Michael Turner (@MBTurner5) January 10, 2023
"Our pitching is extremely, extremely deep," sophomore infielder Peyton Stovall said. "We're going to have options to choose from ... It's going to be tough for other batters and teams, so I'm looking forward to those guys pitching this year for us, and we also have a lot of new guys, too."
Whereas the Hogs' rotation seems closer to a sure thing, their infield is more of a question mark to start the year. Some of that can be attributed to the fact that Arkansas lost Gold Glove-winning second baseman Robert Moore, reliable third baseman Cayden Wallace and starting shortstop Jalen Battles to the pro game, all of whom were selected in the 2022 MLB Draft.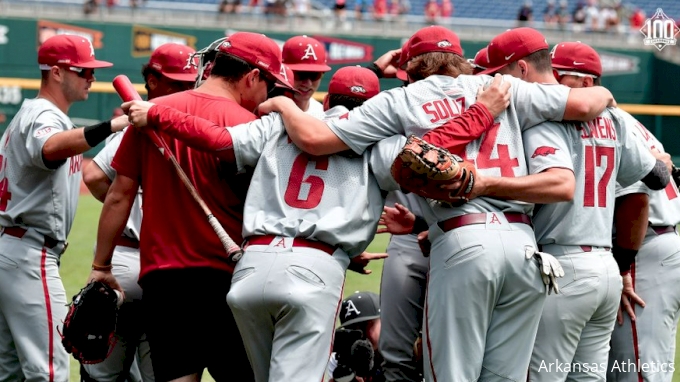 Van Horn is going to let several candidates "battle it out" for the open slot at third, he said, but second base seems to be a natural fit for Stovall, as he played there in high school, before making 48 starts at first during his true freshman campaign.
Austin Peay grad transfer John Bolton and JUCO addition Harold Coll, on the other hand, should be vying for the shortstop gig.
The outfield also should see some new faces after several departures, including Creighton grad transfer Jared Wegner (an All-BIG EAST first-team pick with the Bluejays last year) and Kansas transfer Tavian Josenberger, one of the Big 12 Conference's top Draft prospects over the past few seasons, who tallied a program-record 24-game hitting streak his freshman season.
Junior Jace Bohrofen also should make a difference after 24 starts, mostly in left field, last year for the Hogs.
"We just lost a lot of our guys, veteran guys, so it's definitely going to be a challenge," Bohrofen said. "We have a lot of new faces around this locker room. They've all played college baseball, but the SEC is like a different type of conference. (We're) trying to think of ways of like how can we get our teammates ready to face this SEC competition and not get so sped up in the moment the first couple of weekends, so we can just get off to a hot start."
Though Arkansas' SEC slate won't begin until mid-March, other huge games are ahead for the Razorbacks - and there's a stage worthy of those massive matchups.
U of A will begin its 2023 season playing three games at the College Baseball Showdown, which is being held at Globe Life Field in Arlington, Texas, the home of the MLB's Texas Rangers, from Feb. 17-19.
There, the Razorbacks will face Texas, TCU and Oklahoma State.
Each of the Hogs' games (along with the rest of the three-day event) will be streamed live on FloBaseball, the exclusive broadcast partner for the tournament, and will see them play in a venue some on the roster very well may find themselves playing in full-time some day.
It'll be Arkansas' second trip to the event, after participating its inaugural iteration in 2021, but while the Razorbacks' previous jaunt over to Arlington came after the hijinks of the pandemic-canceled 2020 season, their 2023 trip comes following an extended groove.
Earned, not given 💍 pic.twitter.com/GjwaMpgGxG

— Arkansas Baseball (@RazorbackBSB) January 17, 2023
It also, importantly, may act as a preview to the types of teams the Razorbacks could see in Omaha, if they do end up returning again.
And, with the talent the Hogs have at their disposal, such a return - and more with it - is on their minds.
"It'll be fun," Van Horn said. "It's a really, really nice venue. The facility is second-to-none, and the big-leaguers feel that way. That gives you a little bit more of a feel like being in Nebraska. It's just a great setup, but more than anything, we know the weather is going to be nice when we step in there, no matter what it is outside. So, that's a really good feeling."