2023 College Baseball Showdown
Josh Holliday, Oklahoma State Baseball Look For First CWS Since 2016
Josh Holliday, Oklahoma State Baseball Look For First CWS Since 2016
Oklahoma State Baseball is coming off a 42-22 season that came to a crushing end when they lost twice to Arkansas, who advanced to the College World Series.
Feb 3, 2023
by Joe Harrington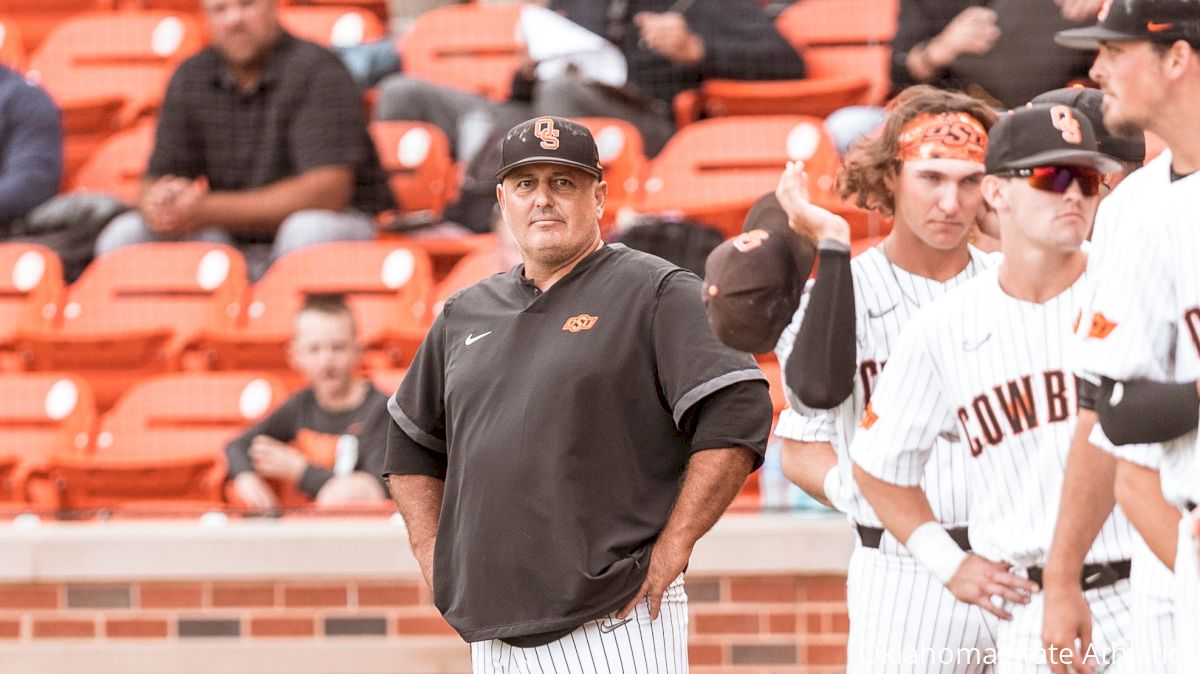 The Oklahoma State baseball team is a unanimously ranked top 25 squad entering the 2023 college baseball season, and the Cowboys will begin the season with a few tests.
OSU Baseball, picked to finish second in the Big 12, is coming off a 42-22 season and a 15-9 Big 12 season. The Cowboys in 2022, though, came to a crushing end when they failed to get out of the Stillwater Regional, losing twice to Arkansas, who advanced to the College World Series.
OSU doesn't have to wait long for the rematch with the Razorbacks.
OSU Baseball vs. Arkansas is the second game of the season for both teams as they play on the Saturday of the 2023 College Baseball Showdown.
It's a weekend of rematches for OSU. After playing Missouri, Oklahoma State plays Arkansas and then Vanderbilt, the team Oklahoma State opened the 2022 season in Nashville. OSU won the three-game series in 2022.
Here's what to know about the 2023 Oklahoma State Cowboys.
What's Coming To FloBaseball In February? A List Of Top Games To Watch
Brayden Taylor, TCU Baseball Eye Another College World Series
Vanderbilt All-American Enrique Bradfield Jr. "Hungry" For More In 2023
Is OSU Baseball In The 2023 College Baseball Rankings?
Yes. There are four major college baseball rankings, and the Cowboys are in all of them, including a top-10 ranking in the D1Baseball.com poll.
Here's where the Cowboys enter the season:
D1Baseball.com: No. 9
Collegiate Baseball: No. 12
Baseball America: No. 15
Perfect Game: No. 18
Has Oklahoma State Baseball Ever Won The College World Series?
Yes. But it's been a while.
The Cowboys haven't won the national championship since 1959 and returned to the CWS for the first time since 1999 in 2016. Oklahoma State has been the CWS runner-up five times, but not since 1990. At one point, the Cowboys went to a record seven straight CWS, something no other program has ever done.
OSU Baseball once won 16 straight conference titles from 1980 to 1996 and the program has won 25 conference tournaments.
Does Oklahoma State Have Any 2023 MLB Draft Prospects?
Yes.
According to MLB.com, Juaron Watts-Brown, a preseason All-American, is the No. 39-ranked prospect. Watts-Brown transferred to OSU from Long Beach State and went 4-4 with a 3.68 ERA in 15 appearances with 111 strikeouts. Watts-Brown was tremendous in May, going 3-0 with a 1.64 ERA and 55 strikeouts in 33 innings.
He is joined on MLB.com's lists with Nolan McLean, yet another preseason All-American this season.
Listed as a pitching and outfield prospect, McLean accumulated 19 home runs, 16 doubles and 47 RBI while hitting .285 in 2022. In 23 relief appearances, he had 39 strikeouts in 25 and ⅓ innings with a 2-1 record.
Infielder Roc Riggio, also named a preseason All-American player, is likely a future draft prospect, but the sophomore is not eligible for the MLB Draft this season. Riggio hit .295 with 11 home runs and 47 RBI in 2022.
Arkansas Baseball Comes To 2023 College Baseball Showdown With Omaha Hopes
Vanderbilt Baseball Begins Season At 2023 College Baseball Showdown
Texas Looks To Carry Momentum From Last Season's Late Surge Into 2023
Oklahoma State Coach Josh Holliday Is The Brother Of Former MLB Star Matt Holliday
Josh Holliday played baseball at Oklahoma State and in 2013 he became the head coach at his alma mater, where his dad also led the program.
Tom Holliday was an Oklahoma State assistant coach from 1978-1996 and was the head coach from 1997-2003.
Holliday's brother might have joined them at OSU, albeit as a football player, if he hadn't been drafted in 1998. Matt Holliday was a star baseball and football prospect in high school and he likely saw his MLB draft prospects dimmed because many assumed he would play football. But instead he signed for a then seventh-round draft pick record $840,000. Matt Holliday was a seven-time All-Star and won the 2011 World Series with the St. Louis Cardinals. He retired in 2018.
Matt Holliday joined his brother's coaching staff in 2019 but left to briefly be a member of the St. Louis Cardinals coaching staff. He changed his mind and resigned in January.
Oklahoma State Coach Josh Holliday Is The Uncle Of 2022 MLB Draft No. 1 Pick Jackson Holliday
Matt Holliday's son, Jackson, attended Stillwater High School and was committed to play baseball for his uncle and where his dad coached.
But the Baltimore Orioles changed all that. The Orioles selected Jackson Holliday No. 1 last summer in the MLB Draft.
2023 College Baseball Hitters To Watch Include A Pair Of LSU Sluggers
Oklahoma State Coach Josh Holliday & Vanderbilt Baseball Connection
Josh Holliday coached at Vanderbilt on Tim Corbin's staff from 2010-2012. He helped coach such standouts as Sonny Gray, Mike Yastremski and Curt Casali.
Oklahoma Baseball Schedule At College Baseball Showdown
Here's how Oklahoma State's 2023 season begins at the College Baseball Showdown:
Feb. 17: Missouri, 12:00 p.m. EST
Feb. 18: Vanderbilt, 12:00 p.m.
Feb. 19: Arkansas State, 3:30 p.m.
How To Watch The College Baseball Showdown & Oklahoma State Baseball
Every College Baseball Showdown game is streaming on FloSports.