2023 College Baseball Showdown
College Baseball Preseason Rankings Roundup
College Baseball Preseason Rankings Roundup
When does the college baseball season start? It starts this month and here are the NCAA baseball rankings in 2023 to start the season, with LSU as No. 1.
Feb 2, 2023
by Joe Harrington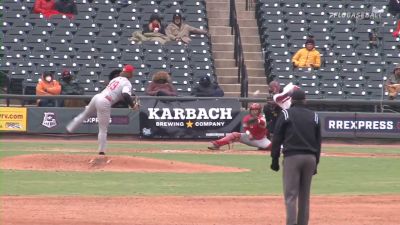 The 2023 college baseball season begins in February as teams from across the country prepare for a possible journey to Omaha for the College World Series.
But some teams enter the season with that goal more realistic than others.
There are four major preseason college baseball polls, and one thing is unanimous: The LSU Tigers enter the year as the overwhelming favorite.
LSU Baseball is the No. 1 team in every poll, while Tennessee is No. 2 in three of the four polls, with Florida getting the other No. 2 ranking.
Almost every poll is dominated by the SEC, which all have six programs—and not all have the same six programs—ranked in the top 10. Defending champion Ole Miss seems to have the biggest swing, ranked No. 4, No. 6, No. 10 in three polls, and barely in the top 25 in another.
Here's a look at the college baseball rankings.
2023 College Baseball Hitters To Watch Include A Pair Of LSU Sluggers
Vanderbilt All-American Enrique Bradfield Jr. "Hungry" For More In 2023
College Baseball Showdown 2023 Schedule
What Are The Four Major Preseason College Baseball Rankings?
The four major polls are:
Baseball America
Collegiate Baseball
D1Baseball.com
Perfect Game
LSU Baseball Roster Is Loaded With MLB Prospects, Talent
There's no mystery behind LSU's rankings.
The Tigers have a loaded roster and possibly the best hitter in the game. Dylan Crews is considered the top player in the 2023 MLB Draft. He was the Co-SEC Player of the Year in 2022 and is trying to become the first two-time winner since 2007 (Matt LaPorta of Florida did it last).
Crews hit .349 with 22 home runs and 72 RBI last season.
Tommy White broke the NCAA record for home runs by a freshman with 27 as a member of NC State in 2022. He transferred to LSU after the season.
And that's not even the biggest impact transfer for LSU.
The Tigers added Air Force pitcher Paul Skenes out of the transfer portal, an All-American pitcher in 2022 with a 100-mph fastball. Skenes is the No. 4-ranked MLB Draft prospect, giving LSU two of the top four players.
Pitcher Grant Taylor (No. 53) and pitcher Ty Floyd (No. 86) are also on MLB's list.
Who Is The Best Non-SEC Team In The 2023 College Baseball Rankings?
Stanford ranks as high as No. 2 and as low as No. 4 to be the most consistently, highest ranked non-SEC team among the four polls.
The Cardinal are led by shortstop Tommy Troy, the No. 29-ranked MLB Draft prospect.
Tennessee Baseball Or Florida? Who Is LSU Baseball's Biggest Threat In The SEC?
The Volunteers have right-hander Chase Dollander, the No. 2 MLB Draft prospect, while Florida has one of the best hitters in college baseball, No. 3 MLB Draft prospect Wyatt Langford.
Defending champion Ole Miss returns shortstop Jacob Gonzalez, the No. 5 ranked draft prospect.
Brayden Taylor, TCU Baseball Eye Another College World Series
UConn Baseball Looks To Repeat As BIG EAST Champs In 2023
Vanderbilt Baseball Begins Season At 2023 College Baseball Showdown
2023 College Baseball Rankings
*Collegiate Baseball ranks the top 50 teams. Here are the top 25.
LSU
Florida
Stanford
Texas A&M
Tennessee
Louisville
Arkansas
Miami
Vanderbilt
Wake Forest
North Carolina
Oklahoma State
UCLA
TCU
Virginia
Texas Tech
Southern Miss
Oregon
East Carolina
Maryland
Ole Miss
LSU
Stanford
Ole Miss
Texas A&M
Wake Forest
Florida
Arkansas
Oklahoma State
Vanderbilt
East Carolina
North Carolina
Maryland
Virginia Tech
TCU
Louisville
UCLA
Southern Miss
Virginia
Alabama
N.C. State
Miami
South Carolina
Texas Tech
Oregon
Tennessee
Stanford
Arkansas
Wake Forest
Ole Miss
Louisville
Florida
Miami
Texas A&M
Vanderbilt
UCLA
North Carolina
TCU
Virginia Tech
Texas Tech
Auburn
Oklahoma State
Virginia
Oregon
N.C. State
Maryland
Oregon State
Texas
Southern Miss
Is There A College Baseball Coaches Poll?
Yes. The USA Today publishes a Baseball Coaches Poll, but there was no preseason coaches poll as of Feb. 1.
Arkansas Baseball Comes To 2023 College Baseball Showdown With Omaha Hopes
Texas Looks To Carry Momentum From Last Season's Late Surge Into 2023
Top MLB Prospects In The 2023 College Baseball Showdown
How To Stream College Baseball In 2023?
FloSports will stream hundreds of college baseball games from the Division-I ranks to the Division-III ranks and more.
The first games featuring ranked teams will be streamed on FloSports on Feb. 17, the first day of the Division-I season. FloSports is streaming all the games at the College Baseball Showdown, which features five ranked teams in the field of six.
FloSports is also streaming Virginia Tech Vs. Charleston at 4 p.m. EST on Feb. 17.
College Baseball Showdown Features Loaded Lineup
The six teams at the Globe Life Field College Baseball Showdown are:
From the Big 12:
From the SEC:
Here is the schedule:
Feb. 17 College Baseball Showdown Day 1 Schedule:
12 p.m. ET: Missouri vs. Oklahoma State
4 p.m. ET: Vanderbilt vs. TCU
8 p.m. ET: Arkansas vs. Texas
Feb. 18 College Baseball Showdown Day 2 Schedule:
12 p.m. ET: Oklahoma State vs. Vanderbilt
4 p.m. ET: Texas vs. Missouri
8 p.m. ET : TCU vs. Arkansas
Feb. 19 College Baseball Showdown Day 3 Schedule:
11:30 a.m. ET: Vanderbilt vs. Texas
3:30 p.m. ET: Arkansas vs. Oklahoma State
7:30 p.m. ET: Missouri vs. TCU