2023 College Baseball Showdown
College Baseball Showdown 2023 Schedule At Globe Life Field
College Baseball Showdown 2023 Schedule At Globe Life Field
The NCAA baseball season starts on Feb. 17 at the College Baseball Showdown at Globe Life Field in Arlington and features Texas and Vanderbilt baseball.
Jan 24, 2023
by FloBaseball Staff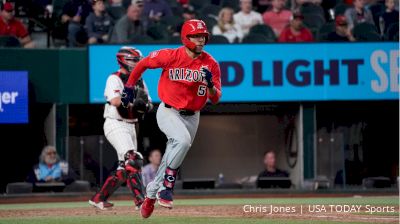 College baseball returns in February as teams begin their march to the College World Series in Omaha.
But for six teams, their Omaha expectations may be evaluated in Arlington, Texas, during the first few hours of the regular season.
The third annual College Baseball Showdown features three teams each from the Big 12 and the SEC as they begin their seasons at Globe Life Field, home of the Texas Rangers. The event is played across the first three days of the college baseball season with nine games over three days.
Here's what to know about the event.
When Is The 2023 College Baseball Showdown?
The College Baseball Showdown runs from Feb. 17-19 with games beginning at 12 a.m. ET each day, except for Sunday when games start 30 minutes earlier.
College Baseball Showdown Preview: Top MLB Prospects In The 2023 College Baseball Showdown
Who Is Playing At The College Baseball Showdown 2023?
The three Big 12 teams are:
The three SEC teams are:
What Is The College Baseball Showdown Schedule?
Feb. 17 College Baseball Showdown Day 1 Schedule:
12 p.m. ET: Missouri vs. Oklahoma State
4 p.m. ET: Vanderbilt vs. TCU
8 p.m. ET: Arkansas vs. Texas
Feb. 18 College Baseball Showdown Day 2 Schedule:
12 p.m. ET: Oklahoma State vs. Vanderbilt
4 p.m. ET: Texas vs. Missouri
8 p.m. ET: TCU vs. Arkansas
Feb. 19 College Baseball Showdown Day 3 Schedule:
11:30 a.m. ET: Vanderbilt vs. Texas
3:30 p.m. ET: Arkansas vs. Oklahoma State
7:30 p.m. ET: Missouri vs. TCU
Are Any Of The Teams At The College Baseball Showdown Ranked?
Yes. According to Collegiate Baseball's 2023 DI preseason rankings, there are five preseason top 25 teams in Arlington that weekend, including two, Vanderbilt and Arkansas ranked in the top 10.
Here's the breakdown:
No. 7 Arkansas
No. 9 Vanderbilt
No. 12 Oklahoma State
No. 15 TCU
No. 25 Texas
Who Are The Best MLB Prospects At The College Baseball Showdown?
FloBaseball's Kyle Kensing breaks down the top prospects playing at the event.
Some of the names to watch include Vanderbilt's Enrique Bradfield, who was the SEC Freshman of the Year in 2021. Bradfield is considered a potential top-five draft pick this summer after hitting .317 for Vandy last season.
2023 College Baseball Rankings
Here is the complete top 25 preseason rankings from Collegiate Baseball:
LSU
Florida
Stanford
Texas A&M
Tennessee
Louisville
Arkansas
Miami
Vanderbilt
Wake Forest
North Carolina
Oklahoma St.
UCLA
UC Santa Barbara
TCU
Virginia
Texas Tech
Southern Miss
Oregon
East Carolina
Maryland
Mississippi St.
Georgia Tech
Mississippi
Texas