2023 College Baseball Showdown
Top MLB Prospects In The 2023 College Baseball Showdown
Top MLB Prospects In The 2023 College Baseball Showdown
Headlined by potential top 5 pick Enrique Bradfield, the list of 2023 MLB draft prospects at this year's College Baseball Showdown is impressive.
Jan 23, 2023
by Kyle Kensing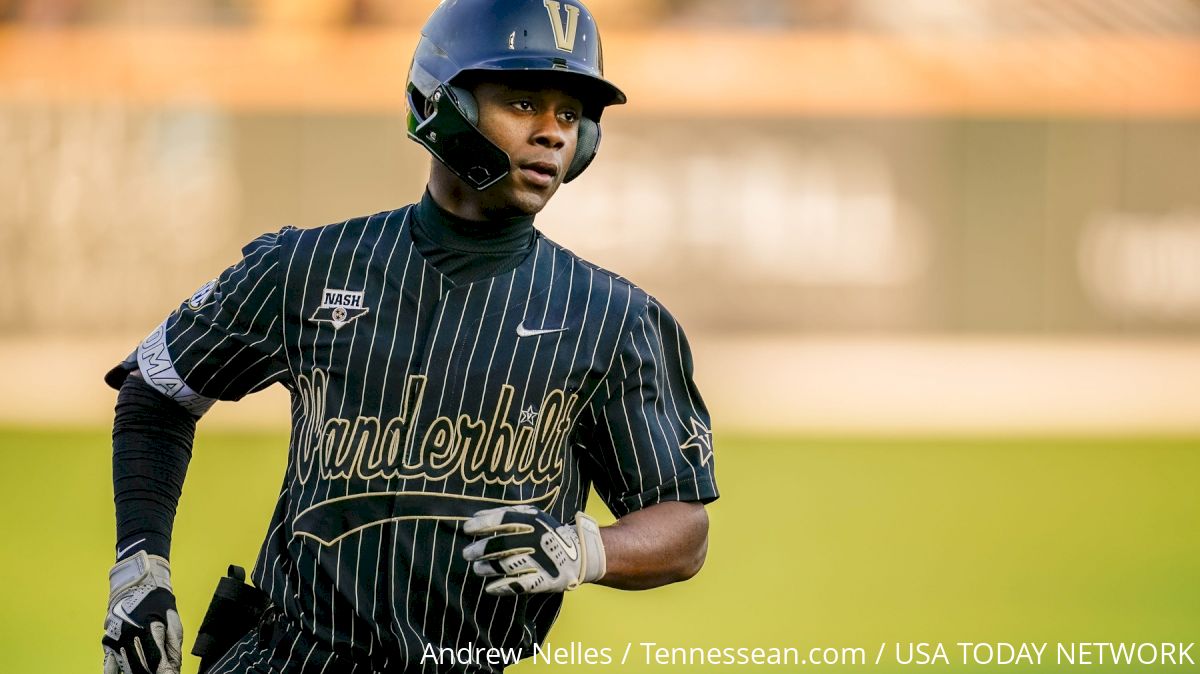 Roads to Omaha begin at Globe Life Field in Arlington, Texas, site of the 2023 College Baseball Showdown. And with a loaded field of teams opening the season with College World Series aspirations, the College Baseball Showdown also marks an important milestone on the road to The Show.
A powerhouse lineup featuring three teams from the Big 12 Conference — Oklahoma State, Texas and TCU — and three from the Southeastern Conference — Arkansas, Missouri and Vanderbilt — includes a variety of elite Major League prospects.
Get primed for the first big weekend on the college baseball calendar with an introduction to some of the top future Big Leaguers for the 2023 draft class converging on Arlington.
Jace Bohrofen, OF, Arkansas
The Oklahoma transfer Jace Bohrofen got hot at the plate midway through his first season with Arkansas, putting together a stretch of 10 games with 12 combined hits from early March into late April, and a four-game hitting streak later in the campaign.
Bohrofen was injured and out of the lineup for a month, only returning for the NCAA Tournament, but look for him to bounce back strong.
"The guys are going to look up for me to lead," he said at the team's Jan. 20 media availability, discussing coming back as one of the team's captains for 2023. "Last year was a freak deal. It happens sometimes, that's just baseball. Everyone has their own journey."
Enrique Bradfield, OF, Vanderbilt
A well-established star at Vanderbilt since his freshman season, Enrique Bradfield Jr.'s trophy case in just two seasons would be the envy of most college baseball players. He was the 2021 SEC Freshman of the Year, a unanimous Freshman All-American and an All-American across a variety of publications, all while helping Vanderbilt to a runner-up finish in Omaha.
He hit .336 in his debut campaign and stole a remarkable 47 bases. Bradfield remained the most electric player on the base paths in the country as a sophomore with 46 steals.
"I've seen guys with good stolen base numbers," LSU coach Jay Johnson told the Associated Press in May. "But nobody who's that automatic."
Bradfield didn't sacrifice his uncanny ability to make contact while showing off more power, either. He hit .317 last year and increased his home-run output from one to eight. Put it all together, and Bradfield is a potential top five pick in this year's draft.
Cam Brown, RHP, TCU
Cam Brown returns after posting a 5-2 record in 13 appearances for the Horned Frogs last season. He struck out 49 in just 53 innings and accrued an ERA of 4.42.
Considered a top 70 draft prospect coming out of high school, Brown is poised to establish himself as an elite college MLB prospect in his junior campaign at TCU.
Marcus Brown, SS, Oklahoma State
Playing primarily as a reserve in his freshman season, Marcus Brown moved into the starting shortstop role for Oklahoma State last season and hit .316 with 15 doubles.
Brown's defense could be his defining quality as a prospect, and is one reason Baseball America tabbed him among the middle infielders this season with the chance to climb up draft boards.
Jack Bulger, OF/C, Vanderbilt
"The definition of consistency," according to Vanderbilt coach Tim Corbin, Jack Bulger showed off some clutch presence at the plate for the Commodores a season ago.
He was eligible for the 2022 draft but went unselected. As one of the veterans on Vanderbilt's national championship-hopeful roster, Bulger has the opportunity to greatly improve his standing for the 2023 draft.
Lucas Gordon, LHP, Texas
Lucas Gordon settled in nicely as part of the Texas pitching rotation and earned All-Big 12 recognition as a sophomore. He struck out 77 in 16 starts for the Longhorns, amassed a 3.05 ERA and limited batters to a .224 average.
Jacob Hasty, LHP, Missouri
LSU transfer Jacob Hasty brings experience to the Missouri pitching rotation, operating primarily out of the Tigers bullpen from 2020 through 2022. He struck out nearly twice as many batters he faced as walks given up a season ago.
Hasty should have ample opportunity to bolster his draft stock as a proven arm in the Missouri rotation, facing off against some of the toughest competition in the nation with a challenging schedule ahead.
Charlie Hurley, RHP, Texas
USC transfer Charlie Hurley comes to Texas off a solid 2022 in which he was the Trojans ace. The 6-foot-8 right-hander struck out 45 and finished with a 4.19 ERA.
I'd like to announce my commitment to the University of Texas! Hook em🤘🏼 pic.twitter.com/lMOBWUnGkn

— Charlie Hurley (@charliehurley21) July 12, 2022
Reports from fall ball look encouraging for Hurley to establish himself as a Sunday starter, and potentially improve his draft stock as part of an impressive Longhorns pitching staff.
Nolan McLean, RHP & Utility, Oklahoma State
What can't Nolan McLean do? Seemingly very little, as the 2022 All-American pitched and played both infield and outfield for the Cowboys. He hit .285 with a .992 OPS, smashed a team-best 19 home runs and drove in 47.
On the mound, McLean limited batters to a .206 average in 25-and-a-third innings of work, while striking out 39.
MLB.com ranks McLean No. 82 among the top 100 prospects for 2023.
Elijah Nunez, OF, TCU
A Big 12 All-Freshman selection in 2021 and All-Big 12 honoree in 2022, Elijah Nunez has shined throughout his college career. He proved himself to be one of the game's premier base-stealers as a sophomore with 31 swipes, taking advantage of a much-improved batting average and overall ability to get on-board.
After hitting .287 last season, a jump from .225 as a freshman, the next step in Nunez's evolution on offense could shape his MLB future outlook.
Patrick Reilly, RHP, Vanderbilt
MLB.com projects Patrick Reilly in the top 80 of its 2023 class, though D1Baseball projected Reilly as high as No. 11. His move from the starting rotation in 2021 into the bullpen primarily last season may explain the gap, but Reilly has the potential to throw his way into the 1st Round with a strong 2023 campaign.
Brayden Taylor, 3B, TCU
Brayden Taylor isn't just one of the top MLB prospects at the 2023 College Baseball Showdown: He's one of the most coveted collegiate prospects in the game this year.
The TCU third baseman earned Freshman All-American recognition in 2021 after batting .324 with 12 home runs and 53 RBI. As a sophomore, Taylor hit 13 home runs and bumped up his slugging percentage from .572 to .576.
Taylor is also a threat on base paths with 25 stolen bases in his time as a Horned Frog. His combined speed and power are just part of what has him tabbed No. 11 overall in MLB.com's 2023 prospect rankings — and that's to say nothing of his defense.
😳🤯 @braydentaylor02 #SCTop10 | #FrogballUSA | #GoFrogs pic.twitter.com/dQ0JZh8Dvs

— TCU Baseball (@TCU_Baseball) April 16, 2022
Juaron Watts-Brown, RHP, Oklahoma State
One of the most intriguing pitching prospects of the 2023 class is Juaron Watts-Brown, a transfer to Oklahoma State from Long Beach State.
Watts-Brown earned Freshman All-American honors at Long Beach State, and struck out 45 with a 3.70 ERA in eight starts this summer at the Cape Cod League.
Jaxon Wiggins, RHP, Arkansas
Six-foot-six righty Jaxon Wiggins ranks No. 55 in MLB.com's top 100 of 2023 draft prospects, and has room to climb. ESPN tabbed him the third-best pro prospect among 2023 eligible players at last season's College World Series, and with good reason.
He's a hard-throwing flamethrower who can pitch in relief, racking up four saves for the Razorbacks in 2021, or start. He struck 82 last season and will look to fan more batters in 2023.
Tanner Witt, RHP, Texas
Coming off a 2022 shortened due to injury, expect Tanner Witt to rebound in a big way.
Witt is currently pegged by MLB.com as a 1st Round prospect, No. 24 overall among 2023 prospects. He ranks ninth among all righties with plenty of potential to improve his standing should he have a dominant 2023.