2023 College Baseball Showdown
Oklahoma State Baseball, Vandy Headline College Baseball Showdown Day 2
Oklahoma State Baseball, Vandy Headline College Baseball Showdown Day 2
Josh Holliday and Oklahoma State know Tim Corbin and Vanderbilt Baseball well, as the two programs play at College Baseball Showdown
Feb 17, 2023
by Joe Harrington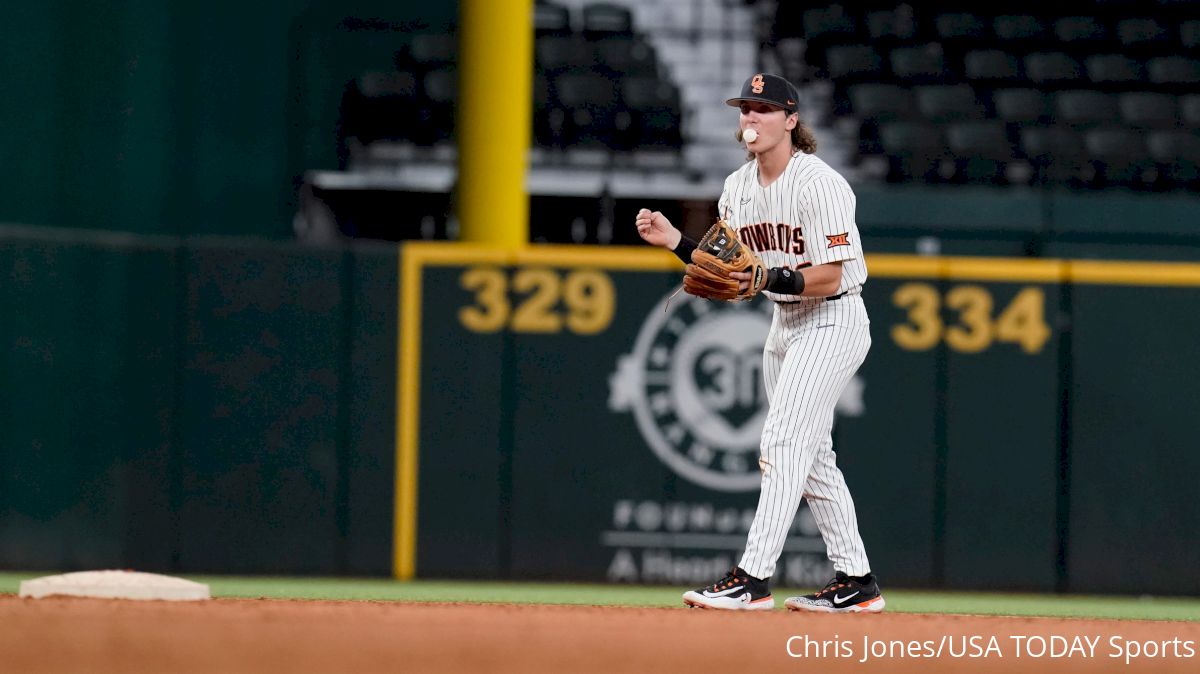 Oklahoma State coach Josh Holliday began his 11th season at his alma mater on Day 1 of the College Baseball Showdown when his Cowboys faced Missouri in the first game of the event.
His second game of 2023, though, will have him going back to his coaching days before he returned to Stillwater.
After playing for the Cowboys in the 1990s and coaching under his dad for three seasons, Holliday left Oklahoma State in 2004. He coached at North Carolina State, Georgia Tech and Arizona State before settling in at Vanderbilt under coach Tim Corbin.
Over three seasons with the Commodores, Holiday established himself as one of the best recruiters in college baseball and helped Vandy Baseball reach the 2011 College World Series.
At the end of the 2012 season, Holliday returned to Oklahoma State.
Subscribe to FloSports To Watch College Baseball Opening Day
How To Watch College Baseball Showdown 2023 On FloBaseball
College Baseball Showdown 2023 Schedule At Globe Life Field
College Baseball Preseason Rankings Roundup

Oklahoma State Baseball Vs. Vanderbilt Are No Strangers
Corbin and Holliday's relationship is still seemingly strong and Corbin admitted at a press conference earlier this month that he enjoyed being able to spend time with other coaches at events like the College Baseball Showdown.
But the Commodores, who play TCU on the first day of the College Baseball Showdown, and the Cowboys don't always just meet in Arlington, Texas.
The two programs have played seven times and Vanderbilt is 4-3 in those games. The last time the two schools played was exactly a year before their 2023 meeting.
The two schools met in Nashville for College Baseball Opening Day in 2022. While Cowboys lost the opener of the three-game series 0-3, they bounced back to win 4-3 and 7-5 in the next two games.
In 2021, Vanderbilt came to Stillwater to play three games, including a double header. Vandy swept the doubleheader, 5-0 and 18-4, but lost the third game 6-10.
"Having played Josh's teams, that is always fun for both of our clubs," Corbin said at a press conference before the College Baseball Showdown.
"It's good competition and we know each other, though there's some mystery to that sometimes. We just enjoy the ability to (play each other)."
Oklahoma State Baseball Brings College World Series Potential Into 2023
Vanderbilt Baseball Begins Season At 2023 College Baseball Showdown
Vanderbilt All-American Enrique Bradfield Jr. "Hungry" For More In 2023
How To Stream The College Baseball Showdown On FloBaseball
Stream or cast the College Baseball Showdown from your desktop, mobile phone or TV. The FloSports App is available on Roku, Fire TV, Chromecast and Apple TV.
The FloSports app is also available on iOS or Android.
Subscribe To FloBaseball To Watch The College Baseball Showdown
There are several price options and subscriptions available for FloSports and FloBaseball.
A PRO subscription unlocks:
Live events
Event replays
Event results
Breaking news
Limited ads on PRO videos
A subscription allows up to 12 streams on one or many devices connected to the same wifi.
What Is The College Baseball Showdown Schedule?
Feb. 17 College Baseball Showdown Day 1 Schedule:
12 p.m. ET: Missouri vs. Oklahoma State
4 p.m. ET: Vanderbilt vs. TCU
8 p.m. ET: Arkansas vs. Texas
Feb. 18 College Baseball Showdown Day 2 Schedule:
12 p.m. ET: Oklahoma State vs. Vanderbilt
4 p.m. ET: Texas vs. Missouri
8 p.m. ET: TCU vs. Arkansas
Feb. 19 College Baseball Showdown Day 3 Schedule:
11:30 a.m. ET: Vanderbilt vs. Texas
3:30 p.m. ET: Arkansas vs. Oklahoma State
7:30 p.m. ET: Missouri vs. TCU
Are Any Of The Teams At The College Baseball Showdown Ranked?
Yes. According to Collegiate Baseball's 2023 DI preseason rankings, there are five preseason top 25 teams in Arlington that weekend, including two, Vanderbilt and Arkansas ranked in the top 10.
Here's the breakdown:
No. 7 Arkansas
No. 9 Vanderbilt
No. 12 Oklahoma State
No. 15 TCU
No. 25 Texas