2023 College Baseball Showdown
Arkansas Baseball To Start Hagen Smith Vs. UT At College Baseball Showdown
Arkansas Baseball To Start Hagen Smith Vs. UT At College Baseball Showdown
Texas Baseball will face Hagen Smith in the night cap of Day 1 at the College Baseball Showdown. Arkansas to face Lucas Gordon.
Feb 17, 2023
by Joe Harrington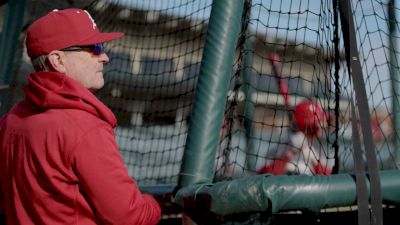 Arkansas coach Dave Van Horn named his weekend rotation for the College Baseball Showdown and the highest-ranked team at the event will have its standout sophomore pitcher on the mound against Texas.
The Razorbacks face Texas at 8 p.m. ET in the final game of Day 1 at the College Baseball Showdown and will have Hagen Smith on the mound against the Longhorns, who are ranked in several preseason polls.
The matchup is between former Southwest Conference rivals and future SEC rivals, but also is the only game at the event featuring two teams who played at the College World Series in 2022.
Subscribe to FloSports To Watch College Baseball Opening Day
How To Watch College Baseball Showdown 2023 On FloBaseball
College Baseball Showdown 2023 Has 'Omaha Type Feel'
College Baseball Preseason Rankings Roundup
Who Is Arkansas Pitcher Hagen Smith
Smith was a Collegiate Baseball Newspaper Freshman All-American in 2022 and was on the Freshman All-SEC Team. He was Arkansas' No. 2 starter and made 20 appearances with a 7-2 record and a 4.66 ERA with 90 strikeouts in 77.1 innings.
The Bullard, Texas-native was one of the greatest high school pitchers ever in the state of Texas, throwing a record-tying seven no-hitters in his career.
Texas Pitcher Lucas Gordon Set To Be Friday Night Starter For Longhorns
There's no secret who the Longhorns will start. That will be Lucas Gordon, who becomes the program's new "Friday Night Starter." Gordon was 7-2 with a 3.05 ERA in 16 starts for Texas in 2022. Texas used Ty Madden and Pete Hansen in those roles the last two seasons.
What's Coming To FloBaseball In February? A List Of Top Games To Watch
Top MLB Prospects In The 2023 College Baseball Showdown
Arkansas Baseball Vs. Texas At 2021 College Baseball Showdown
This isn't the first time the two schools have played at the College Baseball Showdown. In the first year of the event in 2021, Arkansas beat Texas 4-0. It snapped a two-game losing streak against the Longhorns for Arkansas.
Texas coach David Pierce said the poor showing of his team at the 2021 College Baseball Showdown became a rallying cry for the team that went on to advance to the College World Series.
"RTA: Remember the Arlington," Pierce explained of the team's catch phrase at a recent press conference. "(Going 0-3) made us better.
"It was good for our program to learn and get better."
Texas Looks To Carry Momentum From Last Season's Late Surge Into 2023
How To Stream The College Baseball Showdown On FloBaseball
Stream or cast the College Baseball Showdown from your desktop, mobile phone or TV. The FloSports App is available on Roku, Fire TV, Chromecast and Apple TV.
The FloSports app is also available on iOS or Android.
Subscribe To FloBaseball To Watch The College Baseball Showdown
There are several price options and subscriptions available for FloSports and FloBaseball.
A PRO subscription unlocks:
Live events
Event replays
Event results
Breaking news
Limited ads on PRO videos
A subscription allows up to 12 streams on one or many devices connected to the same wifi.
What Is The College Baseball Showdown Schedule?
Feb. 17 College Baseball Showdown Day 1 Schedule:
12 p.m. ET: Missouri vs. Oklahoma State
4 p.m. ET: Vanderbilt vs. TCU
8 p.m. ET: Arkansas vs. Texas
Feb. 18 College Baseball Showdown Day 2 Schedule:
12 p.m. ET: Oklahoma State vs. Vanderbilt
4 p.m. ET: Texas vs. Missouri
8 p.m. ET: TCU vs. Arkansas
Feb. 19 College Baseball Showdown Day 3 Schedule:
11:30 a.m. ET: Vanderbilt vs. Texas
3:30 p.m. ET: Arkansas vs. Oklahoma State
7:30 p.m. ET: Missouri vs. TCU
Which College Baseball Showdown Teams Are In The NCAA Baseball Rankings?
Yes. According to Collegiate Baseball's 2023 DI preseason rankings, there are five preseason top 25 teams in Arlington that weekend, including two, Vanderbilt and Arkansas ranked in the top 10.
Here's the breakdown:
No. 7 Arkansas
No. 9 Vanderbilt
No. 12 Oklahoma State
No. 15 TCU
No. 25 Texas