2023 College Baseball Showdown
SWC, SEC Feel With Arkansas Baseball Vs. Texas at College Baseball Showdown
SWC, SEC Feel With Arkansas Baseball Vs. Texas at College Baseball Showdown
Texas Longhorns Baseball, Arkansas Baseball renew an old SWC, future SEC rivalry at the College Baseball Showdown to start the 2023 NCAA baseball season.
Feb 14, 2023
by Joe Harrington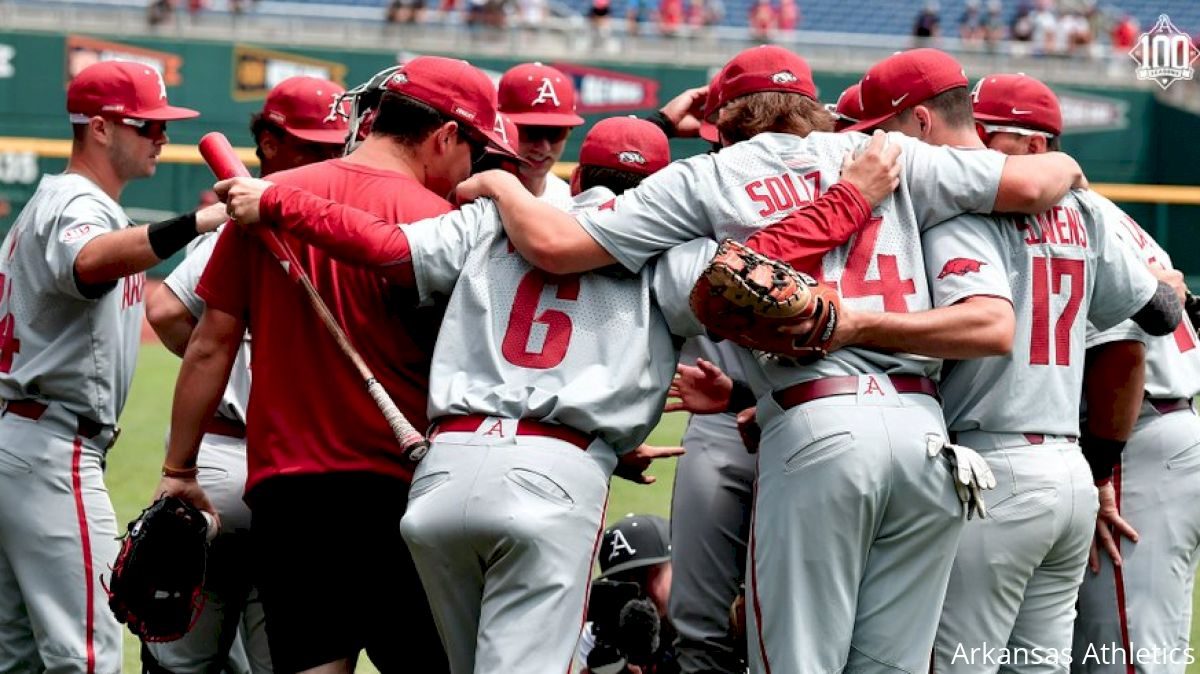 Marty McFly isn't playing baseball on Feb. 17, but the College Baseball Showdown will take some fans back in time while also taking them back to the future.
Before the shakeup of college athletics in the 1990s, Texas and Arkansas were considered one of college athletics' most intense rivalries as members of the Southwest Conference. The football teams even once played in the "Game of the Century" in 1969 that saw then-president Richard Nixon attend.
But when Arkansas left for the Southeastern Conference and the Southwest Conference dissolved as Texas joined the Big 12, the rivalry became somewhat dormant over the last 30 years.
But it comes alive again at Globe Life Field on Feb. 17 at 8 p.m.
And it comes at time when Texas and Arkansas will be joined in the same conference once again in the near future.
Here's what to know.
How To Watch College Baseball Showdown 2023 On FloBaseball
College Baseball Showdown 2023 Has 'Omaha Type Feel'
College Baseball Preseason Rankings Roundup
Texas Baseball Vs. Arkansas Baseball Comes 2 Years Before Longhorns Join The SEC
About a week before the College Baseball Showdown, Texas and Oklahoma finalized a deal that will allow the two schools to leave the Big 12 after the 2024 season.
This would mean next season will be the last for Texas Baseball in the Big 12 and would make its rivalry with Arkansas an annual event in baseball and other sports.
What Is Arkansas Baseball's Record Vs. Texas Longhorns?
Texas is 76-38 all-time against Arkansas as the two programs first met in 1902, according to Texas Athletics. The Longhorns hold the advantage for wins on a neutral field, 9-5, and are 5-3 all-time against the Razorbacks in the NCAA Tournament.
However, since 2005, Arkansas is 7-4 against the Longhorns.
What's Coming To FloBaseball In February? A List Of Top Games To Watch
Top MLB Prospects In The 2023 College Baseball Showdown
Arkansas Baseball Vs. Texas At 2021 College Baseball Showdown
This isn't the first time the two schools have played at the College Baseball Showdown. At the first year of the event in 2021, Arkansas beat Texas 4-0. It snapped a two-game losing streak against the Longhorns for Arkansas.
Texas coach David Pierce said the poor showing of his team at the 2021 College Baseball Showdown became a rallying cry for the team that went on to advance to the College World Series.
"RTA: Remember the Arlington," Pierce explained of the team's catch phrase at a recent press conference. "(Going 0-3) made us better.
"It was good for our program to learn and get better."
Texas Looks To Carry Momentum From Last Season's Late Surge Into 2023
Led By Elite Pitching, Arkansas Hopes For A Return To Omaha In 2023
Has Texas Baseball and Arkansas Baseball ever played at the College World Series?
Yes. The two programs played in Omaha in 2018. The Razorbacks beat Texas 11-5 to push UT to the brink of elimination. Florida ended Texas' season two days later with a 6-1 win.
Arkansas advanced to the CWS final and won Game 1 over Oregon State, 4-1, but, lost 5-3 and 5-0 in the following games.
Texas and Arkansas have met five times in Omaha since 1979. Texas is 3-2 against Arkansas at the College World Series.
When does Texas Longhorns Baseball Play Arkansas at College Baseball Showdown?
The College Baseball Showdown will end Day 1 of the event with the Texas-Arkansas game. Arkansas coach Dave Van Horn said the alumni groups have planned an event around the game and he and Texas coach David Pierce expect a big crowd.
"It's going to be electric," Pierce said.
Van Horn added: "We have a big alumni gathering at the ballpark and I think it'll be something our fans will turn out for."
What Is The College Baseball Showdown Schedule?
Feb. 17 College Baseball Showdown Day 1 Schedule:
12 p.m. ET: Missouri vs. Oklahoma State
4 p.m. ET: Vanderbilt vs. TCU
8 p.m. ET: Arkansas vs. Texas
Feb. 18 College Baseball Showdown Day 2 Schedule:
12 p.m. ET: Oklahoma State vs. Vanderbilt
4 p.m. ET: Texas vs. Missouri
8 p.m. ET: TCU vs. Arkansas
Feb. 19 College Baseball Showdown Day 3 Schedule:
11:30 a.m. ET: Vanderbilt vs. Texas
3:30 p.m. ET: Arkansas vs. Oklahoma State
7:30 p.m. ET: Missouri vs. TCU
How To Stream The College Baseball Showdown On FloBaseball
Stream or cast the College Baseball Showdown from your desktop, mobile phone or TV. The FloSports App is available on Roku, Fire TV, Chromecast and Apple TV.
The FloSports app is also available on iOS or Android.
Subscribe To FloBaseball To Watch The College Baseball Showdown
There are several price options and subscriptions available for FloSports and FloBaseball.
A PRO subscription unlocks:
Live events
Event replays
Event results
Breaking news
Limited ads on PRO videos
A subscription allows up to 12 streams on one or many devices connected to the same wifi.