2023 College Baseball Showdown
Arkansas Baseball Comes To 2023 College Baseball Showdown With Omaha Hopes
Arkansas Baseball Comes To 2023 College Baseball Showdown With Omaha Hopes
Arkansas Baseball enters the 2023 college baseball season with a top 10 ranking, and they begin their season with the College Baseball Showdown.
Jan 27, 2023
by Joe Harrington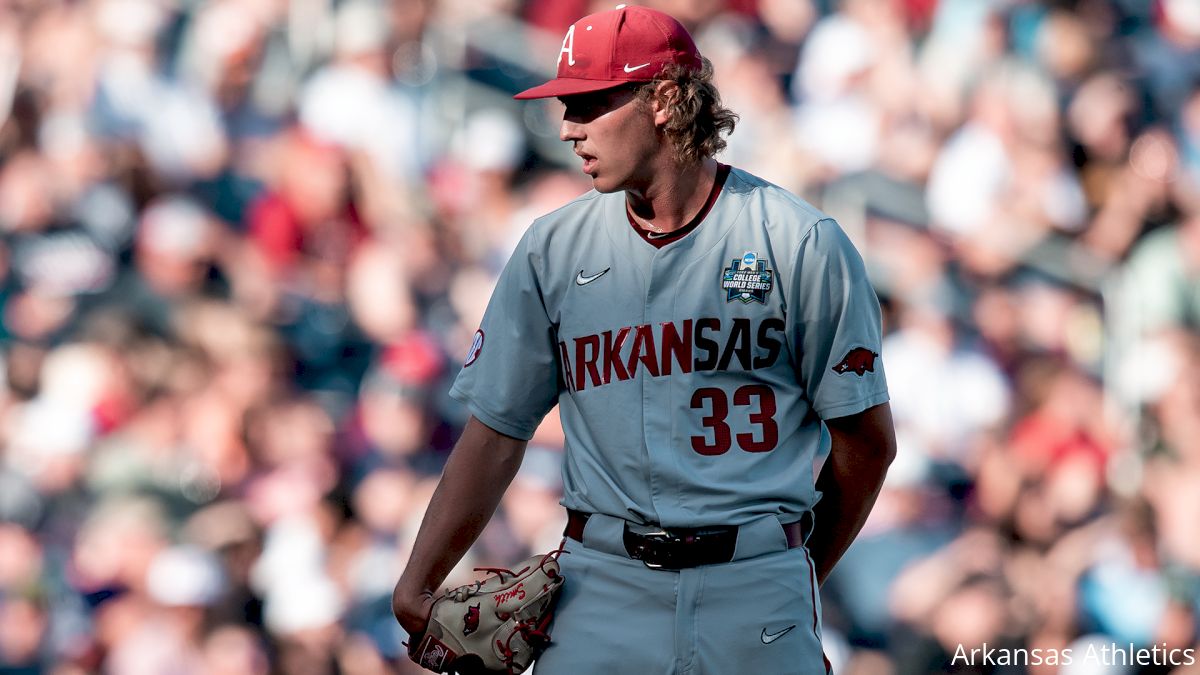 Arkansas Baseball enters the 2023 college baseball season with a top 10 ranking in some polls, a talented pitching staff and aspirations to return to the College World Series for the 12th time in program history.
The Hogs are coming off a 46-21 season that ended in Omaha, the third trip in four seasons and Arkansas appears poised to improve upon those marks.
While Arkansas won't know if their season will end in some way at Omaha, the Hogs do know it'll start in Arlington at the College Baseball Showdown in Arlington, Texas at Globe Life Field.
Here's what to know about Arkansas Baseball in 2023.
Is Arkansas Baseball In The 2023 NCAA Baseball Rankings?
Yes. There are four major preseason college baseball rankings. Here is where Arkansas ranks in those polls:
Perfect Game: No. 4
Collegiate Baseball: No. 7
D1Baseball: No. 8
Baseball America: No. 11
The College Baseball Showdown will match Arkansas with three other ranked teams in Texas, Oklahoma State and TCU.
Does Arkansas Baseball Have Any 2023 MLB Draft Prospects?
Yes.
Junior pitcher Jaxon Wiggins was ranked No. 55 on MLB.com's top draft prospects list. The 6-foot-6-inch, 225 pound right hander had a fastball clocked between 94 and 97 and peaking at 99.
But Wiggins' numbers at Arkansas have not reflected that. He struggled in 2022 going 6-3 with a 6.55 ERA. He did have 82 strikeouts in 66 innings as the Sunday starter for Arkansas.
Left-hander Hunter Hollan is ranked No. 83 by MLB.com's draft prospects. Hollan pitched at San Jacinto College before transferring to Arkansas this season.
Pitcher Hagen Smith is a preseason All-American and was 7-2 with a 4.66 ERA in 77 innings last season and struck out 90 batters while limiting hitters to a .232 average. He had a standout NCAA Tournament performance in 2022.
The 6-foot-3-inch sophomore will likely draw considerable interest from MLB scouts in 2024 when he's draft eligible.
Vanderbilt Baseball Begins Season At 2023 College Baseball Showdown
2023 College Baseball Hitters To Watch Include A Pair Of LSU Sluggers
Top MLB Prospects In The 2023 College Baseball Showdown
Arkansas Baseball Schedule In 2023
Arkansas's baseball schedule begins at the College Baseball Showdown on Feb. 17 against old SWC rivals Texas and TCU. Arkansas also faces Oklahoma State.
The Razorbacks' first SEC series begins a month later on March 17 against Auburn in Fayetteville, Ark. A week later, Arkansas will travel to Baton Rouge, La. for a series with preseason No.1 LSU.
The SEC Tournament begins on May 23 in Hoover, Ala.
Who Is Arkansas Baseball Coach Dave Van Horn?
Dave Van Horn has coached his Alma Mater since 2003 and is the second-winningest coach in the program's history with 796 wins entering 2023. Under Van Horn, the Hogs have seen 129 players drafted to the MLB with 36 All-Americans. He has led the program to seven CWS, 18 NCAA Tournaments, won two SEC titles and won a SEC Tournament.
Van Horn previously coached at Nebraska, Northwestern State and Central Missouri State and has 1,167 wins in his career, one of seven active coaches with that many wins at the Division I level.
Has Arkansas Baseball even won a NCAA Championship?
The Razorbacks have finished as runners-up twice in 1979 and under Van Horn in 2018, but they have never won the NCAA title. The program has been to the CWS 11 times.
What Is The Arkansas Baseball Schedule At The College Baseball Showdown?
Arkansas plays three games over three days in Arlington. Here's the schedule:
How to watch Arkansas Baseball in the College Baseball Showdown
The College Baseball Showdown is streaming on FloSports. Watch all of Arkansas's game and the rest of the event on FloSports.