2023 College Baseball Showdown
Vanderbilt Baseball Scores 11 Runs, Beats OSU At College Baseball Showdown
Vanderbilt Baseball Scores 11 Runs, Beats OSU At College Baseball Showdown
Vanderbilt Baseball scored 11 runs but hung on as Oklahoma State Baseball scored 6 runs late at the College Baseball Showdown.
Feb 18, 2023
by Joe Harrington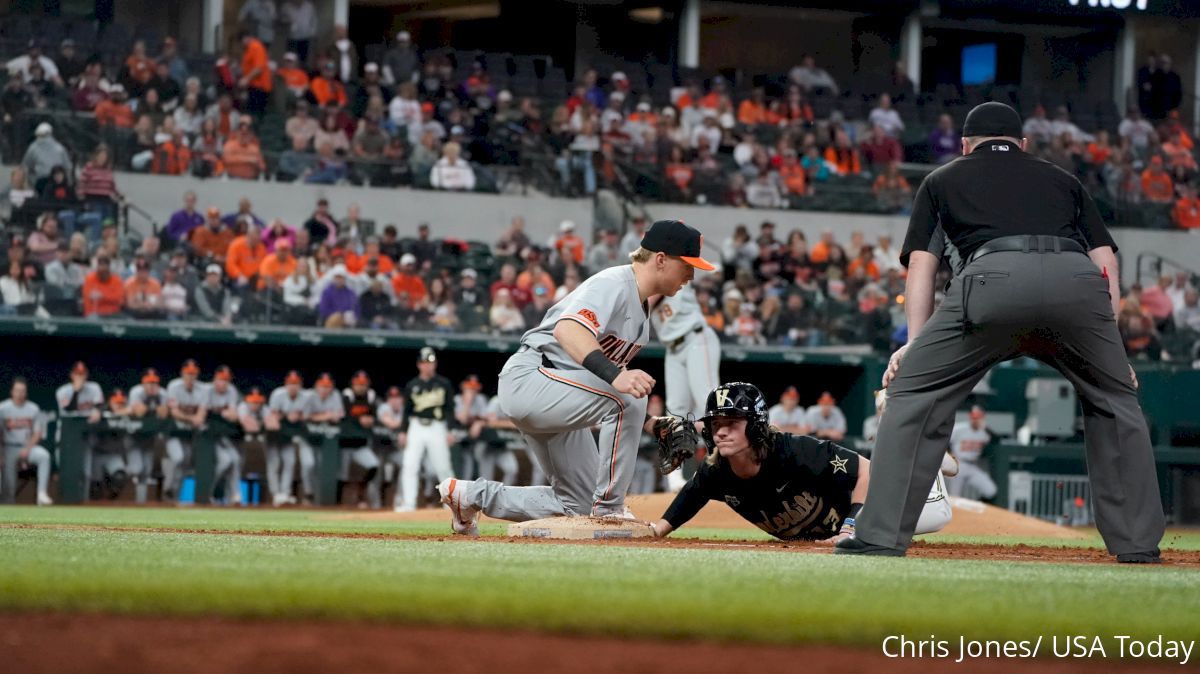 Vanderbilt Baseball had just five hits in its 11-4 loss to TCU on Friday, but Saturday was a new day at the College Baseball Showdown.
It was Vandy putting up 11 runs.
Facing Oklahoma State, who beat Missouri 5-3 on Friday, the Commodores jumped all over the Cowboys and led 11-2 at one point.
They needed every one of those runs.
Oklahoma State scored seven unanswered to cut into Vanderbilt's lead, but Nick Maldonado came in and picked up the save in the ninth for the 11-9 win.
Subscribe to FloSports To Watch College Baseball Opening Day
How To Watch College Baseball Showdown 2023 On FloBaseball
College Baseball Preseason Rankings Roundup
Watch: Vanderbilt Baseball Builds Early Lead With Bases-Clearing Triple
The @VandyBoys boys have come to play on Day 2 of the College Baseball Showdown. @Matthewjpolk clears the bases with a bases-loaded triple in the second inning. Stream the game live! https://t.co/9SbMFSdRX9 pic.twitter.com/kOHxbk8T8Q

— FloBaseball (@FloBaseball) February 18, 2023
Watch: OSU Baseball's Nolan McLean Hits First Home Run Of The Season vs. Vanderbilt
Rallying in Arlington? @OSUBaseball hits its second home run of the game and now trails @VandyBoys by just three runs in the 8th inning after Nolan McLean's 3-run home run. Stream the game live! https://t.co/ojlO5iMfTj pic.twitter.com/lnhVM1XQp8

— FloBaseball (@FloBaseball) February 18, 2023
How To Stream The College Baseball Showdown On FloBaseball
Stream or cast the College Baseball Showdown from your desktop, mobile phone or TV. The FloSports App is available on Roku, Fire TV, Chromecast and Apple TV.
The FloSports app is also available on iOS or Android.
Subscribe To FloBaseball To Watch The College Baseball Showdown
There are several price options and subscriptions available for FloSports and FloBaseball.
A PRO subscription unlocks:
Live events
Event replays
Event results
Breaking news
Limited ads on PRO videos
A subscription allows up to 12 streams on one or many devices connected to the same wifi.
What Is The College Baseball Showdown Schedule?
Feb. 17 College Baseball Showdown Day 1 Schedule:
Oklahoma State 5, Missouri 3
TCU 11, Vanderbilt 4
Arkansas 3, Texas 2
Feb. 18 College Baseball Showdown Day 2 Schedule:
Vanderbilt 11, Oklahoma State 9
4 p.m. ET: Texas vs. Missouri
8 p.m. ET: TCU vs. Arkansas
Feb. 19 College Baseball Showdown Day 3 Schedule:
11:30 a.m. ET: Vanderbilt vs. Texas
3:30 p.m. ET: Arkansas vs. Oklahoma State
7:30 p.m. ET: Missouri vs. TCU
Are Any Of The Teams At The College Baseball Showdown Ranked?
Yes. According to Collegiate Baseball's 2023 DI preseason rankings, there are five preseason top 25 teams in Arlington that weekend, including two, Vanderbilt and Arkansas ranked in the top 10.
Here's the breakdown:
No. 7 Arkansas
No. 9 Vanderbilt
No. 12 Oklahoma State
No. 15 TCU
No. 25 Texas