2023 College Baseball Showdown
TCU Starts Season At College Baseball Showdown
TCU Starts Season At College Baseball Showdown
TCU—having made five CWS appearances in eight seasons—will start their season at Collge Baseball Showdown, one of the best baseball tourneys not in Omaha.
Feb 14, 2023
by Ron Balaskovitz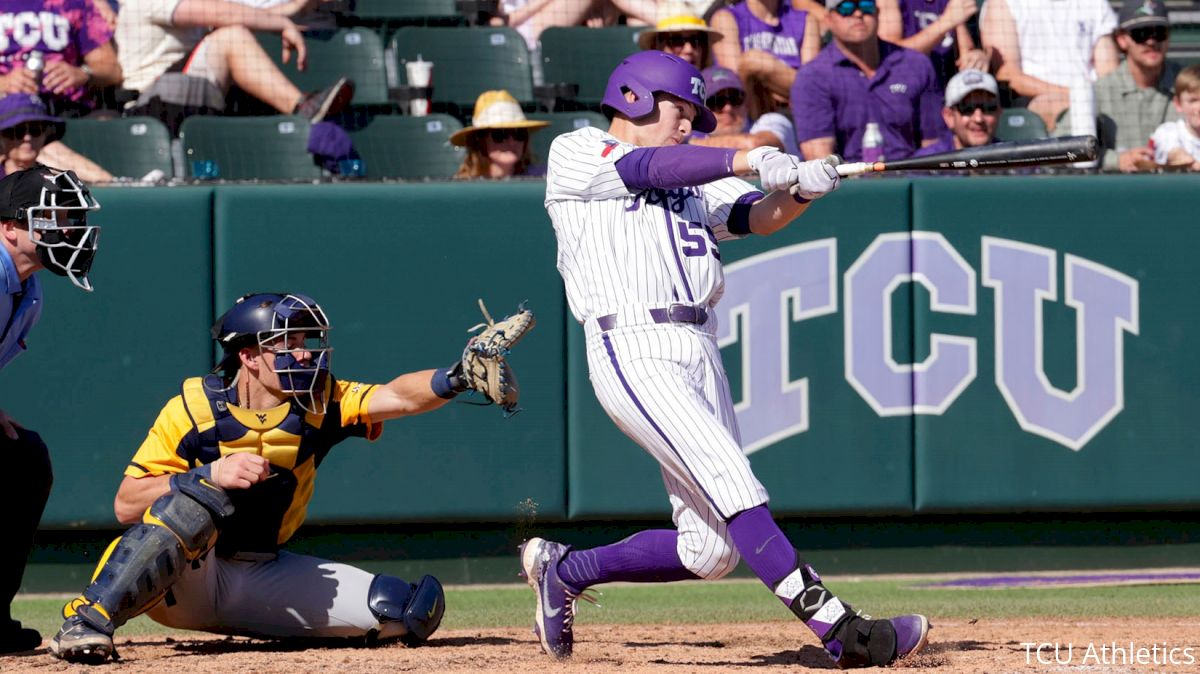 After an eight-year run that saw the TCU Horned Frogs emerge as one of the most consistent college baseball programs in the country—a stint that included five College World Series appearances—the program enters 2023 with high expectations to get back to Omaha, having gone five straight seasons without a regional title, let alone a CWS berth.
TCU will get a big test out of the gate at the Higginbotham College Baseball Showdown, facing a trio of SEC teams, including two top-10 teams in Vanderbilt on Friday, and Arkansas on Saturday.
With the return of five preseason all-league picks, including a preseason All-American manning the hot corner, the Horned Frogs enter 2023 as the slim favorites in the Big 12, one of the deepest, toughest conferences in college baseball.
They'll look to build off last season's 38-22 mark, which included going 16-8 in the Big 12, along with a strong home-field advantage to the tune of 19-7 at Williams-Riley Field.
The 38 wins was another good season for the Horned Frogs, but one that left them wondering what might have been.
They closed the 2022 regular season on fire, winning seven games in a row, scoring seven runs or better in each of those games.
After a win in the Big 12 tournament opener, the magic ran out. They fell to Texas and Oklahoma State, sending them to a regional at Texas A&M, where a loss to the host Aggies brought an end to the season.
Preseason rankings are in 📈

Ready to get to work #FrogballUSA | #GoFrogs pic.twitter.com/AxIJZQkEdI

— TCU Baseball (@TCU_Baseball) February 3, 2023
The good news for TCU entering 2023 is that a large chunk of a potent offense that hit .270 as a team and averaged around seven runs per game returns, led by third baseman Brayden Taylor, who was picked for nearly every preseason honor.
After hitting .314 as a sophomore, which included 13 home runs and 50 RBIs, both second-best on the team behind the departed Tommy Sacco, Taylor was named as the Big 12 Preseason Player of the Year and a preseason All-American by four different publications.
Needless to say, the expectations are high for the junior, and with good reason.
That hype also has him among the projected lottery picks for this summer's MLB Draft, with MLB.com ranking him as the 11th-best draft-eligible prospect this year.
Should he go in the first round, which seems likely, barring something unforeseen happening, he would become the school's first position player taken in the opening round. TCU traditionally is a pitching-rich team.
Taylor's left-handed swing and patience at the plate, which included 55 walks in 59 games last year, along with only 40 strikeouts, makes him out of the best contact hitters in the country.
He ended last season with hits in 12 of the team's last 14 games, tapping into his power and belting five home runs in the stretch, including long balls in each of the team's final three games.
But it's not just Taylor who offers hope and excitement for the TCU offense.
Outfielders Elijah Nunez and Austin Davis also were preseason All-Big 12 picks, with Nunez being one of the country's biggest threats on the basepaths.
Also a junior, Nunez swiped 31 bases in 33 attempts last season, hitting a solid .287, with a team-best 58 walks in his 60 games.
There's not much power to his game, as he had just 12 extra base hits, but getting on-base at an almost .440 clip, combined with his speed, turns walks and singles into doubles. Expect him to ignite the lineup from the top spot.
Elijah Nunez • 𝟯𝟭 𝘀𝘁𝗼𝗹𝗲𝗻 𝗯𝗮𝘀𝗲𝘀 𝗶𝗻 𝟮𝟬𝟮𝟮

1 of 22 with at least 30 stolen bases, ranks tied 17th in the NCAA. #FrogballUSA | #GoFrogs pic.twitter.com/FZEg6WxYIb

— TCU Baseball (@TCU_Baseball) December 14, 2022
Davis joins TCU as a grad student. He spent his undergraduate years at West Virginia, where he was an All-Big 12 pick each of the last two seasons, including first-team honors in 2022.
Like Nunez, his speed is his biggest asset, nabbing 29 bags last season in addition to being a career .313 hitter.
Throw in that Kurtis Byrne (.291 average), David Bishop (.261) and Luke Boyers (.250) all return, and the Horned Frogs will boast at least six quality hitters in the lineup.
Add in freshman Anthony Silva, who was picked as the league's preseason Freshman of the Year, and it's a lineup that may not have a weak spot in it.
That lineup will need to start hot and stay hot, as the big question for TCU coming into the season becomes: Who is going to start on the mound?
Gone are the three starters who made 35 of the team's 60 starts last season, leaving only Cam Brown as the staff's lone pitcher who started multiple games last season.
Brown was solid in his nine starts and 13 total appearances, going 5-2 with a 4.42 ERA. In the early, it's likely he'll step into the ace role. Who starts after him is the next big question.
One thing the Horned Frogs do have the answer to is who will slam the door shut in the late innings, as relievers Luke Savage and Garrett Wright took both spots for relief pitchers on the preseason Big 12 team.
Savage typically was the first guy out of the pen last season, posting a 2.72 ERA and a pair of saves, while working 39 innings.
Wright was even better in half the innings as the next man up in the bullpen. He posted a 2.89 ERA and fanned 27 batters in just 18 innings of work.
Throw in River Ridlings, who saved 10 games last season, and TCU has the bullpen to hold onto leads the offense should be able to get them.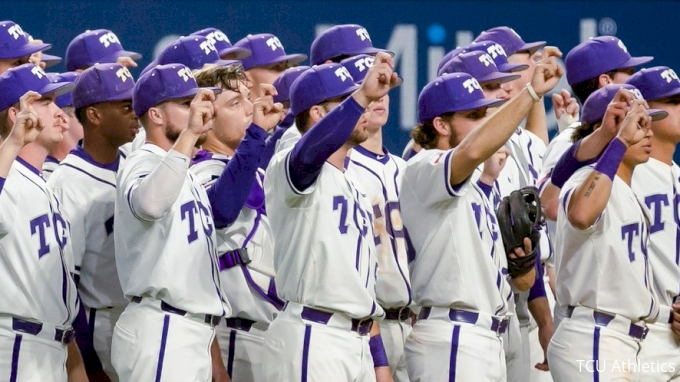 A loaded lineup led by a top draft prospect, and three strong arms in the bullpen, have TCU hoping a return to the College World Series comes at the end of the 2023 season.