2023 Snowbird Baseball
Ohio State, UConn Series Among Things To Watch At Snowbird Classic
Ohio State, UConn Series Among Things To Watch At Snowbird Classic
2022 NCAA Tournament breakout team UConn heads the field of Div. I teams at the Snowbird Classic.
Feb 15, 2023
by Kyle Kensing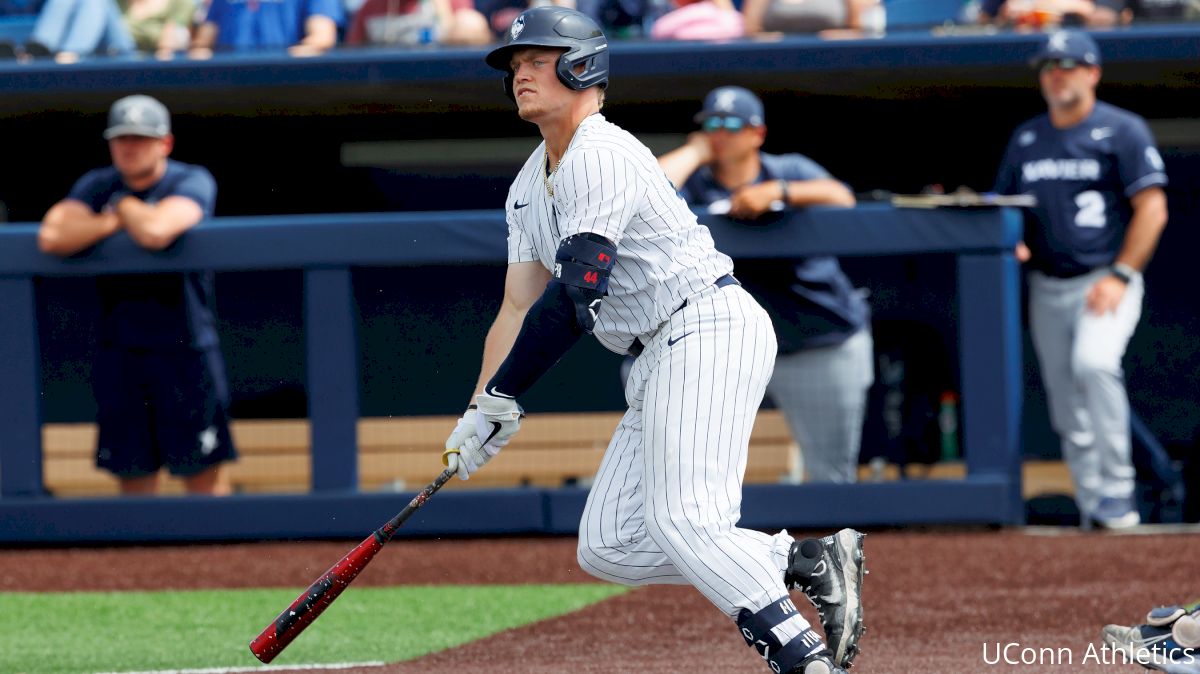 BIG EAST champion UConn took the college baseball world by storm a season ago, knocking off Maryland to advance to the Super Regionals and giving Stanford all it could handle in contention for a College World Series berth.
The Huskies reload in 2023 and their push for Omaha begins at the Snowbird Classic.
UConn faces Ohio State for a four-game BIG EAST vs. Big Ten series spanning President's Day Weekend. Their matchup on Friday, Feb. 17 concludes the Snowbird Classic's opening-day tripleheader, which also includes a preceding match of Indiana State and Iowa at Cool Today Park, and the University of Maine taking on Pitt at the Ed Smith Complex.
Day 1 sets the tone for a full month of action, with Div. III competition beginning in March after the final weekend of Div. I games.
UConn Huskies
Last year's Cinderella story at the NCAA Tournament is back in a big way, poised for a BIG EAST three-peat and another crack at Omaha. The Huskies lineup includes Korey Morton, who hit an impressive .411 in 41 games played last season. Ben Huber is back after slugging 11 home runs and a team-leading 66 RBI, David Smith hit better than .300 playing in all 66 games, and Bryan Padilla will have a chance to build on his eight homers from 2022.
The albino rhino may just be my new favorite nickname. Ben Huber from @UConnBSB looks like a cartoon of a really strong baseball player pic.twitter.com/Jr9lHgWRaX

— Stephen Schoch (@bigdonkey47) March 16, 2022
UConn's pitching staff is undergoing a facelift with the corps of starters gone. The Snowbird Classic promises a first look at what to expect of the Huskies on the mound. Ian Cooke is the most seasoned of the staff, making six starts and amassing a 7-1 record with a 3.64 ERA in 2022. Justin Willis and Garrett Coe showed impressive stuff, striking out 44 and 38 in relief appearances.
Florida Gulf Coast Eagles
Local program Florida Gulf Coast makes a one-day appearance in the first week of Snowbird Classic action to take on Indiana State. Both teams will be vying for their conference championships and associated bid in the NCAA Tournament. Alejandro Rodriguez, Alejandro Figueroa and Brian Ellis all hit north of .320 a season ago, playing in all 58 games. Figueredo also belted 13 home runs for one of the most prolific offenses in the country.
The Eagles' 94 homers in 2022 ranked 29th nationally. Joe Kinker was responsible for 20 of them; he's back, and so is Harrison Povey, who mashed 15.
JOE KINKER WALK OFF SINGLE. SERIES TIED 🔥🔥@FGCU_Baseball evens the series. Gonna be a fantastic finale tomorrow. pic.twitter.com/Nboo8BmdKx

— 11Point7: The College Baseball Podcast 🎙 (@11point7) April 2, 2022
FGCU's exciting offense promises to be a highlight in the Div. I portion of the Snowbird Classic.
Harvard Crimson
Harvard begins a lengthy tour of Florida with a four-game series at the Snowbird Classic's second weekend, drawing a matchup with Pitt. The Crimson return 1st Team All-Ivy League pitcher Jay Driver, a standout from the bullpen last season with a 1.91 ERA, 45 strikeouts in 28-and-a-third innings, and an opponent batting average of .206.
Chris Clark earned 2nd Team All-Ivy after producing 47 strikeouts, an opponent batting average of .204, and an ERA of 3.08. Harvard will build off of pitching and have a prime opportunity to shine against power-conference competition.
Indiana State Sycamores
Garnering a first-place nod in what promises to be a stiff competition for the Missouri Valley Conference championship, Indiana State tests itself against a varied collection of opponents over two weekends at the Snowbird Classic.
First up for the Sycamores is Iowa out of the Big Ten. Indiana State's pursuit of a third NCAA Tournament appearance in four seasons starts there. Expect All-American pitcher Matt Jachec to make his presence known early.
Iowa Hawkeyes
Preseason All-American Keaton Anthony leads Iowa into the Snowbird Classic, where the Hawkeyes face Indiana State and Quinnipiac during opening weekend. Anthony hit a whopping .361 with a 1.133 OPS a season ago, including team-highs of 14 home runs and 55 RBI.
KEATON ANTHONY OVER THE SCOREBOARD pic.twitter.com/4OxLVmOSlB

— SuperHawkeyeFan (@superhawkeyefan) May 7, 2022
Anthony doubles as a pitcher, though was limited in that role a season ago. Ty Langenberg is the leading returning starter, amassing a 3.71 ERA in 12 starts and 63 innings of work.
UMaine Black Bears
Maine leaves the cold of New England for the sunshine of Florida with its three-game series at the Snowbird Classic. The Black Bears take on Pitt Feb. 17-19, looking to make their mark in 2023.
Quinn McDaniel is back after belting 10 home runs and boasting a .569 slugging percentage. McDaniel was also a top-notch base-runner with 22 steals in 25 attempts.
Northeastern Huskies
A projected contender in the Colonial Athletic Association, Northeastern's pursuit of an NCAA Tournament includes an early-season visit to the Snowbird Classic. The Huskies swing through Florida after a season-opening series at UNC Greensboro, and as part of a trip that pits them against the Boston Red Sox.
From For Myers, Northeastern makes the short trip to Port Charlotte for three games against Indiana State, including a Feb. 25 doubleheader. NU brings a superb starting pitching staff to the Snowbird Classic.
Wyatt Scotti have a day. 🔥🔥🔥
➡️7inn 1 earned 10 Ks

On the season:
26.1 innings 2 earned runs .68 era @GoNUbaseball pic.twitter.com/1Gnd6jS9YN

— 11Point7: The College Baseball Podcast 🎙 (@11point7) March 13, 2022
Ohio State Buckeyes
The Buckeyes' four-game series against UConn is among the most intriguing storylines from the Snowbird Classic. Ohio State hopes to break through in what should be a wide-open Big Ten Conference, and the return of All-Conference honorees Marcus Ernst and Kade Kern, as well as All-Freshman selection Trey Lipsey, provides the Buckeyes a solid foundation for 2023.
Pitt Panthers
Seven games over two weekends at the Snowbird Classic open Pitt's 2023 campaign. The Panthers could make some noise in the always-tough ACC this season thanks to a young but promising roster featuring second-year infielder Tommy Tavarez and prep All-American turned JUCO standout Zack Oswald joining the pitching staff.
The Panthers draw UMaine and Harvard at the Snowbird Classic, giving a roster full of potential a chance to get acclimated to the college game.
Quinnipiac Bobcats
Quinnipiac endured a challenging 2022, but return some possible breakout stars to lead the way in 2023. Jared Zimbardo and Anthony Donofrio both hit north of .300 in '22 and combined for 13 home runs. Donofrio was a top base-runner with 15 teals, while Kyle Maves is back after swiping 23.
Solidifying the pitching staff after a rocky season a year ago will be a subplot to watch as the Bobcats take on Indiana State and Iowa during their stint at the Snowbird Classic's opening weekend.