Big Ten
Donlan Grand Slam Powers UConn To Stanford Super Regional Matchup
Donlan Grand Slam Powers UConn To Stanford Super Regional Matchup
UConn picked up its first NCAA Regional win since 2011 and now will head west for a Super Regional showdown with Stanford, the tournament's No. 2 seed.
Jun 7, 2022
by Kyle Kensing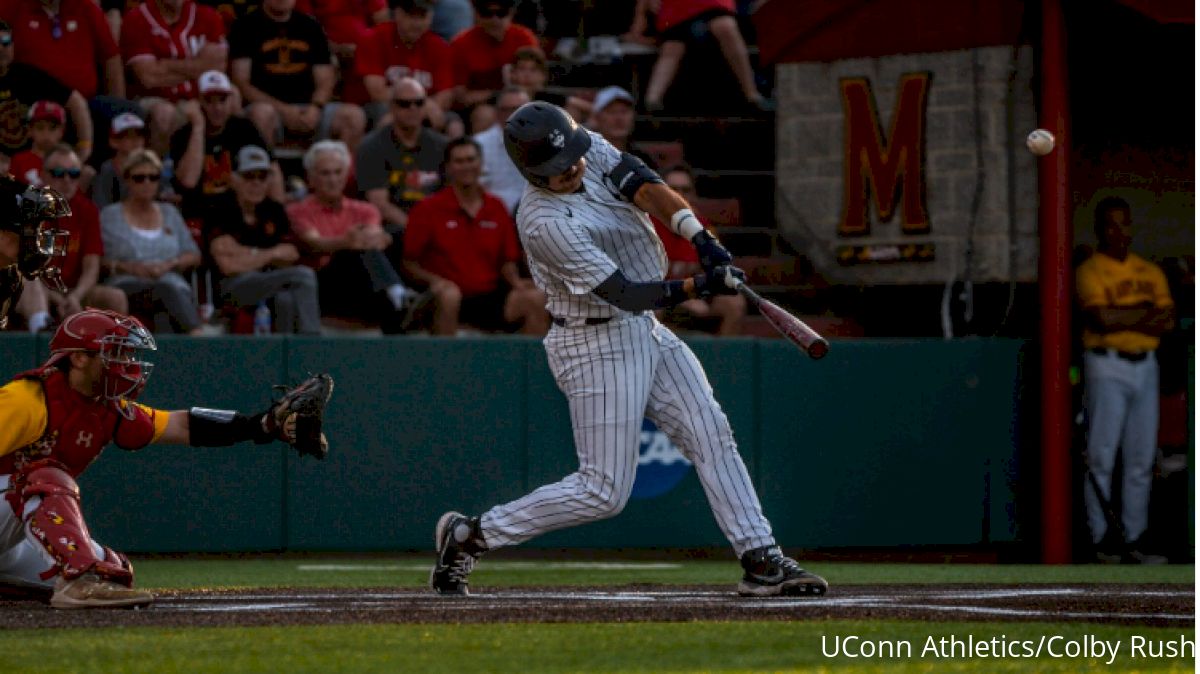 Matt Donlan has had himself an NCAA Tournament to remember.
And, thanks in part to his first-inning grand slam in Monday's Regional Final matchup with Maryland, an unforgettable postseason both for Donlan and his UConn Huskies teammates continues into the Super Regional.
With two out in the first inning, Casey Dana, Ben Huber, Bryan Padilla and Korey Morton all walked in succession. Then, when T.C. Simmons was hit by a pitch, the stage was set for Donlan. His base-clearing shot was the lone hit and built on a lead the Huskies never relinquished.
Order up...GRAND SALAMI!!

📺 ESPNNEWS#RoadToOmaha x @UConnBSB pic.twitter.com/ANaWFvMNnb

— NCAA Baseball (@NCAABaseball) June 6, 2022
Tacking on another run on a sacrifice fly in the third inning, the catcher Donlan put a bow on three outstanding games at the plate against the No. 15 national seed Terrapins. He drove in nine runs total, with Monday's five marking the coup de grace.
The first-inning eruption, which UConn extended to a 9-1 advantage after a David Smith solo home run and Padilla's run-scoring double in the fourth inning, gave the Huskies the lead for the duration - but sealing a spot in the Super Regional wasn't an eight-inning breeze.
Maryland's four-run fifth, a Chris Alleyne two-run homer in the seventh and a run added in the eighth with runners threatening, added some late drama, even after Padilla - celebrated on the game broadcast as the "unheralded player of this Regional" - added one last run.
UConn boasted some of the nation's most consistent pitching throughout the 2022 regular season. So, even in a game with 19 combined runs, it's fitting that lights-out work on the mound ended it.
Justin Willis rebounded from a rocky outing in Saturday's win over Maryland, in which he surrendered three earned runs with two flawless innings on Monday. He picked up his 15th save of the season, striking out two with no hits or walks given up.
The two-inning save put a punctuation mark on UConn's first Regional win since 2011.
A Night To Remember! #HookC pic.twitter.com/fme1QY6yt7

— UConn Baseball (@UConnBSB) June 7, 2022
Now, the road from Storrs to Omaha takes a cross-country detour. The Huskies travel to California for the Super Regional for a showdown with Stanford, the tournament's No. 2 seed and survivor of a wild Regional final against Texas State.
The Cardinal went into the bottom of the ninth trailing 3-1 after a pair of top-ninth Bobcats runs. Back-to-back solo home runs from Drew Bowser and Tommy Troy forced a tie.
STANFORD HAS TIED THE GAME!! 🤯🤯🤯

📺 ESPN2#RoadToOmaha x @StanfordBSB pic.twitter.com/f6pQPTkPlh

— NCAA Baseball (@NCAABaseball) June 7, 2022
A Trevor Haskins single later completed the comeback and set the matchup for the Super Regional.
In Stanford and UConn are opponents with 93 combined wins. Both boast some of the best collective pitching in college baseball.
To wit, the Huskies head to the Bay Area with the No. 3-ranked team ERA in the NCAA. Stanford comes into No. 12. Pat Gallagher, who went seven innings in the June 4 UConn win over Maryland, leads a trio of Huskies starters with ERA of 3.21 or better.
Stanford's Alex Williams and Quinn Mathews sport ERAs under 3.00, and join Drew Dowd to combine for 261 strikeouts on the campaign.