2022 Snowbird Baseball
BIG EAST Baseball Preview: UConn's Path To A Three-Peat Won't Be Smooth
BIG EAST Baseball Preview: UConn's Path To A Three-Peat Won't Be Smooth
It took a little bit for UConn baseball to find its footing in the BIG EAST, but now no one in the league, other than the Huskies, is glad it happened.
Feb 12, 2023
by Briar Napier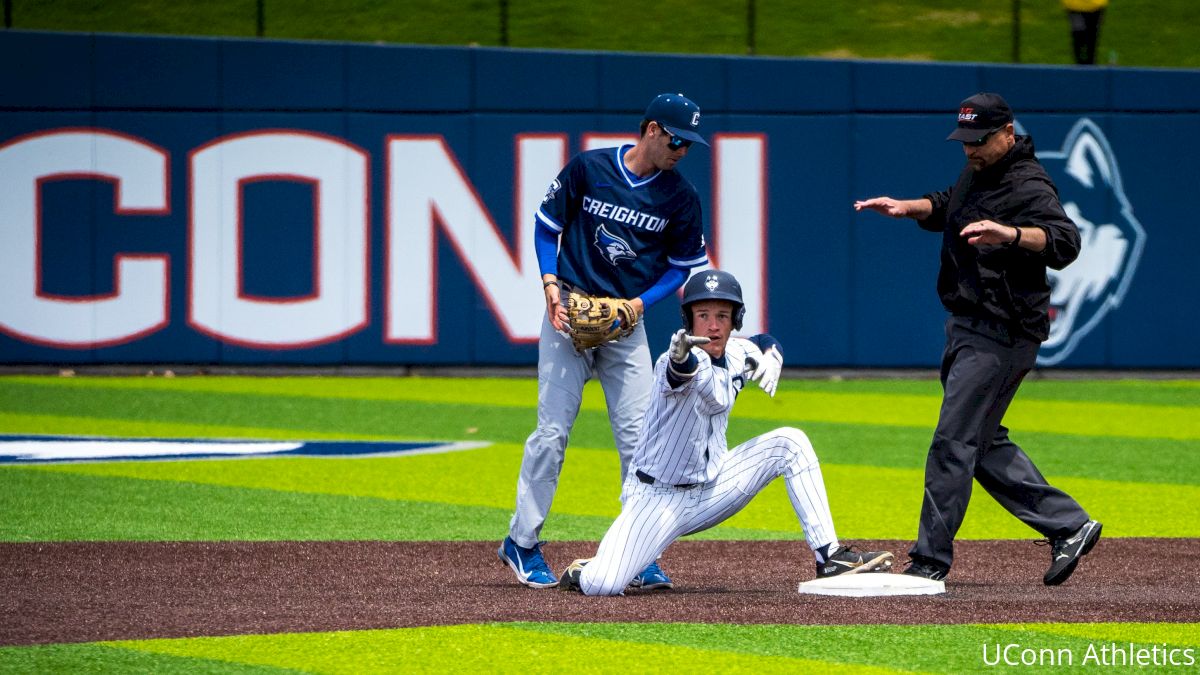 It took a little bit for UConn baseball to find its footing in the BIG EAST, but now no one in the league, other than the Huskies, is glad it happened.
The two-time defending conference regular-season and tournament champs, the Huskies put the BIG EAST on the map last season, thanks to a year in which they had plenty of wins and almost got to strut their stuff in front of a national audience.
However, before UConn was flirting with the glitz and glamor of a possible College World Series berth, it first had to outlast its own league as part of a conference double that was far from straightforward to obtain.
As the Huskies attempt to reload their roster for 2023 with an ever-growing target on their backs, the motivation to take them down is only growing stronger.
Here's a look at all there is to watch out for during the upcoming BIG EAST baseball season, with league games being streamed live throughout the year on FloBaseball.
Teams To Watch
A year after it won a school-record 50 games and was a victory over Stanford away from being the first current BIG EAST baseball program since 1991 to advance to a CWS, UConn once again is the favorite in the league's preseason coaches' poll.
UConn was the unanimous pick after being dominant across the league slate, snagging the 2022 regular-season and tournament two-fer.
No squad has won three straight BIG EAST Tournament titles since Notre Dame's five-year dynasty from 2002-2006, but with several big-time returners and possibly as much positive momentum as it's ever had under longtime coach Jim Penders, who knows what UConn's ceiling actually will be this year.
Final Tune Ups. #HookC pic.twitter.com/J2gHKkyYr2

— UConn Baseball (@UConnBSB) February 12, 2023
The race for the rest of the conference tournament slots – also know as the top 4 of the league standings – should be where much of the excitement of the season is, however.
On paper, preseason BIG EAST No. 2 Creighton seems like a safe bet to reach the postseason, following its ability at the very end of last season to nearly surpass UConn for the regular-season title, with coach Ed Servais having built a consistent program that has recorded at least 11 league wins in every (completed) season since the Bluejays switched from the Missouri Valley Conference for the 2014 campaign.
The No. 3-6 teams of the BIG EAST preseason poll, however, could go in any direction.
Xavier (preseason No. 3) and Georgetown (No. 4) rounded out last season's BIG EAST tourney field, but the Musketeers needed eight wins in their final 10 conference games to do it, while the Hoyas shockingly swept UConn in their series on the regular-season's final weekend to help punch their ticket to the postseason.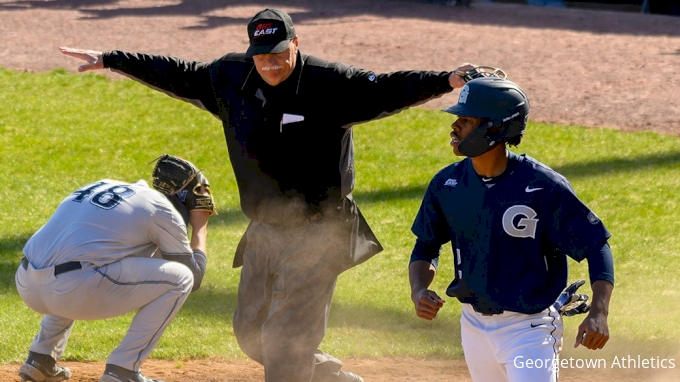 The tables easily could turn and see the likes of Seton Hall (No. 5) and/or St. John's (No. 6) do the same this year, with the Pirates looking to come out strong in 2023, after injuries to key players.
The Red Storm are looking to improve upon a putrid away record (5-22) from a year ago that heavily contributed to them being on the outside looking in after the regular season.
And considering Georgetown was the 2022 preseason's No. 7-ranked team and eventually made the conference tournament, don't completely count out Villanova (No. 7) or Butler (No. 8) yet this year, either.
Players To Watch
The best-performing BIG EAST pitching rotation overall in 2022, UConn's staff returns a Collegiate Baseball Freshman All-American in Ian Cooke, a standout who went 7-1 with a 3.64 ERA with 54 strikeouts in 54 1/3 innings for the Huskies.
With the right-hander now named the BIG EAST Preseason Pitcher of the Year and bestowed a starting role on a team with high expectations, Cooke should be one of the most important names to his team in the entire BIG EAST – and for good reason.
The BIG EAST Preseason Player of the Year, meanwhile, is Xavier shortstop Jack Housinger, who finished third in the BIG EAST a season ago with 16 home runs and was a superb power pairing with All-American first baseman/outfielder Luke Franzoni, who smashed a school-record 29 home runs in 2022.
Jack Housinger comes in at No. 17 in @d1baseball's Preseason Top 50 Shortstops!

🔗: https://t.co/4fXzyOvSa9#LetsGoX pic.twitter.com/r1smRCHmgE

— Xavier Baseball (@XavierBASE) February 6, 2023
Now expected to lead the Musketeers' offense after a career year of his own – hitting a college-best .311 with 58 RBIs to go along with his homer tally – Housinger should slide in nicely as Xavier's top offensive weapon with Franzoni now out of the picture.
There are additional players who, like in Georgetown's run to the league tourney last year, could help boost teams up the standings, such as at Seton Hall, where a return to the BIG EAST Tournament also may be piloted by who the Pirates hope is a healthy Will Gale.
The junior outfielder and 2021 All-BIG EAST second-team pick was limited to just seven league games a season ago due to injury, but he hit an impressive .462 in the conference matchups for which he did suit up.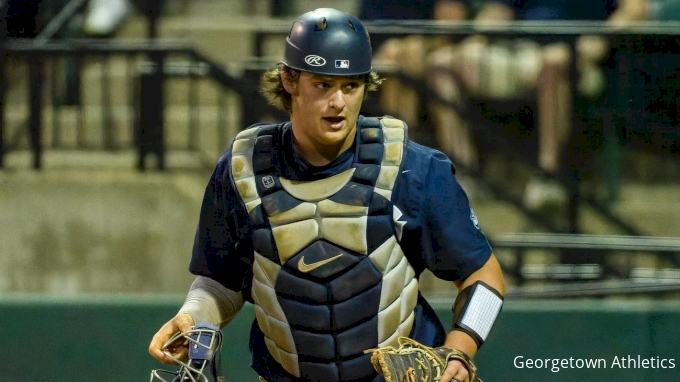 And on the topic of the Hoyas, sophomore catcher Owen Carapellotti is expected to build nicely off the BIG EAST Freshman of the Year award he secured last season, batting .282 with eight homers and 38 RBIs as one of the leaders of Georgetown's big leap from 6-25 (.194) in 2021 to 32-24 (.571) in 2022.
Storylines To Watch
Can UConn Avoid A Regression?
You don't win 50 games and find yourself a game away from Omaha without having some standouts in your ranks, and the Huskies had plenty of them last season.
However, of the eight All-BIG EAST selections on the 2022 UConn roster, only one (junior Korey Morton) is back for 2023, meaning that longtime coach Jim Penders has a lot of firepower he needs to find ways to replace, and soon.
The Huskies' position as preseason league favorites is deserved, considering recent history, but with 24 underclassmen on the roster, more than a few names with varying levels of college experience are going to have to step up for UConn to defend its BIG EAST crown and capture a fifth straight NCAA Tournament appearance.
Four Huskies recognized by @d1baseball pic.twitter.com/jLSAqvpsRO

— UConn Baseball (@UConnBSB) February 9, 2023
First baseman Ben Huber (.327, 11 home runs, 66 RBIs) should be one of the steady presences as a graduate student, particularly considering his monster close to last season, where he smacked five RBIs across the three-game Super Regional series against Stanford, while Morton – named to the All-BIG EAST first team, despite a nagging hamstring injury throughout last year – can be one of the league's top players (.411, six home runs, 28 RBIs in 41 games) when healthy.
Can Blake Beemer Fix Butler?
Butler hasn't had an over-.500 record in BIG EAST play since it joined the league in time for the 2014 season, with the Bulldogs needing a spark of life in order to finally find their way around the conference.
Enter Blake Beemer, hired in the offseason following assistant stints at Penn State, Eastern Illinois and Ball State. At the latter stop, he spent four seasons on the Cardinals' staff.
There is a bit of risk involved with the move – Beemer, only 31, has never been a collegiate head coach and is tasked with jump-starting a Butler squad that's coming off a 20-35-1 season with just four league wins to its name.
Follow our coaching staff for everything Butler Baseball!
📱@BTBeem24
📱@rosslearnard
📱@CoachBales12
📱@dan_wilcher
🐶@TheButlerBlue pic.twitter.com/Ni06n0R0td

— Butler Baseball (@ButlerUBaseball) December 7, 2022
What the former Ball State player is experienced in, though, is recruiting, and that may help lift Butler baseball's spirits soon.
Beemer held recruiting coordinator positions at both EIU and BSU, helping his alma mater clinch last year's Mid-American Conference regular-season championship, thanks to his work bringing in players like the league's Pitcher of the Year, Tyler Schweitzer.
Now at the helm of a whole program, Beemer has a lot of work to do, but there's plenty of recruiting potential in the talented Indianapolis-area prep scene to work with.
What's Georgetown's Ceiling?
The Hoyas have never exactly been confused for a college baseball juggernaut, but to be an organized team since 1870 (yes, when Ulysses S. Grant was in office) and set the school record for wins last season with … 32?
Yeah, there have been some dark times in Georgetown's baseball history, which also is partly why the team's sudden explosion under coach Edwin Thompson (the reigning BIG EAST Coach of the Year) is so intriguing.
Beat the tag for the walk-off!!!#NCAABaseball x 🎥 @GtownBaseball pic.twitter.com/IFchUO7yAa

— NCAA Baseball (@NCAABaseball) May 21, 2022
The Hoyas had an exciting offense that blasted a program-best 98 home runs, and when they shockingly swept league double-winner UConn to put an exclamation point on their historic regular season, they put the conference on notice.
Carapellotti's growth likely will be a major part of Georgetown's plans going forward, but Thompson and his staff picked up plenty of reinforcements in the offseason, too.
They snagged former Michigan State outfielder Zaid Walker (All-Big Ten third team in 2021) and left-handed Lafayette pitching transfer Jake Bloss (6-3, 3.57 ERA, 68 strikeouts in 58 innings for the Leopards last year) have the potential to be a couple of solid pieces from the portal for a Hoyas program on the rise.