2023 Virginia Tech vs Charleston
2023 CAA Baseball: CofC Is The Favorite, But Expect Tough Competition
2023 CAA Baseball: CofC Is The Favorite, But Expect Tough Competition
A veteran College of Charleston team is tabbed as the CAA's preseason favorite, but the Cougars will face no shortage of challengers in 2023.
Feb 14, 2023
by Kyle Kensing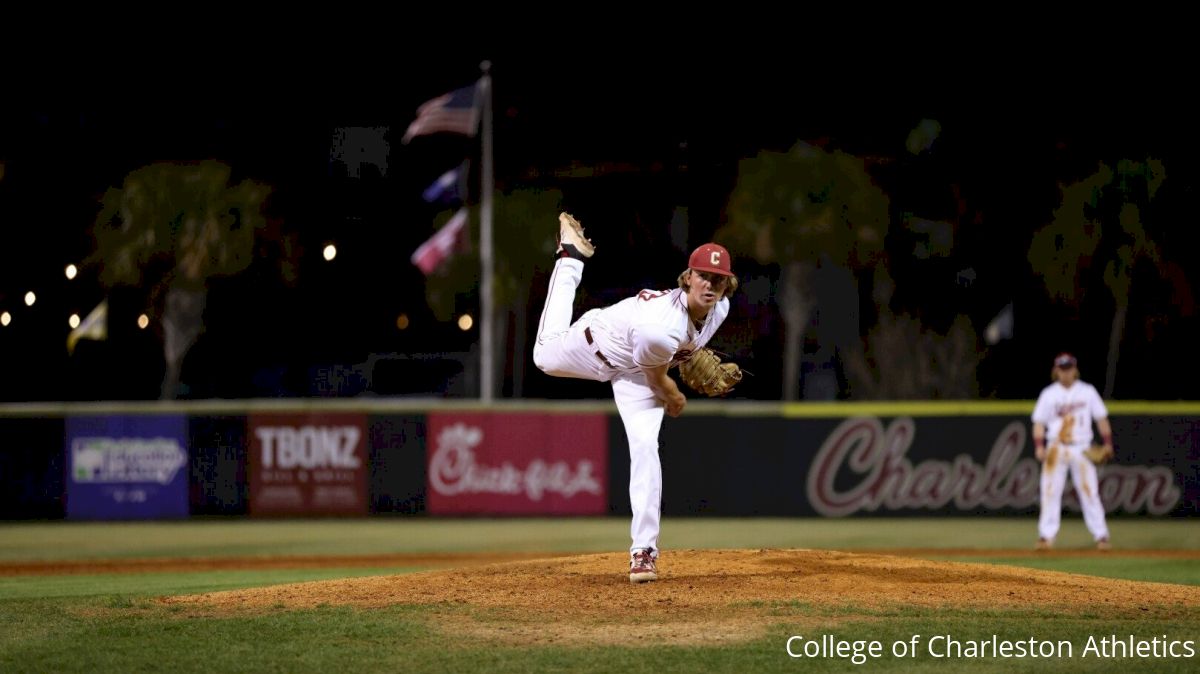 With 9-of-11 first-place votes, College of Charleston received an overwhelming nod as the Colonial Athletic Association's team to beat in the 2023 baseball.
Combining veteran savvy on the mound and a variety of standout hitters at the plate, the Cougars' status as preseason favorite shouldn't be a surprise. However, as Hofstra's run to a CAA title and NCAA Tournament berth proved a season ago, the league provides plenty of surprises.
The defending champion Pride come into the campaign picked to finish third, behind Charleston and UNC Wilmington. UNCW and Northeastern — the latter, picked No. 4 overall — were the only other teams to receive first-place votes.
Charleston
2022 Record: 37-20, 19-5 CAA
College of Charleston boasts five preseason All-CAA honors, including the 2023 preseason Player of the Year, pitcher William Privette. Privette finished the 2022 season with a 0.91 ERA in 59-and-a-third innings of work, striking out an incredible 80 batters in those appearances.
Joining Privette among pitchers on the All-CAA team is Ty Good, Charleston's Friday starter and a 2022 1st Team All-CAA honoree. Good won 10 games in 15 starts with a 3.61 ERA, 88 strikeouts and an opponent batting average of .201.
Complementing the proven commodities in the pitching rotation, Charleston returns plenty in the batting order with outfielders Trotter Harlan and Tyler Sorrentino, and catcher JT Marr. Harlan and Marr led CofC in a number of offensive categories with batting averages of .305 and .298, eight and seven home runs contributing to 46 and 42 RBI, and each proved dangerous on the bath paths with 17 and 13 steals. Sorrentino added another 15 steals, contributing to the Cougars ranking in the nation's top 40 for total stolen bases a season ago.
Privette, Good, Marr, Harlan and utility infielder Joseph Mershon were each recognized in D1Baseball's list of top performers at their positions.
Delaware
2022 Record: 25-26, 8-15 CAA
The Blue Hens will look to defy expectations in the 2023 campaign, heading in picked eighth in the new-look conference. Delaware retains some of its top performers from a season ago, including a pair of hitters who batted better than .310 in Bryce Greenly and Jake Dunion. J.J. Freeman was named a preseason honorable mention All-CAA selection coming off hitting a team-best nine home runs last year.
Joey Silan is back for the Blue Hens pitching staff after starting a team-high 13 games in 2022. He struck out 56 in 70 innings and finished with a .253 opponent batting average, best among Delaware's regular starters.
The 2023 season marks the beginning for a new era for Delaware, with Greg Mamula taking the helm as head coach after an impressive tenure as an assistant coach at FAU.
Elon
2022 Record: 27-28, 9-14 CAA
Pitcher Shea Sprauge is one of the top returning starters in the Colonial and a pillar for an Elon team that could make some serious noise in 2023.
Sprauge finished last season with a 1.89 ERA, 1.02 WHIP and struck out 41 as one of the Phoenix's primary starters. He garnered preseason All-CAA recognition heading into the new season, and will likely be Elon's ace. The Phoenix also return Cole Reynolds, who made six starts in 2022. Reynolds is also among the team's top returning hitters, delivering four home runs a season ago.
Catcher and DH Luke Stephenson powers Elon at the plate. Stephenson earned honorable mention All-CAA last year and was an All-Tournament selection with hits in every game at the CAA Tournament. Stephenson is a preseason All-CAA selection.
Hofstra
2022 Record: 30-23, 15-9 CAA
Frank Catalanotto's first season as Hofstra head coach could not have gone much better. The Pride won their first-ever CAA championship in 2022 and advanced to the NCAA Tournament at the culmination of a dream campaign.
The Pride's expectations-defying year was owed to a deep batting order with nine different players amassing at least 34 base hits. Among that group, catcher Kevin Bruggeman, utility infielder Ryan Morash and outfielder Will Kennedy were named preseason All-CAA. Bruggeman hit .293 in 022 with seven home runs and drew 15 walks. Morash batted .289 and swiped a team-high 12 bases, and Kennedy delivered 43 hits in just 130 at-bats.
Hofstra also welcomes back ace Brad Camarda, a workhorse who threw 95-and-a-third innings in 2022. He struck out 76 and finished with an ERA of 3.87. Reliever Michael O'Hanlon, who struck out 40 in 43-and-two-thirds innings joins Camarda on the preseason All-CAA team.
Monmouth
2022 Record: 24-27, 12-10 Big South
One of the CAA newcomers, Monmouth embarks on its inaugural campaign in the conference looking to outpace its polling in ninth. The Hawks finished above .500 in the Big South Conference last year thanks in part to returning Casey Caufield, a .280 hitter with a knack for getting on base. His 41 walks gave him an on-base percentage of nearly 43, while DH and pitcher Alex Barker and pitcher/utilityman Joey Ventresca each got aboard nearly 40 percent of at-bats.
Commensurate with the move to a new conference, Monmouth's pitching rotation is undergoing serious changes. Three pitchers — Try Dombroski, Rob Hensey and Dan Klepchick — combined for 31 starts a season ago. All three are gone. Barker and Stephen Aldrich gained the most experience in 2022 with 31-and-a-third and 36 innings of work.
North Carolina A&T
2022 Record: 15-38, 3-21 Big South
Another CAA newcomer, North Carolina A&T joins the conference tabbed to finish last-place in its debut campaign. The Aggies endured a rocky 2022 in the Big South, enduring two separate nine-game losing streaks late in the season.
But A&T also showed flashes of promise, beating perennial powerhouse North Carolina and its Atlantic Coast Conference counterpart Pitt in the month of April, then winning the final series of the season against Gardner-Webb. Coach Ben Hall, who led A&T to the NCAA Tournament in 2018, has some positive momentum on which to build.
Two of A&T's top offensive performers last season — Cameron Brantley and Anthony Hennings — anchor the Aggies in 2023. Hennings hit .335 in 212 at-bats last season, while Brantley boasted a .441 slugging percentage with a team-leading eight home runs.
Northeastern
2022 Record: 31-29-1, 10-14 CAA
A favorite heading into the 2022 season, Northeastern found difficulty in a competitive CAA. The Huskies are again expected to compete in the Colonial as one of the three teams receiving a first-place vote in the preseason poll, and don't be surprised if they bounce back in a big way.
Northeastern features one of the top returning offensive players in the conference, Mike Sirota. The outfielder hit .326 and had a whopping .922 OPS in 2022 with a .511 slugging percentage. Sirota was also one of six Huskies to steal at least 10 bases; three of them return with Spenser Smith and Bosland back in the fold.
NU also returns standout pitchers Wyatt Scotti and Eric Yost, both of whom finished with sub-2.90 ERAs. Scotti boasted a WHIP of .96, striking out 65 in his 81-plus innings pitched.
Stony Brook
2022 Record: 27-25, 21-9 America East
Stony Brook is an intriguing new addition to the Colonial, coming off a strong 2022 in which it contended for the America East Conference championship. The Seawolves landed four on the preseason All-CAA team, including Golden Spikes Award watch list honoree Evan Giordano.
⭐️ 𝗚𝗼𝗹𝗱𝗲𝗻 𝗦𝗽𝗶𝗸𝗲𝘀 𝗪𝗮𝘁𝗰𝗵 𝗟𝗶𝘀𝘁 ⭐️@evangiordano12 joins @FreddyJ_6 as the only players in program history to debut on the @usagoldenspikes Preseason Watch List 👏

🔗: https://t.co/cZjEOuar3R

🌊🐺 x #NCAABaseball x @USABaseball pic.twitter.com/8ESwNYLQTx

— Stony Brook Baseball (@StonyBrookBASE) February 10, 2023
Giordano hit .333 with a 1.070 OPS and .628 slugging percentage, knocking out 13 home runs. Fellow All-CAA preseason selection Evan Fox hit .322 with a .976 OPS and was one of the nation's top base-stealers with 31 swipes in 33 attempts. Add Matt Brown-Eiring, who hit 10 home runs, and Stony Brook joins the Colonial immediately boasting one of the most impressive offensive lineups in the conference.
Towson
2022 Record: 14-39, 4-19 CAA
Towson's final record may not have been what the Tigers wanted, but they showed potential down the stretch with two All-CAA selections for the first time in six series, and a late-season series win over Charleston.
Matt Tyner's team will try to build on that and defy expectations in 2023, returning one of its All-Conference selections from a season ago, utilityman Elijah Dickerson. Dickerson hit .262 with 10 home runs and team-best 42 RBI last season. Towson also welcomes back James Moses, whose 48 hits were second-most on the team, and Cam Clark is coming off a strong season with a 3.18 ERA in 34 innings of relief work.
UNC Wilmington
2022 Record: 31-24, 15-9 CAA
The Seahawks closed out the regular season as one of the hottest teams in the CAA, scoring a win over 2021 College World Series qualifier NC State, sweeping Northeastern on the road, and taking a series win over James Madison. That did not translate to the CAA Championship, however, as losses to Hofstra and Elon quashed UNCW's hope of an NCAA Tournament appearance.
The team will have that motivating it in 2023 as UNCW looks like one of the most likely contenders to the Colonial title. The Seahawks must replace the outstanding Brooks Baldwin, but Taber Mongero's return gives UNCW one of its two plus-.300 batters from a season ago. Mongero hit six home runs to go with his .301 average. Dillon Lifrieri also returns after hitting .274 with eight home runs in 2022.
In less than a week, @UNCWBaseball is back. pic.twitter.com/K8wWRNWJMj

— Taber Mongero (@TaberMongero2) February 11, 2023
UNCW's pitching rotation includes RJ Sales, a right-hander who went 6-1 in 15 starts last season with a 3.52 ERA and 59 strikeouts; and Zane Taylor, coming off a 4-1 finish with 11 starts and a 4.03 ERA.
William & Mary
2022 Record: 26-23, 14-10 CAA
A breakout 2022 for William & Mary positions William & Mary for title contention in 2023. The Tribe finished above .500 both overall and in the Colonial thanks to consistent hitting, with six of the primary starters batting .276 or better, and steady pitching with two of the main starters sporting ERAs better than 4.00, and the most active reliever yielding an opponent batting average of .179 with a 2.94 ERA.
Carter Lovasz, the top relief pitcher, is back for 2023 following his standout freshman season. Starter Casey Green is also back, having put together a 3.29 campaign in his first season upon transferring from perennial power Coastal Carolina.
Joe Delossantos leads the offense after his .313 batting year, during which he hit nine home runs and was the Tribe's most prolific base-stealer with 13 swipes. Cole Ragone and Ben Williamson give William & Mary one of the more veteran lineups in the CAA.