2023 York Revolution vs Long Island Ducks
5 Former MLB Players Who Found Their Way To The Atlantic League For 2023
5 Former MLB Players Who Found Their Way To The Atlantic League For 2023
Players in the ALPB truly come from all walks of life. Here's a look at five former MLB players now calling the Atlantic League home.
May 17, 2023
by Briar Napier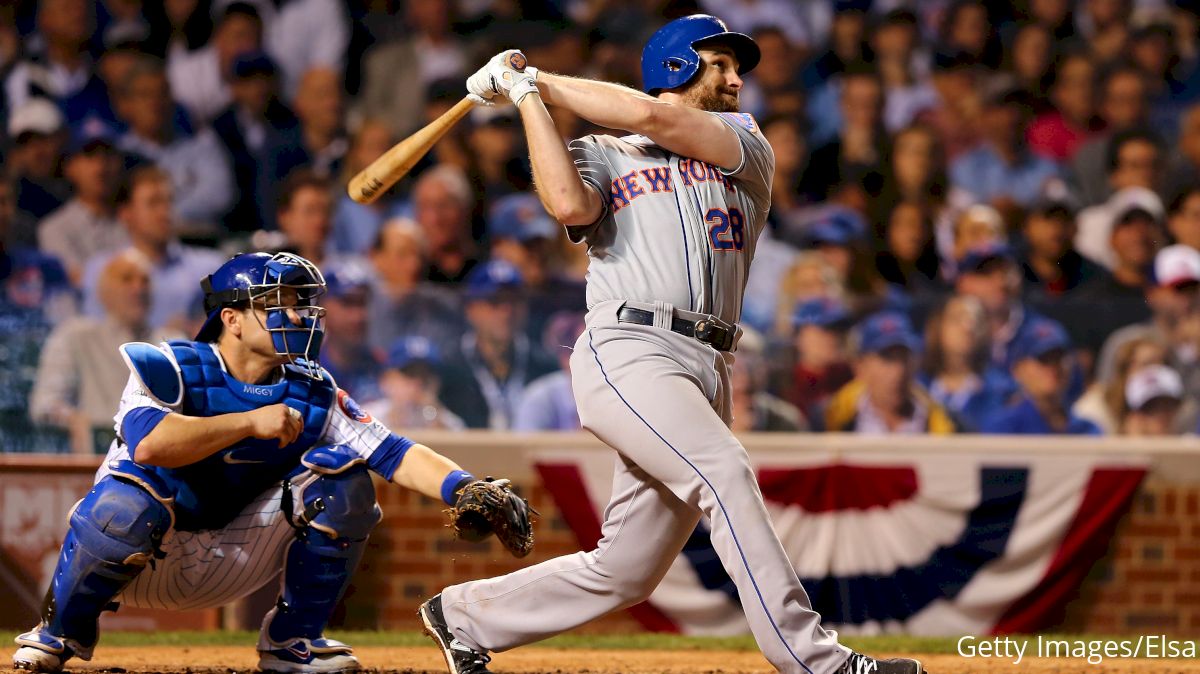 Players in the Atlantic League of Professional Baseball truly come from all walks of life.
Across the organization, are players who have applied their trades at all levels of the game – up to, and including, Major League Baseball. Some players, in fact, even thrived there and won honors for their talents on the sport's grandest stage.
And now, here they are, meshing in with the many rising stars of independent baseball and teaching those who are trying to get to the highest level a thing or two about what it truly takes to get there.
The Atlantic League has a long and decorated list of MLB alums – players who joined the league after their major-league heyday, or those who catapulted themselves to the big time following huge seasons in independent ball.
Subscribe To FloBaseball For More Atlantic League Action
Lefties Braymer, Raquet Among Atlantic League Pitchers To Watch
Power, Precision Define Top 5 Atlantic League Hitters To Watch In 2023
For the generation to come of future MLB players currently grinding away in the ALPB, they could learn a lot from some of the names listed below.
Regardless if you're a player or fan, enjoy the time the players who made it to the majors have left playing the sport, no matter where they're playing now.
Here's a peek at five ex-MLB players playing for Atlantic League teams this year and how they got to the places they did, along with the legacies they left behind in the big leagues.
Daniel Murphy, INF, Long Island Ducks
The most well-known name to casual baseball fans, Murphy, is a three-time All-Star remembered best for his clutch playoff hitting for the New York Mets and finishing second in the 2016 National League MVP vote with the Washington Nationals.
He was one of the best second basemen in all of baseball in his prime.
Now 38 and in his debut season in the Atlantic League, he's arrived on Long Island to show he's still got plenty left in the tank.
The Daniel Murphy content you've all been waiting for! 💣 💪🏻 ⚾️ pic.twitter.com/6h9n3YZwdi

— Long Island Ducks (@LIDucks) May 1, 2023
The 12-year MLB vet had 138 home runs and 735 RBIs with four teams and led the NL in doubles twice (in 2016 and 2017). He also won a Silver Slugger Award in each of those seasons and was named NLCS MVP with the Mets in 2015 as a crucial part of their World Series, batting .529 with homers in all four games of New York's NLCS sweep of the Chicago Cubs.
Having last played with the Colorado Rockies in 2020, Murphy announced his retirement in January 2021 but has returned to the diamond with the Ducks, instantly giving both Long Island some proven juice in the lineup and nearby Mets fans the chance to relive some memories Murphy made for them.
Adeiny Hechavarria, INF, Long Island Ducks
Joining Murphy in the Ducks' infield, Hechavarria is another former MLBer making his debut in the independent ranks – and he's a player who played nearly 1,000 games in the big leagues.
His presence gives Long Island one of the most experienced and battle-tested lineups in all of the Atlantic League.
The Cuban bounced around between seven major-league teams across nine years, but his 2013-2016 run with the Miami Marlins was his most productive. He batted .254 with 162 RBIs in 579 games, while also being a sure-handed fielder throughout his career with a .979 fielding percentage – a top-20 mark all-time among qualified shortstops.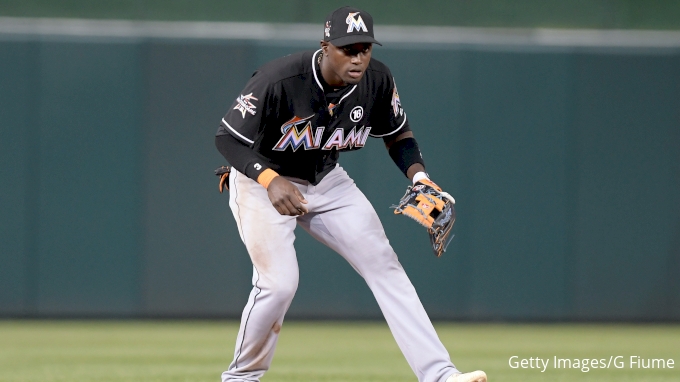 Hechavarria's last MLB stop was with the Atlanta Braves in 2020. After that, he moved to play in Japan with the Chiba Lotte Marines for two seasons, before finding his way back to the United States.
He signed with the Ducks after playing winter ball in Puerto Rico this past offseason.
Holding a .293 batting average through 14 games with Long Island, it appears as if the 34-year-old has adjusted back to being in the United States just fine, even after a couple of years away from the country where he made a name for himself.
Jimmy Paredes, UTL, Frederick
The well-traveled Dominican hasn't played in the majors since 2016, but before he left, after stints with five teams, he made his mark – particularly if you were playing fantasy baseball in 2015.
That year, with the Baltimore Orioles, Paredes appeared to be amid the season of his life.
Through July 20, he slashed .294/.326/.463 with 10 homers and 39 RBIs (after never hitting more than two and 18, respectively, in a full season) but his momentum came to a screeching halt. He failed to hit a single home run and only had three RBIs the rest of the way.
Two years in Japan and South Korea followed, before Paredes entered a new era of his career in the Atlantic League, where he's been since 2018. Frederick is his fifth spot in five seasons.
Oh my Jimmy Paredes. Didn't even have to turn my head on that one. 🤩 pic.twitter.com/F2velITxI2

— Regina Rickert (@acrphoto) August 19, 2022
He's yet to appear for the team, which made its league debut this year, but he's coming off a .283 year with 68 RBIs across 106 games for the Wild Health Genomes (whose place in the Atlantic League was purchased in the offseason by the owners of the unnamed Frederick team).
He's got some pop left in his bat to give the league's rotations some headaches.
Zack Godley, RHP, Gastonia Honey Hunters
Here's a question that could win you some sports trivia games the next time you're out and about: Who was the first pitcher since 1900 to throw six or more scoreless innings while striking out seven or more with no walks in his MLB debut?
That would be Godley, who performed the feat in July 2015 with the Arizona Diamondbacks, the club with which he had his most successful run in the majors.
The South Carolina native and Tennessee alum went 33-25 in the desert from 2015-2018 with a 4.41 ERA and 444 strikeouts in 444 2/3 innings.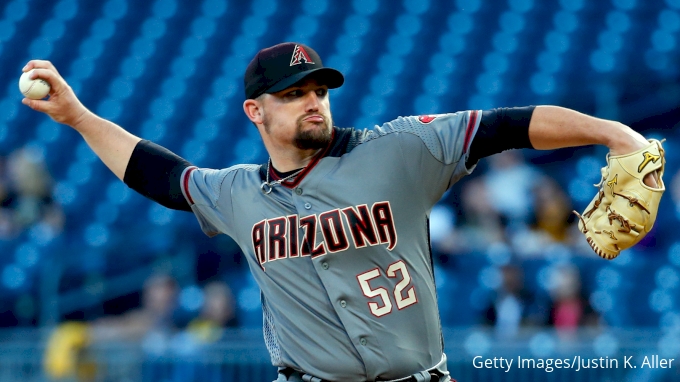 He started 32 times as a member of the D-Backs' rotation in 2018, a year in which he won a career-high 15 games, which ranked sixth in the NL that season.
He went on a stretch of three seasons with three other teams (Toronto Blue Jays, Boston Red Sox and Milwaukee Brewers, in that order) after being waived by Arizona in 2019, then joined Gastonia last season for his debut in the Atlantic League and independent ball.
He finished his year in Gastonia with a 4-1 record, 4.64 ERA and 64 strikeouts in 54 1/3 innings.
Back with the Honey Hunters in 2023, the 33-year-old is still looking for his first win of the year, but the strikeout power (17 Ks in 15 1/3 innings as of this writing) certainly still is there.
Dwight Smith Jr., OF, Charleston Dirty Birds
The son of a World Series winner of the same name with the Atlanta Braves in 1995, Smith Jr. – a first-round MLB Draft choice of Toronto directly out of high school in Georgia – spent 169 games across four seasons with the Blue Jays and Orioles from 2017-2020, being one of the few bright spots on a mostly abysmal 2019 Baltimore squad by hitting 13 homers with 53 RBIs in 101 games, before becoming injured.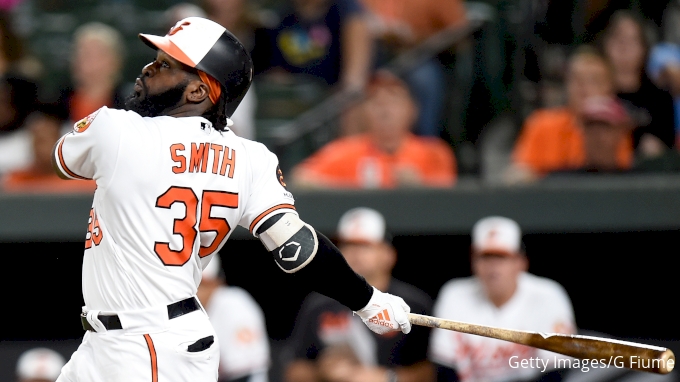 He played in Triple-A as recently as last year in the Chicago White Sox's farm system but joined the Lexington Legends (now Counter Clocks) later in the year, then moved to Charleston in the offseason to stick around in the Atlantic League.
Now 30, Smith's window for prime performance is beginning to shrink a bit, but he has been solid for the Dirty Birds to start out his debut season in West Virginia with a .277 average through 13 games, trying, like his time in Baltimore, to be a beacon on an otherwise-struggling team that has a 3-10 record in 2023 as of Monday night.
He's played plenty of high-level baseball in his life, though, appearing in 786 minor-league games to go along with his big-league time, so Smith has seen a thing or two and should be a calm presence all year for Charleston.