2023 College Baseball Showdown
Watch: Porter Brown Hit Home Run In Texas Baseball Vs. Arkansas
Watch: Porter Brown Hit Home Run In Texas Baseball Vs. Arkansas
Porter Brown hit the third home run of the day at the College Baseball Showdown at Globe Life Field in Texas vs. Arkansas Baseball.
Feb 18, 2023
by Joe Harrington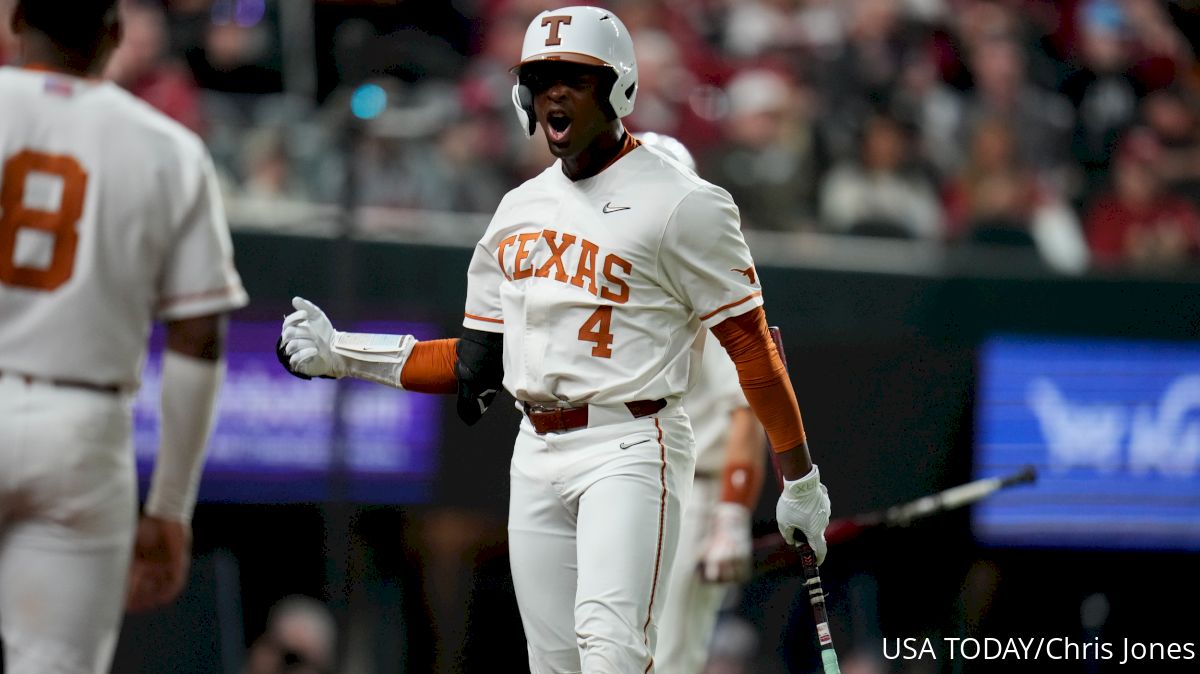 After six scoreless innings and having watched Arkansas send nine batters to the plate in the top of the seventh, Texas Baseball finally got on the board at the College Baseball Showdown in Arlington at Globe Life Field on Friday.
Texas trailed 3-0 when redshirt junior Porter Brown, a transfer from TCU who has a career .286 batting average, hit the team's first home run of the season to cut into Arkansas' lead.
Brown, from San Antonio, Texas, took Arkansas reliever Cody Adcock deep in the bottom of the seventh inning.
Watch Porter Brown Hit The First Texas Baseball Home Run Of The 2023 season
AND TEXAS ANSWERS RIGHT BACK WITH A LONGHORNS HOME RUN! COULD THIS GET ANY WILDER?!
HAVE MERCY. #CollegeBaseballShowdown @texasbaseball @razorbackbsb pic.twitter.com/7wzFzn8xDd

— FloBaseball (@FloBaseball) February 18, 2023
Texas added another run in the inning to enter the eighth inning trailing 3-2. Arkansas, though, kept Texas from scoring again as Brady Tygart pitched the final 1.2 innings for the save.
Arkansas Baseball Vs. Texas Was Pitchers Duel for Six Innings
Before the teams started scoring runs, both had strong starts from their Friday night starting pitchers. Arkansas pitcher Hagen Smith allowed just one hit in five innings and struck out eight batters with no walks.
Meanwhile, Texas starter Lucas Gordon went five innings and allowed two hits with six strike outs.
How To Watch College Baseball Showdown 2023 On FloBaseball
Watch: Brayden Taylor Smashes Home Run For TCU Baseball Vs. Vanderbilt
How To Stream The College Baseball Showdown On FloBaseball
Stream or cast the College Baseball Showdown from your desktop, mobile phone or TV. The FloSports App is available on Roku, Fire TV, Chromecast and Apple TV.
The FloSports app is also available on iOS or Android.
Subscribe To FloBaseball To Watch The College Baseball Showdown
There are several price options and subscriptions available for FloSports and FloBaseball.
A PRO subscription unlocks:
Live events
Event replays
Event results
Breaking news
Limited ads on PRO videos
A subscription allows up to 12 streams on one or many devices connected to the same wifi.
What Is The College Baseball Showdown Schedule?
Feb. 17 College Baseball Showdown Day 1 Schedule:
Oklahoma State 5, Missouri 3
TCU 11, Vanderbilt 4
8 p.m. ET: Arkansas vs. Texas
Feb. 18 College Baseball Showdown Day 2 Schedule:
12 p.m. ET: Oklahoma State vs. Vanderbilt
4 p.m. ET: Texas vs. Missouri
8 p.m. ET: TCU vs. Arkansas
Feb. 19 College Baseball Showdown Day 3 Schedule:
11:30 a.m. ET: Vanderbilt vs. Texas
3:30 p.m. ET: Arkansas vs. Oklahoma State
7:30 p.m. ET: Missouri vs. TCU