2022 Georgetown vs Butler
BIG EAST Baseball Games Of The Week: UConn Keeps Climbing The Ladder
BIG EAST Baseball Games Of The Week: UConn Keeps Climbing The Ladder
UConn looks to continue a strong start while Georgetown looks to get back on track after being swept by Creighton.
Apr 12, 2022
by Briar Napier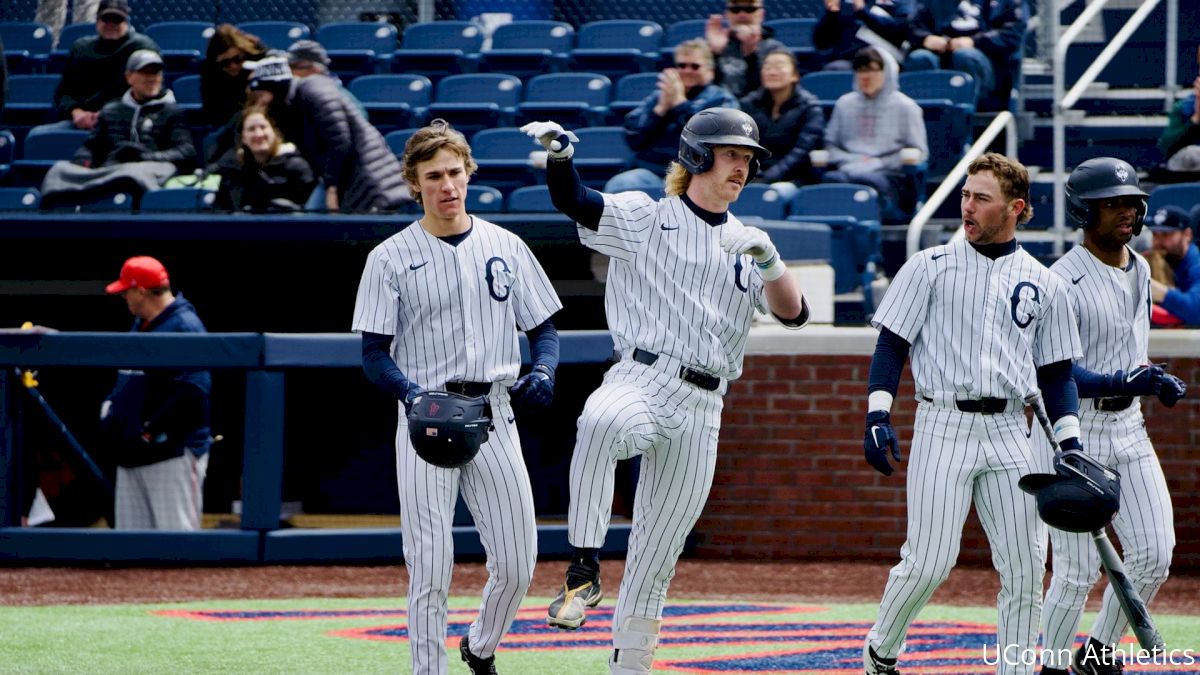 Now that every BIG EAST baseball team has played at least one series this league season, there are plenty of takeaways from the conference slate's early days.
However, there's one thing clear and apparent that doesn't need much analysis to figure out. This is UConn's league until further notice.
The Huskies rocketed up many national top-25 polls over the past week after a dominant stretch of games, though there are still a mountain of challenges that await. Additionally, plenty of other league teams have points to prove of their own—whether against the mighty Huskies or other BIG EAST rivals.
Check out the mid-April storylines below and take note of some of the best matchups across the league this week on FloBaseball.
NOTE: All first pitches are listed in Eastern Time and are subject to change. All statistics are updated as of Monday night.
UConn Vs. Marist
Tuesday, April 12 at 6 p.m. ET
It's not the opponent that awards this one-off meeting a spot in this edition of the league's Game of the Week honors, but it's more the fact that UConn is must-watch right now, no matter who the Huskies are playing.
Since losing to Kent State on April 3, UConn has won five straight games and scored double-digit runs in all of them, including a dominant sweep to open up its BIG EAST title defense against St. John's over this past weekend. In a week's span, the Huskies finished with an eye-popping 70 runs in five games and bumped their way up to No. 18 in the D1Baseball.com Top 25 as a reward for the program's blistering 24-7 record to start the year. The fun part about watching Tuesday's matchup will be to see if UConn can keep the hot bats going.
Outfielder Erik Stock was the star of the show last week, winning BIG EAST Player of the Week honors for the second time in 2022 after batting .526 to go with three home runs and 11 RBI as the senior makes his case as the likely frontrunner for conference Player of the Year. Marist (16-10) has played well against the competition it faced this season, but the only other Top 25 team the Red Foxes have played this year was No. 10 Notre Dame back on Feb. 25. That game, by the way, was a 20-2 Fighting Irish win. The Huskies should roll—comfortably—with the absolute tear they are on at the moment.
Villanova Vs. Xavier
Thursday, April 14 at 3 p.m. ET; Friday, April 15 at 3 p.m.; Saturday, April 16 at 11:30 a.m.
The name of the game in last season's series between the Wildcats and Musketeers? For the most part, it was pitching. The two teams split a 2-1 meeting (a Villanova win) followed by a 1-0 result (a Xavier victory) in their three-matchup weekend last season, then Villanova finally got the bats going in the Sunday finale with a more lively 12-5 scoreline for the win and series-clincher.
Don't think past events will be an indicator of future ones, however, because if this season is any indication, there will not be a pitcher's duel anytime this weekend in Cincinnati. Both teams have team ERAs in the 6.00-and-above range, while Xavier senior outfielder Luke Franzoni (13 home runs, 34 RBI) and Villanova graduate center fielder Chirs Rotondo (seven home runs, 25 RBI) have no problems going long and producing updates to the scoreboard.
The stakes are high. Both teams could really benefit from stringing a few wins together. Villanova is a decent 3-3 to start BIG EAST play, but an overall 11-16-1 record is weighing the Wildcats down. Xavier, meanwhile, lost its BIG EAST-opening series to Seton Hall, who "improved" to a meager 8-22. The reasons may be different, but the stakes are still sky-high.
Georgetown Vs. Butler
Thursday, April 14 at 4 p.m. ET; Friday, April 15 at 4 p.m.; Saturday, April 16 at 1 p.m.
There was a clear question posed in last week's BIG EAST Games of the Week segment: Is Georgetown For Real? After all, there were plenty of reasons to be excited about baseball in the nation's capital (beyond the Washington Nationals' Opening Day last week). The Hoyas looked to be on a roll seen few times throughout program history as they continue to chase their first winning season since 1986.
The buzz following a solid 18-10 start may have dampened a bit after being swept by a (very good) Creighton team over this past weekend, but a vulnerable Butler team is up next. Sophomore Jake Hyde (13 home runs, 36 RBI) and grad student Ubaldo Lopez (12 home runs, 32 RBI) give the Hoyas maybe the BIG EAST's top one-two power duo, but there are some gems in Butler's rotation that can throw stuff to get them off their game. And if it gets to a late-game save situation, Bulldogs closer Derek Drees might be the best in the league at keeping things stable on the bump with an 0.47 ERA, 30 strikeouts and four saves over just 19⅓ innings.
Georgetown will need Hyde, Lopez and the rest of the lineup to get going to hope they put the games out of sight early, or else a three-game slide could quickly turn into something much more damaging. For Butler, it'll look to pull off a repeat performance of its last home series against Eastern Illinois earlier this month, in which the Bulldogs won three of four against a solid mid-major opponent.