2022 St. John's vs Connecticut
BIG EAST Baseball Games Of The Week: Is Georgetown For Real?
BIG EAST Baseball Games Of The Week: Is Georgetown For Real?
Non-conference games get in full swing as UConn begins their title defense while an insurgent Georgetown hopes to continue their strong start.
Apr 6, 2022
by Briar Napier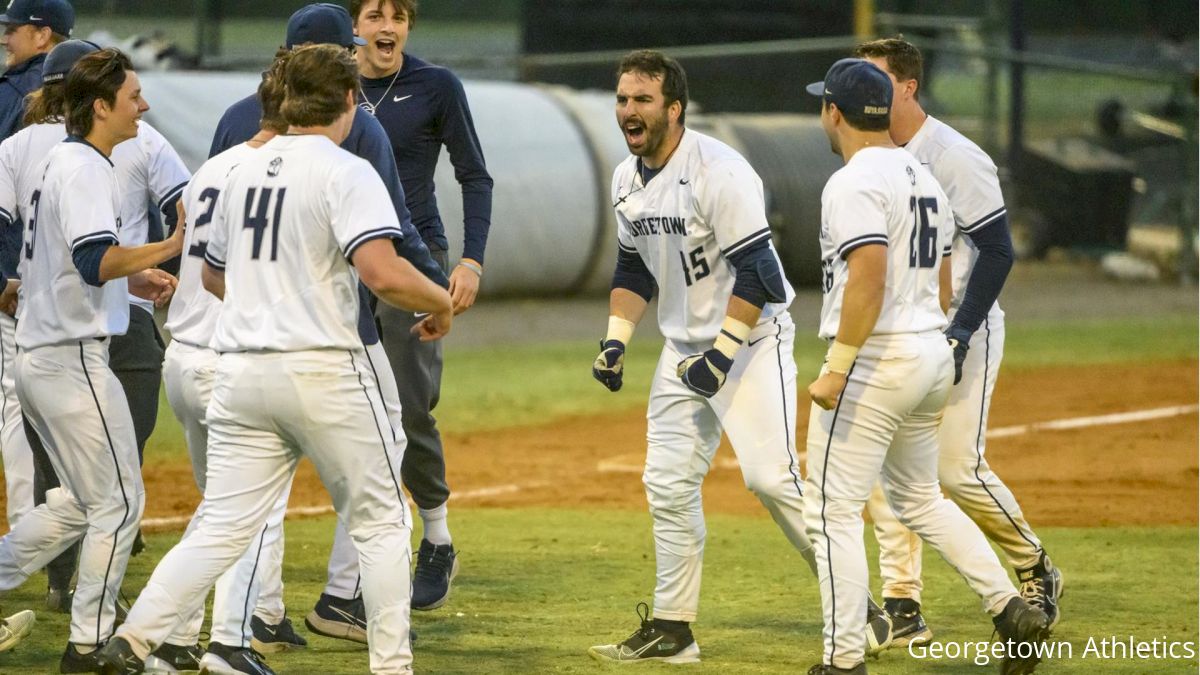 With college basketball over and spring in full bloom, it means it's time for one thing in the college sports universe.
Baseball season.
Among the many leagues playing ball this season, the BIG EAST has the potential to be one of the more intriguing.
There's the favorites, the chasers, the surprises and the disappointments. Non-conference play showcased the league's talent against unfamiliar opposition, but after this weekend, all eight BIG EAST baseball teams will have had a crack against conference foes.
What are the matchups and storylines to look out for as league play kicks into high gear? Here are some of the games to watch throughout the weekend across the BIG EAST on FloBaseball.
NOTE: All first-pitch times are listed in Eastern Time and are subject to change. All statistics are updated as of Monday night.
Butler Vs. Villanova
Friday, April 9 at 3 p.m.; Saturday, April 10 at 1 p.m.; Sunday, April 11 at 12 p.m.
The Wildcats' current record (8-15-1) may not look strong at first glance, but Villanova has also played all but three games on the road—making for the fewest home games of any team in the conference. Many of their important games also followed road trips like its BIG EAST-opening series against Georgetown last week.
For this week against Butler, 'Nova finally gets to play a series at home for the first time since hosting NJIT in mid-March, and it's a good test to determine whether the Wildcats just need to be homebodies for a bit or if more serious issues abound. Coach Kevin Mulvey's Wildcats looked a bit flat in the first two of three games against the Hoyas, but did finish the series strong with a complete 10-hit, 13-strikeout performance in a 5-3 Sunday win.
As for the Bulldogs, they'll open conference play following a top-25 test Tuesday against No. 13 Notre Dame and an impressive four-game slate this past weekend against Eastern Illinois, which Butler held to just four runs in four games with two shutouts in a 3-1 series win. Graduate transfer infielder Travis Holt (.321 average) and junior catcher Aaron Steinhart (.290, 25 RBI) look early on to be on-pace for All-BIG EAST years, but each will now officially get to test their might against league foes. Villanova hurler Cole Patten, who currently holds a 3.02 ERA in 44⅔ innings, looks like the Wildcats' ace following a transfer in-conference from Seton Hall, setting up what could be a fun showdown this weekend between the two teams' stars.
Georgetown Vs. Creighton
Friday, April 9 at 7:30 p.m.; Saturday, April 10 at 3 p.m.; Sunday, April 11 at 1 p.m.
The early surprise of the BIG EAST baseball season is unquestionably Georgetown, who was picked second-to-last in preseason by the league's coaches after a dreadful 6-25 season in 2021. But second-year coach Edwin Thompson looks to be the frontrunner for league Coach of the Year as the Hoyas have an eight-game cushion (at 18-10) in pursuit of their first winning season since 1986 (!).
Georgetown quickly established that they weren't to be taken lightly in BIG EAST play, either, winning their opening series against Villanova thanks to both effective offense (in a 9-6 Friday win) and cool-headed pitching (in a 3-2 Saturday victory). Whether the Hoyas' good vibes continue after a series on the road against Creighton this weekend, however, is a different story.
The Bluejays should be right in the thick of the BIG EAST title race following a solid 15-7 start that included a sweep over Minnesota and a one-off victory over in-state adversary Nebraska. Sophomore Alan Roden is the name that gets Creighton's spotlight most often, but don't sleep on junior outfielder Jared Wegner, who is coming off a seven-RBI series in the Bluejays' sweep over The Citadel this past weekend. Wegner and Georgetown sophomore infielder Jake Hyde (12 home runs, 34 RBI) should make pitchers' lives difficult on both sides of the inning—though Hyde has cooled down some over the past few weeks, he does have five- (vs. VMI on March 26) and seven-RBI (vs. Delaware on March 22) games on his resume this season, meaning a breakout is always on the horizon for the Connecticut native.
St. John's Vs. UConn
Friday, April 9 at 6:05 p.m.; Saturday, April 10 at 1.p.m; Sunday, April 11 at 1 p.m.
UConn has some trophies to defend, and though the Huskies will be highly-favored at home against a St. John's team that's 1-12 this season on the road, the long and arduous road to sustaining BIG EAST dominance for another year starts this weekend.
Even at 19-7 with a roster full of top-tier talent in the conference, UConn probably wishes it got even more out of last week's games against Boston College in a one-off (losing 5-3). The team also narrowly missed out on a sweep away from home against Kent State after giving up runs in the seventh and eighth innings to lose the Sunday meeting with the Golden Flashes.
Still, on home soil with five wins in their last six against the Red Storm, the Huskies will get started on their run to a repeat BIG EAST regular-season title for the first time in school history. UConn outfielder and leading hitter Erik Stock (.402 average) will look to get back on track after being held hitless for just the second time in 2022 in the series finale against Kent State, but reigning All-BIG EAST Second Team nod Casey Dana (team-leading seven home runs and 27 RBI) can also help pick up the slack just fine, too. St. John's has been performing better as of late, going 9-3 since starting the season 2-14, but the likes of Sacred Heart, Quinnipiac and Rider are not UConn. Redshirt sophomore Kevin Michaels (.348 average, team-high 26 RBI) has been a bright spot, even hitting for the cycle in the final game of a series sweep over Sacred Heart last month.