2023 Big East Baseball Championship
UConn Huskies At 2023 BIG EAST Baseball Championship: What To Know
UConn Huskies At 2023 BIG EAST Baseball Championship: What To Know
What to know about the UConn Baseball team at the 2023 BIG EAST Championship at Prasco Park in Mason, Ohio.
May 24, 2023
by Martina Gil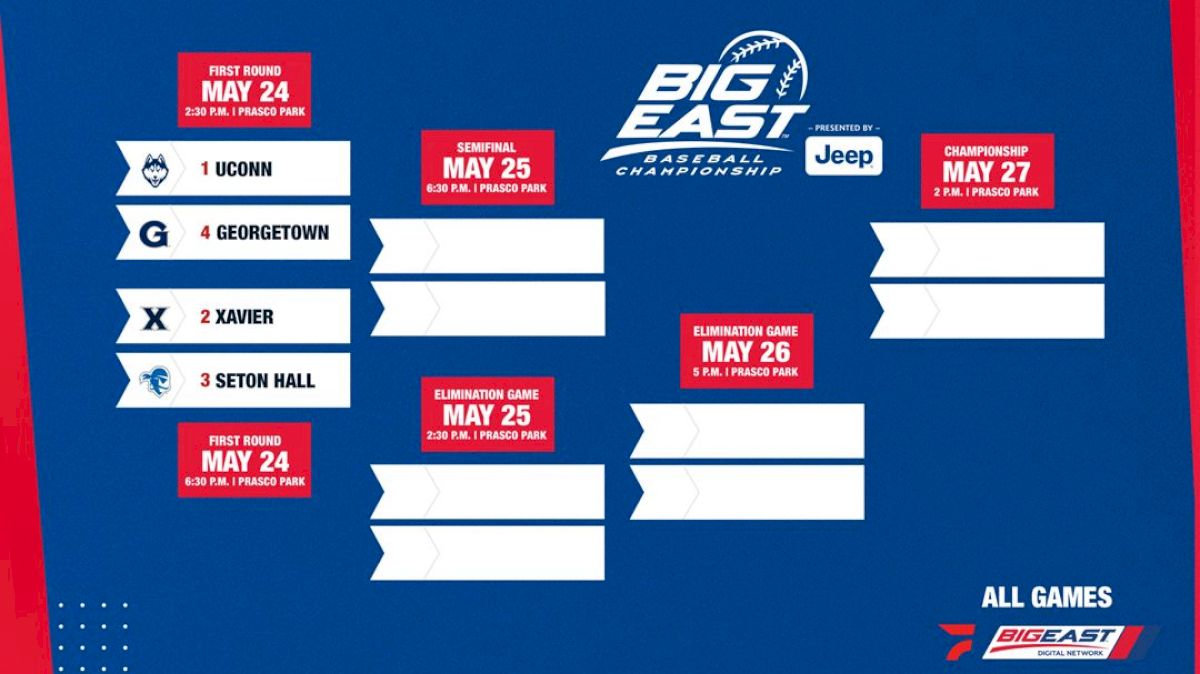 The UConn Baseball return to the 2023 BIG EAST Baseball Championships, as this year's favorite to win the conference tournament title.
The no. 1-seeded team will be playing the opening round game against the no. 4 seed Georgetown, at Prasco Park in Mason, Ohio, this Wednesday at 2:30 p.m. ET.
Expectations are high for the UConn Baseball team in 2023 as the Huskies enter the BIG EAST Baseball Tournament ranked no.9 nationally a year after winning a school-record of 50 games in 2022. The Huskies won 40 games this season en route to winning the conference regular season title.
The UConn Baseball team is ready to keep its winning streak strong and earn a spot in the upcoming NCAA Baseball Tournament. Here is what you need to know before this week's championship.
Where is UConn In The College Baseball Rankings?
UConn Baseball currently holds the no. 9 slot in the latest NCAA Top 25 rankings.
Collegiate Baseball ranked UConn No. 31 in its preseason rankings.
Preseason coaches poll favored UConn to win the BIG EAST.
UConn Huskies Path To A Three-Peat In The 2023 BIG EAST Baseball Tournament
Fans are eager to see the defending champions make history with a three-peat well within reach. No team has ever won three consecutive BIG EAST baseball tournament titles since Notre Dame's impressive five-year streak from 2002-2006.
The Huskies are stepping up to the plate going into the BIG EAST tournament after a recent 10-0 win against Creighton on May 20. The team is the first ever to win 40 regular season games in back-to-back seasons.
UConn Baseball Looks To Repeat As BIG EAST Champs In 2023
BIG EAST Baseball: Regular-Season Awards, All-Conference Teams Announced
Who Is UConn Baseball Coach Jim Pender?
Coach Jim Pender is in his 20th season as the UConn Baseball coach. The five-time conference coach of the year has been a significant part of the team's success for the past 31 seasons.
Before leading the team as head coach, Pender hit .354 with seven home runs and 46 runs batted in as a senior for the team in 1994.
The Pender family's affiliation with the UConn Huskies runs deep. Jim Pender Sr., and his brother Tom played on the Huskies' 1965 College World Series team.
UConn Baseball Players To Watch
This year's roster features a mix of old and new faces to the program. For many players, this is their first year representing the Huskies, while others are playing in their final BIG EAST championship. Here are some of UConn's top players to watch during this week's games.
Ian Cooke: Pitcher
Named the BIG EAST Preseason Pitcher of the Year, Cooke TALK ABOUT HIS 2023 SEASON is expected to lead the team through this year's victory. Standards are appropriately high for the right-handed pitcher who went 7-1 with a 3.64 ERA with 54 strikeouts in 54 1/3 innings for the Huskies 2022 season.
Dominic Freeberger: Utility
Freeberger, in his first year with the Huskies, transferred from UNC Asheville and was named BIG EAST Player of The Year in 2023. During his final season as a Bulldog, Freeburger led the team a .338 average, 78 RBIs and 29 total appearances as a pitcher In 2022 he was named to the All-Big South First Team for the second consecutive season as a utility player. Currently playing mostly third-base for the Huskies, Freeberger is hitting .350 with an on-base percentage of .433 and a 57 RBI.
https://twitter.com/UConnBSB/status/1661017362697707521
Zach Fogel: Left-Handed Pitcher
Fogel's improvement this season has been remarkable to watch as he is currently on a 19⅔-inning scoreless streak on the mound. In 2022, he truck out 46 batters over 39.0 innings of work, and at one point allowed one earned run on four hits over a season-high 6.0 innings of work and struck out a career-high nine batters over 5.0 innings of work
Top MLB Prospects In The 2023 College Baseball Showdown
UConn Huskies' Best All-Time Baseball Players
The Huskies have a long history of memorable players. Here are five legendary UConn players to know:
George Springer: Outfielder, MLB World Series MVP, and UConn's all-time home run leader.
Matt Barnes: Pitcher, first-round MLB draft pick, and key contributor to the 2011 NCAA Super Regional win.
Mike Olt: Infielder, MLB player, and vital member of the 2010 NCAA Regional-winning team.
Vinny Siena: Infielder, All-American, and catalyst for UConn's success in the 2013 BIG EAST Championship.
Nick Ahmed: Shortstop, MLB Gold Glove winner, and instrumental in UConn's 2010 NCAA Regional victory.
What To Expect From the Huskies At The Big EAST Baseball Tournament
The Huskies' are set on a high trajectory after being named preseason favorite in the conference and the going 15-5 in the conference regular season. UConn comes to Prasco Park as the favorite to win the league tournament.
How To Watch BIG EAST Baseball Tournament 2023 On FloBaseball
What to Know About The BIG EAST Baseball Championship 2023
BIG EAST Baseball Standings
UConn 40-13 (15-5)
Xavier 34-22 (14-7)
Seton Hall 31-22 (13-8)
Georgetown 29-25 (10-10)
Creighton 25-24 (10-11)
St. John's 28-25 (8-12)
Villanova 14-37 (7-13)
Butler 12-43 (5-16)
The BIG EAST Baseball Tournament 2023 Schedule
FloBaseball is broadcasting this weeks schedule. Here are the games:
Wednesday, May 24
Thursday, May 25
Friday, May 26
Saturday, May 27
Game 7: Game 4 Winner vs. Game 5 Winner (if necessary) - 5:30 p.m.