2023 College Baseball Showdown
Mizzou Baseball, Dylan Leach Walk-off Texas At College Baseball Showdown
Mizzou Baseball, Dylan Leach Walk-off Texas At College Baseball Showdown
Texas Baseball drops to 0-2 as Missouri Baseball beats Longhorns on Day 2 of College Baseball Showdown at Globe Life Field.
Feb 19, 2023
by Joe Harrington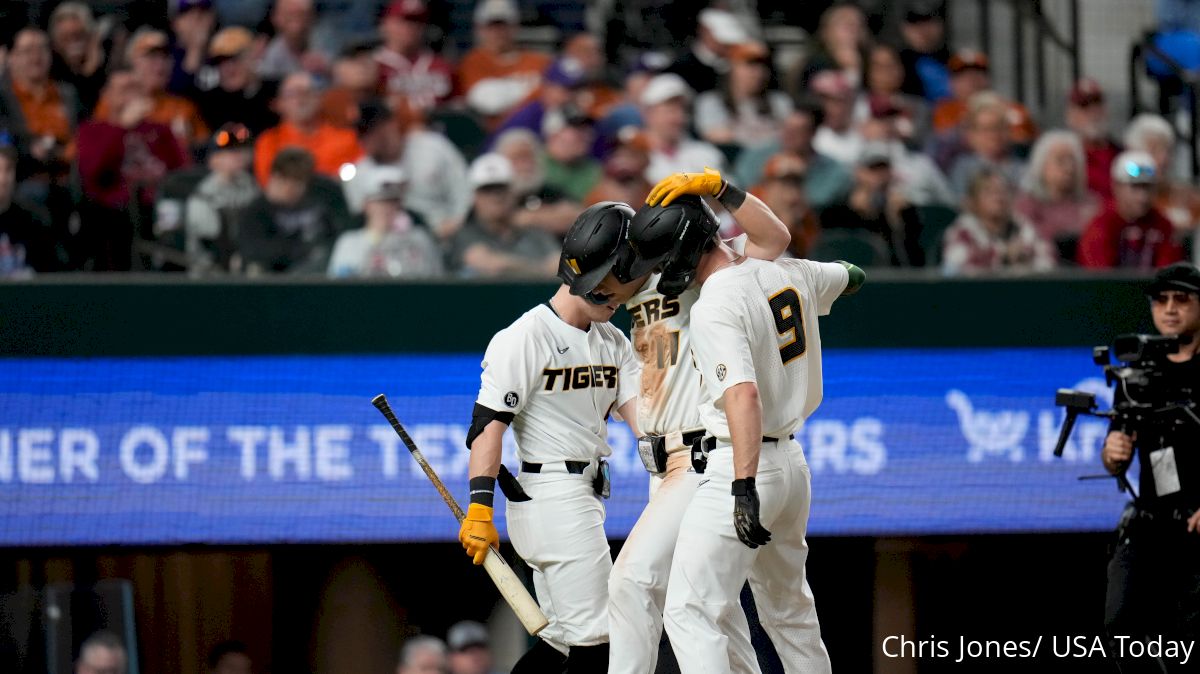 Missouri and Texas brought the drama during the second game of the second day of the College Baseball Showdown.
With the game tied at 5-5 in the bottom of the ninth inning, Arkansas transfer Dylan Leach provided the game-winning double to hand Mizzou it's first win of the season and drop the Longhorns to 0-2.
With Arkansas fans calling the hogs during his at-bat, Leach doubled down the left field line to drive in Hank Zeisler.
Watch Dylan Leach Get the Walk-off win for Mizzou Baseball vs. Texas
MIZZZOUUU WITH A HUGE WALKOFF WIN!!! #CollegeBaseballShowdown is popping off! @texasbaseball @mizzoubaseball pic.twitter.com/eTeWZVpaJn

— FloBaseball (@FloBaseball) February 19, 2023
Missouri Coach Steve Biesler Knew It Was Over When He Heard The Hog Call
During a postgame interview, Missouri coach Steve Biesler joked that he knew it was over when Arkansas fans, awaiting their game with TCU to end Day 2 of the College Baseball Showdown, started the "Woo Pig Sooie" hog.
Subscribe To FloSports To Watch More College Baseball
Missouri Baseball Pitcher Tony Neubeck Has Nine Strikeouts Vs. OSU Baseball
Missouri Baseball Happy To Have Arkansas Transfer Dylan Leach
Leach, a junior, started 16 games for the Razorbacks, who made the College World Series in 2022. Leach was a standout defender behind the plate with a .988 fielding percentage and committed just two errors in 169 tries.
"He's kind of come in and established himself as a leader," Bieser said earlier this month.
"He's got the experience from being there in Arkansas (and) the College World Series and being in that type of venue. He's been outstanding for us and really meshing in with an entirely new group.
"We're happy he's here and he's doing really well."
Texas Baseball Is One Loss Away From Repeating 2021 College Baseball Showdown Record
Texas will play Vanderbilt on Sunday morning trying to avoid its second 0-3 College Baseball Showdown record.
But maybe going 0-3 won't be so bad. Texas coach David Pierce used the 0-3 record in 2021 to motivate his team all season as "Remember the Arlington" became the club's slogan, Pierce said.
Vanderbilt beat Oklahoma State 11-9 in the first game of the Day 2 at the College Baseball Showdown.
How To Stream The College Baseball Showdown On FloBaseball
Stream or cast the College Baseball Showdown from your desktop, mobile phone or TV. The FloSports App is available on Roku, Fire TV, Chromecast and Apple TV.
The FloSports app is also available on iOS or Android.
Subscribe To FloBaseball To Watch The College Baseball Showdown
There are several price options and subscriptions available for FloSports and FloBaseball.
A PRO subscription unlocks:
Live events
Event replays
Event results
Breaking news
Limited ads on PRO videos
A subscription allows up to 12 streams on one or many devices connected to the same wifi.
What Is The College Baseball Showdown Schedule?
Feb. 17 College Baseball Showdown Day 1 Schedule:
Oklahoma State 5, Missouri 3
TCU 11, Vanderbilt 4
Arkansas 3, Texas 2
Feb. 18 College Baseball Showdown Day 2 Schedule:
Vanderbilt 11, Oklahoma State 9
Missouri 6, Texas 5
8 p.m. ET: TCU vs. Arkansas
Feb. 19 College Baseball Showdown Day 3 Schedule:
11:30 a.m. ET: Vanderbilt vs. Texas
3:30 p.m. ET: Arkansas vs. Oklahoma State
7:30 p.m. ET: Missouri vs. TCU
Are Any Of The Teams At The College Baseball Showdown Ranked?
Yes. According to Collegiate Baseball's 2023 DI preseason rankings, there are five preseason top 25 teams in Arlington that weekend, including two, Vanderbilt and Arkansas ranked in the top 10.
Here's the breakdown:
No. 7 Arkansas
No. 9 Vanderbilt
No. 12 Oklahoma State
No. 15 TCU
No. 25 Texas