Frontier League
New York's David Vinsky And Gateway's Lukas Veinbergs Take Weekly Awards
New York's David Vinsky And Gateway's Lukas Veinbergs Take Weekly Awards
New York's David Vinsky and Gateway's Lukas Veinbergs earned awards this week in the Frontier league.
Aug 8, 2022
by FloBaseball Staff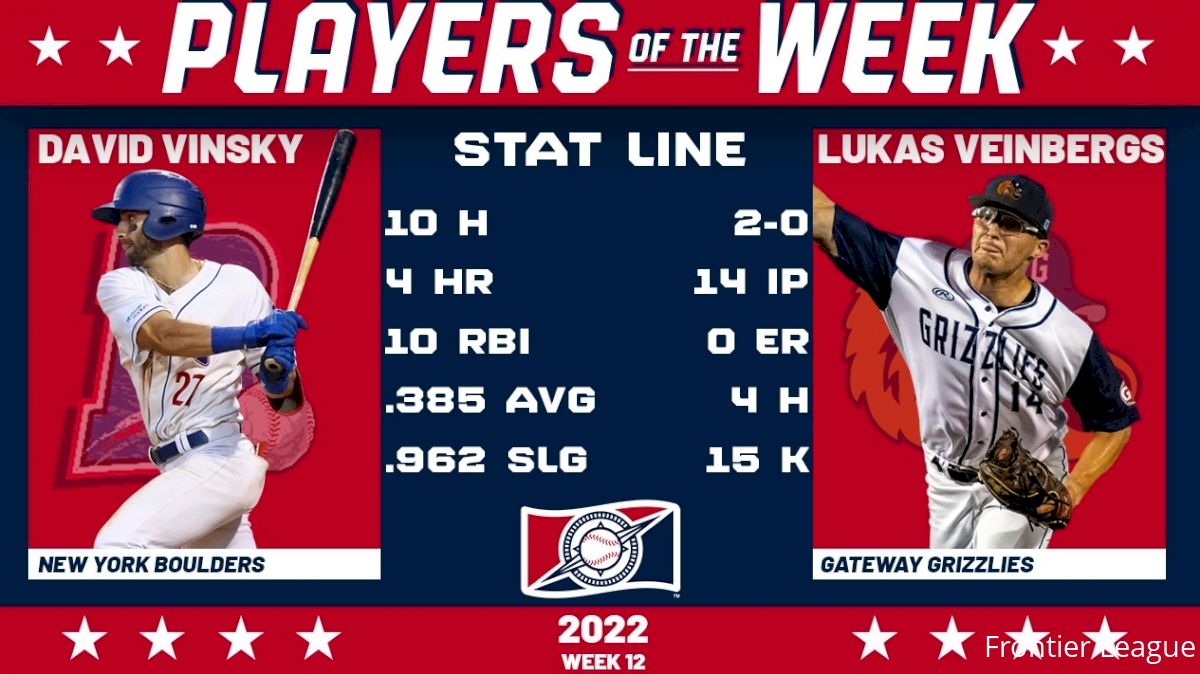 After the Boulders went 6-0 this week, their outfielder didn't disappoint.
While the Grizzlies, went 3-3, their pitcher excelled in his appearance. New York's David Vinsky is this week's Player of the Week, while Gateway's Lukas Veinbergs is Pitcher of the Week.
David Vinsky had himself a week, which included 10 hits, eight runs scored, and 10 RBIs. The performance featured four homeruns. He had at least one hit in five of the six games he played, with his best game being against the Trois Rivieres Aigles on Wednesday.
In that contest, he went 3-for-6 at the plate with a home run, two runs scored and four RBIs. He then outdid himself against the Empire State Greys on Sunday, going 2-for-5 at the plate with two homeruns, three RBIs and two runs scored.
Overall, his performance led to a .429 on-base percentage and .962 slugging percentage.
Before coming to New York in 2022, Vinsky played in the St. Louis Cardinals Minor League organization. His best season was in 2021 with the Springfield Cardinals where he had 44 hits, three homeruns, 21 RBIs and 33 runs scored.
He attended Northwood University for three years, before getting drafted by the St. Louis Cardinals in the 15th round of the MLB Draft in 2019. His best season for Northwood was in 2019. In that season he had 77 hits, 12 homeruns, and 49 RBIs and 71 runs scored.
Another week, another look around the league standings!#NewFrontier pic.twitter.com/c9HD3aXzy7

— Frontier League (@FLProBaseball) August 8, 2022
Veinbergs shined in his appearances this week.
Against the Washington Wild Things on Tuesday, he took a no-hitter into the ninth inning, allowing only one hit, five walks and no runs, with six strikeouts.
He then outdid himself Sunday against the Evansville Otters, where he only allowed three hits. He had nine strikeouts, one walk and allowed no runs in six innings pitched.
Before coming to Gateway in 2021, Veinbergs attended the University of Missouri for three years, where his best season was in 2020. That season, he had 41 strikeouts, only allowed 26 walks, and had one win.