2022 East Division All-Stars vs West Division All-Stars
Frontier League All-Star Game Preview: Future Stars Battle it Out
Frontier League All-Star Game Preview: Future Stars Battle it Out
Ace hurlers and heavy hitters will be on full display at the 2022 Frontier League All Star Game, taking place July 20.
Jul 14, 2022
by Briar Napier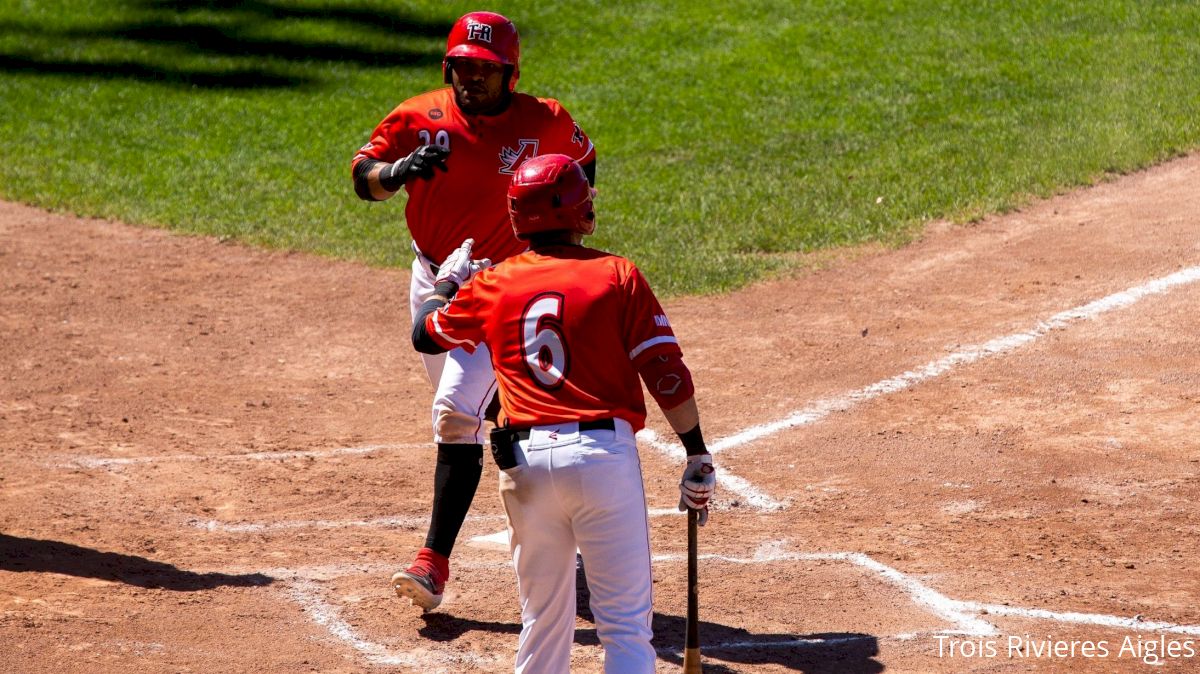 It's always a special occasion for the Frontier League All-Star Game, but this year, it's especially true.
To honor the 50th anniversary of Negro League legend Josh Gibson being inducted into the Baseball Hall of Fame, players from both the East and West Divisions playing in the All-Star Game (held at 7:05 p.m. ET July 20 at Wild Things Park in Washington, Pennsylvania) will wear jerseys of past Negro League teams from their regions with proceeds benefitting the Josh Gibson Foundation.
With a great game now being played for a good cause, it only helps that the players involved are pretty talented, too. More likely than not, several future major-leaguers will take the field in Pennsylvania later this month, giving Frontier League fans an exclusive look at the potential stars of tomorrow
Below are full rosters and a preview of each squad, with every pitch of the game being broadcast live on FloBaseball
East Division
The lowdown: Looking for a possible favorite to follow? On paper, it looks to be the East. The division-leading Quebec Capitales—which hold a league-best 38-15 record with an eight-game winning streak at the time of this writing—have five All-Stars on their team (the most of any in the West) for a reason.
With a league-low 3.15 team ERA and likely the league's best pitcher overall in left-hander and All-Star Miguel Cienfuegos (7-1, 1.92 ERA, 64 strikeouts), three Capitales players will make up a big bulk of the East rotation along with two members of a Canadian rival in the Ottawa Titans, who would've had three All-Star picks on the mound had left-hander Evans Grills (2.67 ERA, fifth-lowest in Frontier League) not opted to sit out the All-Star Game.
It's hard not to pin the East as favored to win the matchup based purely on both the pitching and the team's obvious skill and balance of power and consistency in the lineup.
New Jersey Jackals first baseman Dalton Combs is the current Frontier League batting leader (.398) and recently broke a 22-game hitting streak, all while his teammate and fellow All-Star starter, Josh Rewaldt, is the league's current home run king (18).
Rewaldt, by the way, is just one part of a loaded East starting outfield featuring former MLB third-round pick (and league RBI leader) Jacob Sanford and 2021 Frontier League batting champion Martin Figueroa, who hasn't missed a beat in his fourth season with Sussex County.
Oh, and backup catcher Jeffry Parra of the Capitales just so happens to be a .342 hitter with 16 homers on the year thus far, too.
Starters
C Carlos Martinez, Trois-Rivières Aigles
1B Dalton Combs, New Jersey Jackals
2B Justin Wylie, New Jersey Jackals
3B Juan Kelly, Trois-Rivières Aigles
SS Pavin Parks, Tri-City ValleyCats
OF Josh Rewaldt, New Jersey Jackals
OF Jacob Sanford, Ottawa Titans
OF Martin Figueroa, Sussex County Miners
Combs hits his second home run of the game and the Jackals lead 11-7!

Bot 7 | 7-11 Jackals

Check out the game @FloBaseball | @flosports !

Here's the link: https://t.co/JSUlF9Zjrl#NewFrontier pic.twitter.com/sVjEB5r4wr

— Frontier League (@FLProBaseball) July 10, 2022
Bench
C Jason Agresti, New Jersey Jackals
C Jeffry Parra, Quebec Capitales
1B Brad Zunica, Tri-City ValleyCats
2B David Glaude, Quebec Capitales
3B AJ Wright, Ottawa Titans
SS Errol Robinson, Sussex County Miners
OF Brantley Bell, Tri-City ValleyCats
OF L.P. Pelletier, Trois-Rivieres Aigles
OF David Vinsky, New York Boulders
Pitchers
RHP Johnson Arias, Empire State Greys
LHP Danny Wirchansky, New York Boulders
LHP Kevin Escorcia, Ottawa Titans
RHP Zac Westcott, Ottawa Titans
LHP Miguel Cienfuegos, Quebec Capitales
RHP Samuel Adames, Quebec Capitales
RHP Codie Paiva, Quebec Capitales
RHP Dwayne Marshall, Sussex County Miners
RHP John Baker, Sussex County Miners
LHP Nick Horvath, Quebec Capitales
West Division
The lowdown: Perhaps where the West can get the better of the East is by rediscovering some of the form it had from earlier this season. In fact, for long stretches of the past two months, the Washington Wild Things, not the Quebec Capitales, have been the team that's been most significantly striking the claim that they're the squad to beat in the Frontier League.
Notwithstanding their shortstop, Nick Ward (.377 average, 14 home runs, 44 RBI), was the league's top hitter for most of that stretch, as well. Wild Things teammate and right-hander Rob Whalen, the current Frontier League wins leader (nine) and a sub-3.00 ERA hurler, is also about as consistent as it gets in the division on the mound in terms of getting guys out.
The Wild Things do have the most total All-Star selections across either division with seven, but there's more to the East Division.
Schaumburg Boomers outfielder Matt Bottcher—whose .383 average and .462 on base percentage is second and third in the league, respectively—is also a consistent presence at the plate, and he'll hope to continue his regular-season form in the All-Star Game as a starter at second base.
Never gonna stop me, never gonna stop 🎵@RobWhalen38 has been tabbed as the West Division's starting pitcher by manager Tom Vaeth for the 2022 @FLProBaseball All-Star Game, presented by The Coury Firm.

📖: https://t.co/ZG09mI6vK3
🎟️: https://t.co/PcuKjAy9x5#AllStarThings pic.twitter.com/6IpsMVkP24

— Washington Wild Things (@WashWildThings) July 14, 2022
Starters
C Jackson Pritchard, Gateway Grizzlies
1B Brennan Price, Florence Y'alls
2B Matt Bottcher, Schaumburg Boomers
3B Brylie Ware, Joliet Slammers
SS Nick Ward, Washington Wild Things
OF Zach Biermann, Evansville Otters
OF Isaac Benard, Gateway Grizzlies
OF Wagner Lagrange, Washington Wild Things
Bench
C Alex Alvarez, Washington Wild Things
C Joshuan Sandoval, Windy City ThunderBolts
1B Andrew Czech, Washington Wild Things
2B Trevor Achenbach, Gateway Grizzlies
3B Ian Walters, Washington Wild Things
INF Scotty Dubrule, Washington Wild Things
SS Alberti Chavez, Florence Y'alls
INF Scotty Dubrule, Washington Wild Things
OF Anthony Brocato, Florence Y'alls
OF Chase Dawson, Schaumburg Boomers
Pitchers
RHP Logan Sawyer, Evansville Otters
RHP Parker Brahms, Evansville Otters
RHP John Murphy, Gateway Grizzlies
RHP Cole Cook, Joliet Slammers
RHP Cameron Aufderheide, Joliet Slammers
RHP Joseph Sgambelluri, Lake Erie Crushers
LHP Darrell Thompson, Schaumburg Boomers
RHP Rob Whalen, Washington Wild Things
RHP Lukas Young, Washington Wild Things
RHP Austin Grossman, Evansville Otters
RHP Layne Schnitz-Paxton, Windy City Thunderbolts