2022 Trois-Rivieres Aigles vs New Jersey Jackals
Patience Beginning to Pay Off for New Jersey Jackals' Josh Rehwaldt
Patience Beginning to Pay Off for New Jersey Jackals' Josh Rehwaldt
In late June, Rehwaldt earned Frontier League Player of the Week honors after smashing four homers, 12 RBI and eight runs over six games.
Jul 8, 2022
by Stephen Kerr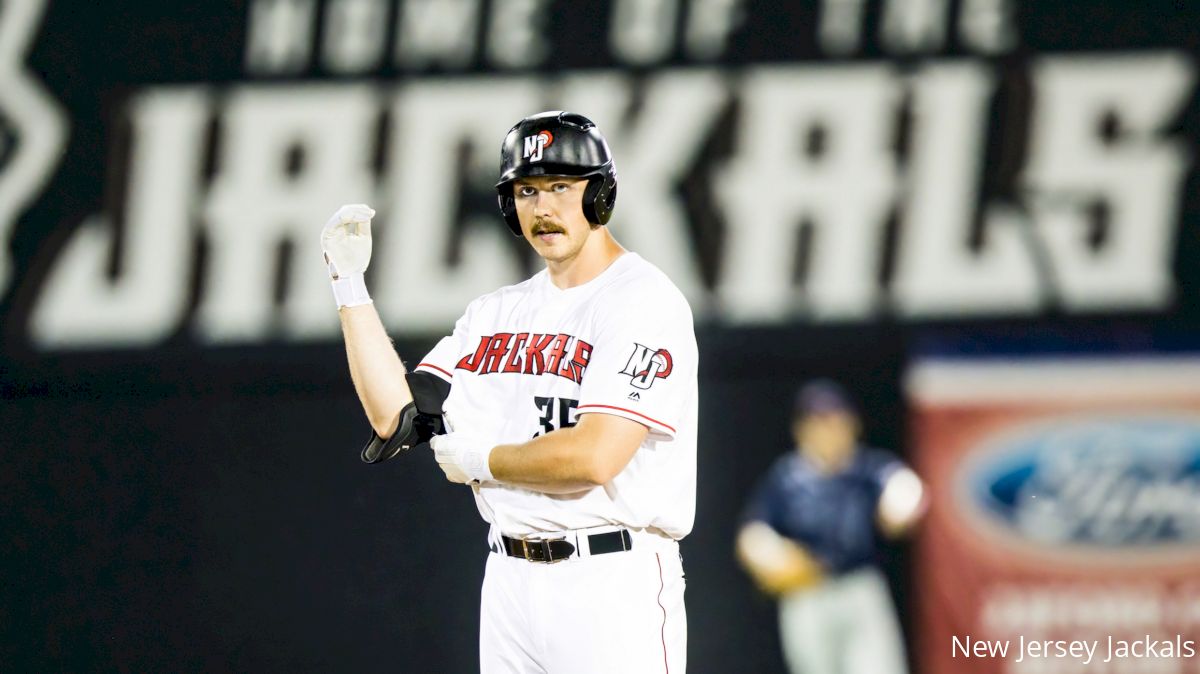 Patience isn't so much about the ability to wait as having a good attitude while waiting.
New Jersey Jackals first baseman Josh Rehwaldt got a dose of that reality while pitching for Apple Valley (Minnesota) High School. The Burnsville native once threw back-to-back no-hitters while playing for the JV team. He was already a good hitter, so his future as a two-way college player looked promising.
But Rehwaldt, also an offensive lineman for the school's football team, began experiencing the yips, that dreaded inability to throw a baseball accurately. When it came time to look for colleges, only one made him an offer: the University of Sioux Falls, a Division II program.
It would have been understandable if Rehwaldt had thrown in the towel where baseball was concerned. But that wasn't how he was brought up. The youngest of two boys, Rehwaldt was taught to see things through to the end.
"The main thing I always take with me is to never quit, no matter how bad things are going," said the 6-6, 255-pound lefthanded hitter, who's having a solid season for the Jackals in 2022.
"There's always going to be ups and downs. You just have to stick out the low points, keep your head down and keep going. There's always going to be a light on the other side, hopefully."
It turned out to be the correct path. As a four-year starter at USF, Rehwaldt never finished with a batting average lower than .337 and posted an OPS of 1.000 or higher three of his four years. He made an immediate impact as a freshman, batting .367 with four homers, 41 RBI, 17 doubles and a triple. As a sophomore, he became the program's first ever NCAA DII All-Region player by the National Collegiate Baseball Writers Association (NCBWA). A two-time All-NSIC selection, Rehwaldt finished his career with the Cougars ranked first in 17 categories.
With his athletic build, Rehwaldt looked like a football player. But the intense practices and rigors of being a lineman didn't appeal to him.
"I wasn't invested in it like baseball," he explained.
"For linemen, practices aren't too enjoyable. You're there butting heads for two or three hours. It just wasn't fun for me."
OH MY GOSH, JOSH😱

Josh Rehwaldt continues to rip the cover off the baseball!! Jackals still trail this one 14-7 T7. pic.twitter.com/gLv4IQKrA6

— New Jersey Jackals (@JackalsBaseball) July 1, 2022
Growing up in Minnesota, Rehwaldt developed his love of baseball from his father, John, a retired mail carrier. At around age three, he could often be found swinging a bat or throwing a ball, and his dad would encourage him to practice as often as possible.
"There were days I didn't want to, and I'm sure there were days he didn't, but he knew in the long run it would be worth it," Rehwaldt said of his father.
Rehwaldt followed the Minnesota Twins to some degree. But his favorite team was the Yankees, and he idolized Derek Jeter throughout his storied career. Even at a young age, Rehwaldt believed he could develop into an elite player.
"My whole life, I've always felt I was one of the better players," Rehwaldt said.
"I always thought I could compete at a higher level whether that be in high school or going to college. Once I was in college, being able to start all four years and seeing success, I believed I could carry that to the next level."
Rehwaldt learned other important lessons besides mental toughness at the collegiate level. He admits he never set foot in a gym during his high school years, so coming to USF was an eye-opener for him.
"In high school, you just kind of show up and do a little practice," Rehwaldt said.
"But in college, it was a lot more in-depth. They put you through drills. The workouts, they kind of hit me hard at first because I just wasn't prepared for it. But after being able to push through that and come out the other side, it helped me develop even more because I saw how much it made me a better player."
As a senior at USF, Rehwaldt hit .337 with an OPS of 1.026 in 49 games, a career-high 10 homers, 35 RBI and 20 stolen bases. He had conversations with a couple of MLB teams before the draft, but his name wasn't called.
The Cougars played their home games at Canary Stadium, home of the Sioux Falls Canaries of the American Association. The front office and coaching staff were familiar with Rehwaldt, having seen him play during his four seasons with USF. When a spot opened up in the middle of the 2019 season, the Canaries invited him to sign.
"The GM would be there and he would see me play," Rehwaldt recalled.
"They gave me a call and I was there the next day."
In 29 games with the Canaries, Rehwaldt hit .219 with two homers and drove in 14 runs. The following November, he was dealt to the Washington Wild Things for future considerations. With the 2020 season shortened by the coronavirus pandemic, Washington played in a pod league. Rehwaldt appeared in 17 games during pod play, batting .309 with a .451 on-base percentage, four homers, eight RBI and two doubles. He led the team with 15 walks and his on-base percentage was also a team high.
"(Josh) has a very unique skillset at his size, which we saw flashes of this past summer," Wild Things president and general manager Tony Buccilli said before the 2021 season.
"We have challenged him to take that next step as a professional hitter, build around consistency and become a force situationally."
Rehwaldt played part of the 2021 season with Washington before joining the Jackals in July. Through 47 games, he hit .300 with 11 homers, 35 RBI, 29 runs scored and 13 doubles. That momentum has continued into this season, despite the Jackals' 19-24 record as of July 6. Rehwaldt is second in the Frontier League in home runs (15), and ninth in RBI (38). He's slashing .325/.395/.639 with 38 runs scored and seven doubles.
When he steps in the batter's box, Rehwaldt doesn't swing for the fences every time or try to do too much.
"My main goal is get a good pitch that I can hit hard," he explained.
"I just let the ball do what it does. You're going to go through rough patches. Every time you step into the box, you have to be ready to compete and do some damage."
In late June, Rehwaldt earned Frontier League Player of the Week honors after smashing four homers, 12 RBI and eight runs scored to go along with a .500 OBP and 1.043 slugging percentage over six games. In a game against the Empire State Greys, he went 3-for-5 with a homer, five RBI and three runs scored.
"We had a bit of a rough start," Rehwaldt said.
"But it seems like it's starting to come together. Our bullpen has been doing pretty well recently. Everybody in the lineup is getting hits top to bottom. Once it all clicks, it'll be pretty good for us."
In the offseason, Rehwaldt keeps up a steady workout routine in the gym. He also plays chess, something he took up recently. He takes a day-to-day approach to his future, something that keeps him going when the chips are down. He not only plays for himself, but for the people who have helped him along the way.
"They've taken the time to help develop me and get me to where I am today," Rehwaldt said.
"Even at those lowest moments, I just have to keep going and know there's people who are counting on me."