2022 CPL West All-Stars vs CPL East All-Stars
Coastal Plain League Announces Rosters For 2022 All-Star Game
Coastal Plain League Announces Rosters For 2022 All-Star Game
The CPL announced the rosters for the 2022 All-Star Game, scheduled to be held July 10 at Dick Sears Field at Ting Stadium in Holly Springs, North Carolina.
Jul 5, 2022
by FloBaseball Staff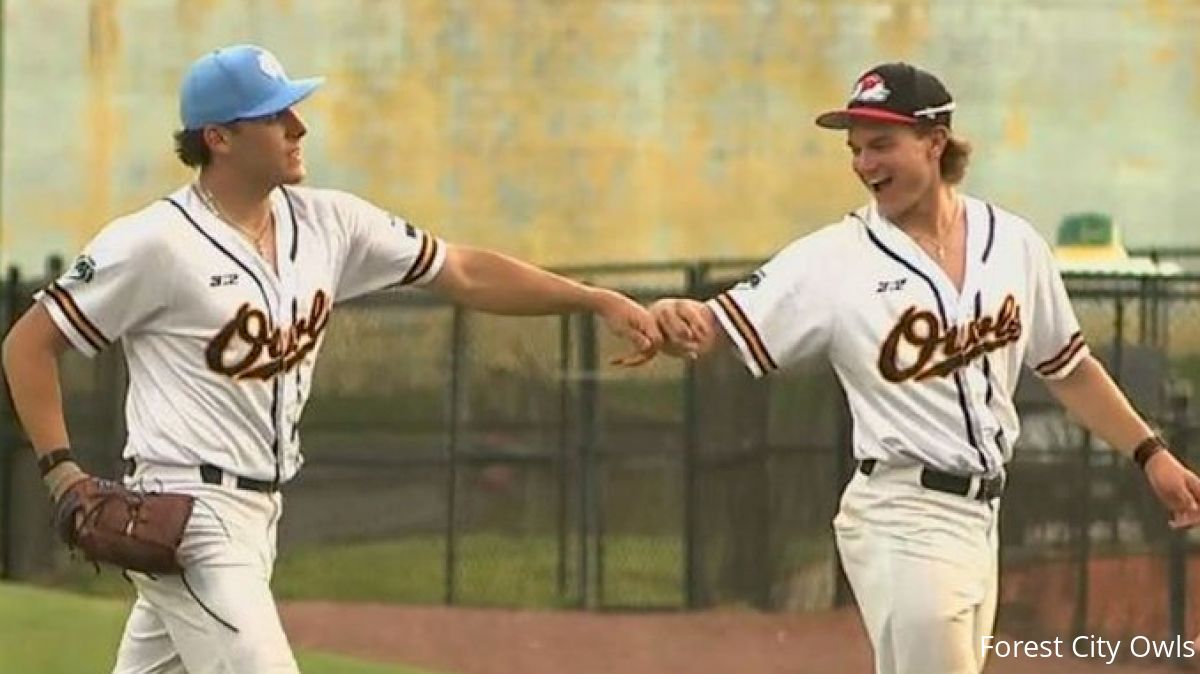 The Coastal Plain League announced Saturday the rosters for the 2022 All-Star Game, scheduled to be held July 10 at Dick Sears Field at Ting Stadium in Holly Springs, North Carolina.
This marks the 22nd year the CPL has played an All-Star Game and the first since 2019 due to the COVID-19 pandemic. The action will get underway at 5:40 p.m. Eastern.
The players were voted upon within their divisions by CPL head coaches, broadcasters and local media representatives from each market. Since the game is being played in the Holly Springs Salamanders' home ballpark, the East CPL All-Stars will be the home team, while the West CPL All-Stars will serve as the visitors.
Earning the start on the mound for the West CPL All-Stars will be Dalton Pence of Forest City. He earned the most votes of any West Division pitcher and therefore will pitch the first inning of the game.
The 6-2, 205-pound lefty from North Carolina has been dominant for the Owls, featuring a league-best 0.37 ERA, to go with a 3-0 record. In 24 2/3 innings of work, Pence has given up just two runs – one earned – on 12 hits, while walking four and striking out 18. Further, he features a 0.65 WHIP, a .140 BAA and a K/9 of 6.568.
Toeing the rubber first for the East CPL All-Stars will also be Morehead City ace Tyler Wehrle.
The 6-3, 225-pound righthander from Tiffin was the top vote getter in his division and sports a 1.95 ERA with a 2-0 record. In six starts for the Marlins, Wehrle has surrendered 12 runs – six earned – on 16 hits, to go with just four walks and a league-best 38 strikeouts. Opposing batters have been held to a .160 average, while his WHIP sits at 0.72 and K/9 at 12.361.
For information about tickets, please visit salamandersbaseball.com or call (919) 249-7322. The game will be streamed live on FloSports. Watch here.
The full rosters can be found below. Starters are noted by asterisks (*), and players who were selected as All-Stars but are unable to attend are marked with a pound sign (#).
Coastal Plain League 2022 West All-Star Roster
Position Name Team Ht. Wt. School Yr.
C *Indiana Stanley Savannah 5-10 200 Columbia So.
C Mitch Smith HP-Thomasville 6-0 205 UNC Greensboro S0.
1B *Brock Vradenburg Lexington County 6-6 230 Michigan State So.
1B Will Butcher Forest City 6-2 210 Charlotte So.
2B *Crosby Jones Lexington County 6-0 190 The Citadel Jr.
2B Dylan Costa Forest City 5-8 165 The Citadel Jr.
3B *Eli Weisner HP-Thomasville 6-1 205 Louisburg College So.
3B Beau Brewer Savannah 6-3 215 Paris JC So.
SS *Justin Johnson HP-Thomasville 5-11 185 Lafayette College Sr.
SS Trent Youngblood Asheboro 5-10 165 Transylvania Jr.
DH/UTL *Braylin Marine Lexington County 6-1 195 Newberry RS-Jr.
DH/UTL Mason Minzey Macon 6-2 205 Ohio Sr.
DH/UTL Kennedy Jones Asheboro 6-1 210 UNC Greensboro Fr.
OF *Drew Yniesta Savannah 5-8 180 Lenoir-Rhyne Sr.
OF *Cameron Pittman Martinsville 5-10 170 Radford Fr.
OF *Armando Becerra Savannah 5-10 182 Erskine So.
OF Christian Easley Martinsville 5-10 185 Maryland-Baltimore County Jr.
OF Ty Jackson Savannah 5-10 205 East Georgia So.
OF Ryan Ouzts Lexington County 5-7 205 Presbyterian So.
OF #Bryce Matthews Macon 6-3 205 Washington State So.
LHP *Dalton Pence Forest City 6-2 205 North Carolina Fr.
LHP Caleb McRoy Martinsville 6-2 195 Duke Sr.
RHP Jared Donalson Savannah 6-2 200 Georgia Southwestern Sr.
RHP Cade Carlson Martinsville 6-2 190 East Tennessee State So.
RHP Cy Smith Forest City 5-11 200 Appalachian State So.
RHP Noah Daniel Savannah 6-4 245 Purdue Sr.
RHP Casey Young Forest City 6-0 190 Gardner-Webb So.
RHP Carson Starnes Lexington County 6-0 190 North Carolina Fr.
RHP Brett Porthan Forest City 6-3 180 Dixie State So.
LHP #Carson Dorsey Savannah 6-2 165 Gulf Coast State College Fr.
Coastal Plain League 2022 East All-Star Roster
Position Name Team Ht. Wt. School Yr.
C *Robert Brooks Holly Springs 5-9 215 Columbus State Sr.
C Zack Miller Morehead City 6'0 220 Catawba College RS-Sr.
1B *Brandon Eike Tri-City 6-0 220 North Carolina So.
1B Matt Schark Wilson 6-4 230 Southern Illinois So.
2B *McGwire Tuffy Morehead City 5-8 175 Quinnipiac RS-So.
2B Connor Coolahan Holly Springs 5-9 175 Elon Jr.
3B *Aaron Smigelski Wilson 6-2 200 Rice Fr.
3B Taber Mongero Wilmington 5-9 180 UNC Wilmington Jr.
SS *Andrew Ciufo Wilmington 6-1 195 Georgetown Jr.
SS Efry Cervantes Wilson 5-10 185 Nebraska Sr.
DH/UTL *Elijah Dickerson Peninsula 6-0 200 Towson So.
DH/UTL Will Stewart Holly Springs 6-1 210 Liberty Jr.
DH/UTL Jacob McCaskey Wilson 6-0 205 Cal. Pennsylvania Sr.
OF *Sean Johnson Morehead City 5-10 200 Belmont Abbey RS-Sr.
OF *Ben Watson Morehead City 5-11 180 Elizabethtown College RS-Fr.
OF *Ethan Ott Wilson 6-2 215 UNC Pembroke Fr.
OF Brett Callahan Holly Springs 6-0 195 St. Joseph's So.
OF Will Hardee Florence 6-0 200 Francis Marion Sr..
OF Trey Paige Wilson 6'0 215 Delaware State Jr.
RHP *Tyler Wehrle Morehead City 6-3 225 Tiffin RS-Jr.
LHP Logan Garza Morehead City 5-11 190 Texas A&M – Kingsville RS-Sr.
LHP Nate Varnier Edenton 6-7 200 William Peace So.
RHP Matt Hickey Morehead City 6-1 165 Tarleton State RS-So.
RHP Reece Wissinger Morehead City 6-5 200 Southeastern RS-Fr.
RHP Hayden Snelsire Tri-City 6-3 210 Randolph-Macon Jr.
LHP Michael Foltz Holly Springs 6-0 200 Duke Sr.
RHP Brent Francisco Wilson 6-7 250 East Stroudsburg So.
RHP Trent Harris Wilson 6-2 197 UNC Pembroke So.