2022 Joliet Slammers vs Evansville Otters
Joliet Slammers' Matt McGarry Learning To Be The Best Version Of Himself
Joliet Slammers' Matt McGarry Learning To Be The Best Version Of Himself
In the opening week of the season, McGarry earned Player of the Week honors with nine hits, two runs scored and 11 RBI for a .536 OBP and .850 slugging.
Jun 28, 2022
by Stephen Kerr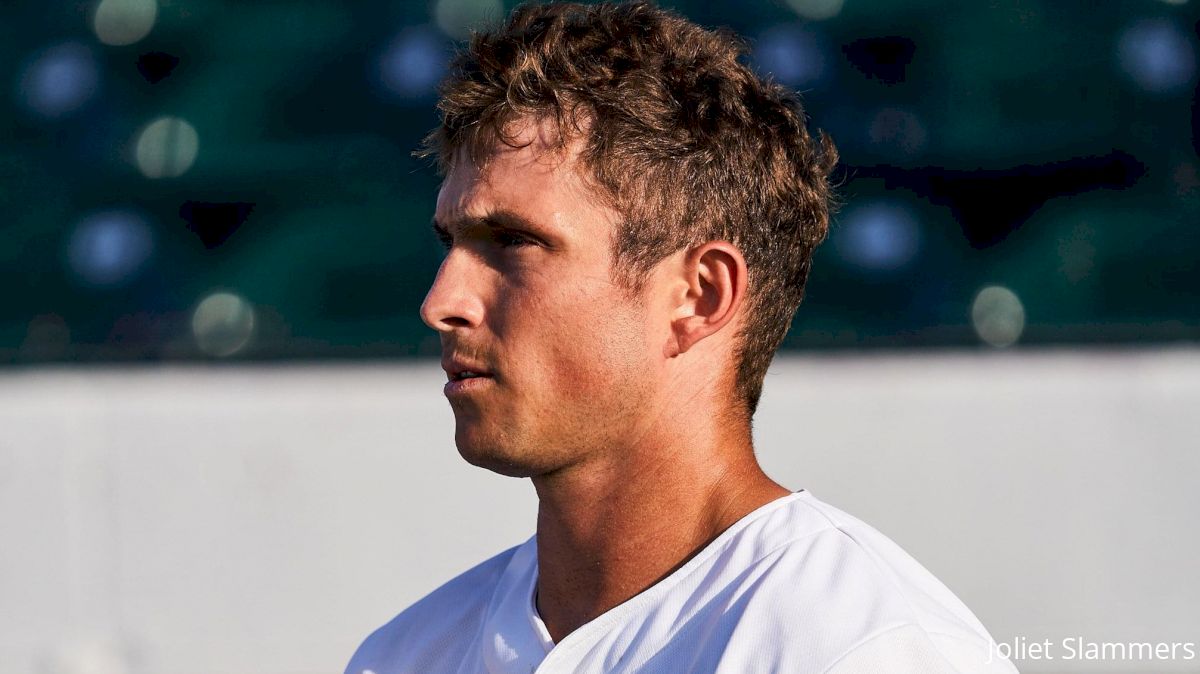 College recruiting is usually about timing or connections. In the case of Joliet Slammers infielder Matt McGarry, it ended up being a case of both.
It was 2014, and Chris Anderson had just finished his first year as head baseball coach at Belmont Abbey College. He was preparing to bring in a large number of new players after finishing 28-30, a 14-game improvement from the previous season.
Anderson received a call from a friend who was working at Baseball Factory, a facility emphasizing evaluation, training and recruiting. He asked Anderson if he needed a middle infielder. When Anderson said yes, his friend told him about a kid he had just seen in California named Matt McGarry.
"Timing is everything," said Anderson, who spent four seasons as pitching coach at Lander before coming back to Belmont Abbey, where he previously served as the Crusaders' recruiting coordinator and assistant coach.
"There was immediate intrigue. (Matt) got on a flight with his brother. We took them around and got a great vibe from them. Being a San Diego kid and coming all the way to North Carolina, it was a bit of a risk for him."
The risk was worth the reward. McGarry, drafted by the New York Yankees in the 34th round of the 2018 MLB draft, became the sixth Crusader drafted since 2008. He helped the team to two NCAA Southeast Region Tournament appearances, slashing .349/.458/.479 his senior season with four homers, 25 RBI, 64 runs scored and 23 stolen bases. He earned All-Southeast Region honors from the National Collegiate Baseball Writers Association, and his class won 141 games in four years.
Anderson could tell right away that McGarry was the kind of player he could build a team around.
"He seemed like my kind of guy," Anderson recalled.
"He's not going to lead by the bad-cop example. He's not going to put up with laziness or lack of effort, but he's not going to berate you in front of somebody, either."
The youngest of three boys, McGarry grew up around sports. His father Kevin, a former head football coach at the University of San Diego and assistant at San Diego State, now serves as a defensive analyst for Syracuse. Matt played baseball, football and soccer at St. Augustine High, and his two older brothers also played football.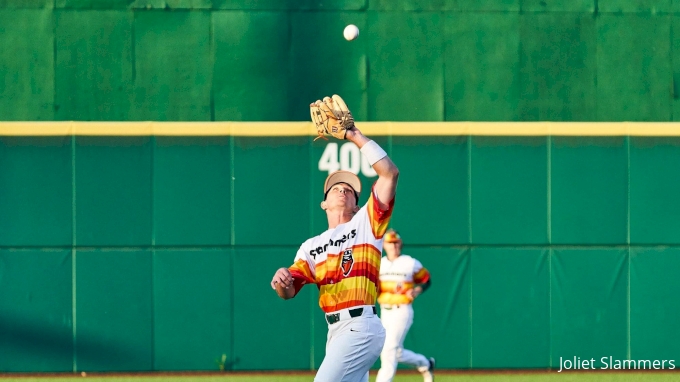 As an undersized kid (he's currently listed at 5-10, 175 pounds), McGarry knew early on that if he had a future in sports, it would be in baseball.
"I wasn't highly recruited," he explained.
"It took a while for me to develop. Skill wise, I always knew baseball was my future."
Despite success during his senior season with the Crusaders, McGarry was surprised to hear his name called in the draft. He expected to perhaps catch on with an organization as a free agent, so the news was met with excitement by his family and friends. Billy Godwin, a Yankees scout based in North Carolina at the time, told McGarry he loved his athleticism and the way he played the infield.
"He knew I could develop into someone that could play multiple positions," McGary said.
"He really loved my footwork on the infield and my hands and that I could be a good hitter."
As McGarry was about to discover, however, climbing the minor league ladder is fraught with challenges. He spent a year in the Yankees' organization before being released in June 2019. Less than a month later, he was signed by the Oakland Athletics, who assigned him to their Arizona League Gold Team.
Then came the coronavirus pandemic. Like many minor leaguers, McGarry was caught in a numbers game, and the Athletics released him in March.
In many ways, the minor league experience helped McGarry learn how to handle himself as a professional.
"(It helped me) transition from college to professional, just taking everything seriously, having a plan and watching how older professional players did it," he explained.
McGarry's release from the Yankees didn't come as a big surprise. He suffered a broken nose, missed a considerable amount of time and didn't perform up to his standards. A family friend who had ties to the Athletics placed a call on his behalf, and he felt comfortable with his performance in Arizona. But he did his best to put the COVID-19 chaos in perspective.
"I knew it was a business," McGarry said.
"It was disappointing because I felt a lot better with the A's. I think it was a better fit, but COVID was crazy for everyone."
The pandemic forced shutdowns in most sports across the U.S. But there were small pockets of opportunities to play baseball, and McGarry took advantage. He played for the Nerds Herd in the 2020 City of Champions Cup, an independent league consisting of four teams that played around 26 games. It was also during that period that several coaches in the A's organization put him in touch with the Frontier League's Schaumburg Boomers. McGarry played there during the 2021 season, batting .242 with eight homers, 38 RBI, 87 hits and 11 steals.
Just before the 2022 season, McGarry found himself on the move again. He was dealt to the Joliet Slammers along with righthanded pitcher Ryder Yakel to complete a previous trade for first baseman Braxton Davidson.
McGarry admits the move caught him a bit off guard. But he has flourished with the Slammers thus far this season. Through 32 games, he's slashing .283/.360/.492 with four homers, 28 RBI and a stolen base. In the opening week of the season, he earned Player of the Week honors with nine hits, two runs scored and 11 RBI for a .536 OBP and .850 slugging percentage. In one game against the New Jersey Jackals, he went 2-for-4 with two homers, six RBI and two runs scored.
Matt McGarry with the home run this morning! pic.twitter.com/jyMmAn8UvR

— Joliet Slammers (@JolietSlammers) May 18, 2022
"He's got great discipline, knows the strike zone, hits the ball everywhere to all fields," said Dan Schlereth, who's in his first season managing the Slammers.
"He's got a great feel of the barrel, doesn't chase too often."
While McGarry has mostly played either shortstop or second base, Schlereth has also used him in the outfield.
"I needed him in the lineup every day, so I wasn't going to sacrifice everything there," Schlereth explained.
"You've got to get your best hitters in the lineup somehow. He's arguably our best or top two guy."
McGarry has learned the value of being versatile during his pro career. Two years ago, he trained with St. Louis Cardinals infielder/outfielder Tommy Edman while in San Diego.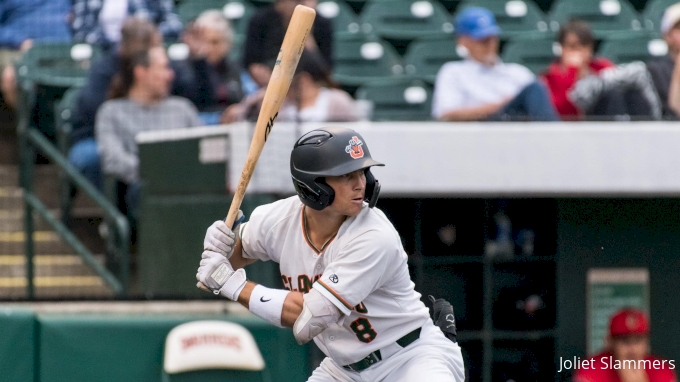 "On his journey to the big leagues, he had to play some right field, third base," McGarry said.
"I saw myself (on) that path, being able to do anything a team needs you to do to be valuable."
For Schlereth, it's all about putting players like McGarry in a position to get another crack at affiliated ball.
"He'll make a difference for somebody," Schlereth said.
"We're trying to get him signed. I know he can play at the next level. He deserves a shot."
The post-COVID structure of the minor league system makes the road back especially difficult, something Anderson knows all too well.
"I've had a lot of good players become a victim of that," Anderson said.
"(Matt) needs to be who he is at his best, whether it's stealing 40 bags, being a Gold Glove winner or hitting .330. The encouragement I always give him is don't push to hit for more power when you could be the best version of who you are. It's such a tools-driven world. He's got to accentuate what his tools are at the highest level."
The right timing and a few connections won't hurt, either.