2022 Tri-City Chili Peppers vs Martinsville Mustangs - DH, Game 1
Hayden Snelsire Hitting His Stride With Chili Peppers
Hayden Snelsire Hitting His Stride With Chili Peppers
Pitcher Hayden Snelsnire takes a summer to improve his technique with the Tri-City Chili Peppers before he enters his senior year at Randolph-Macon College.
Jun 23, 2022
by Stephen Kerr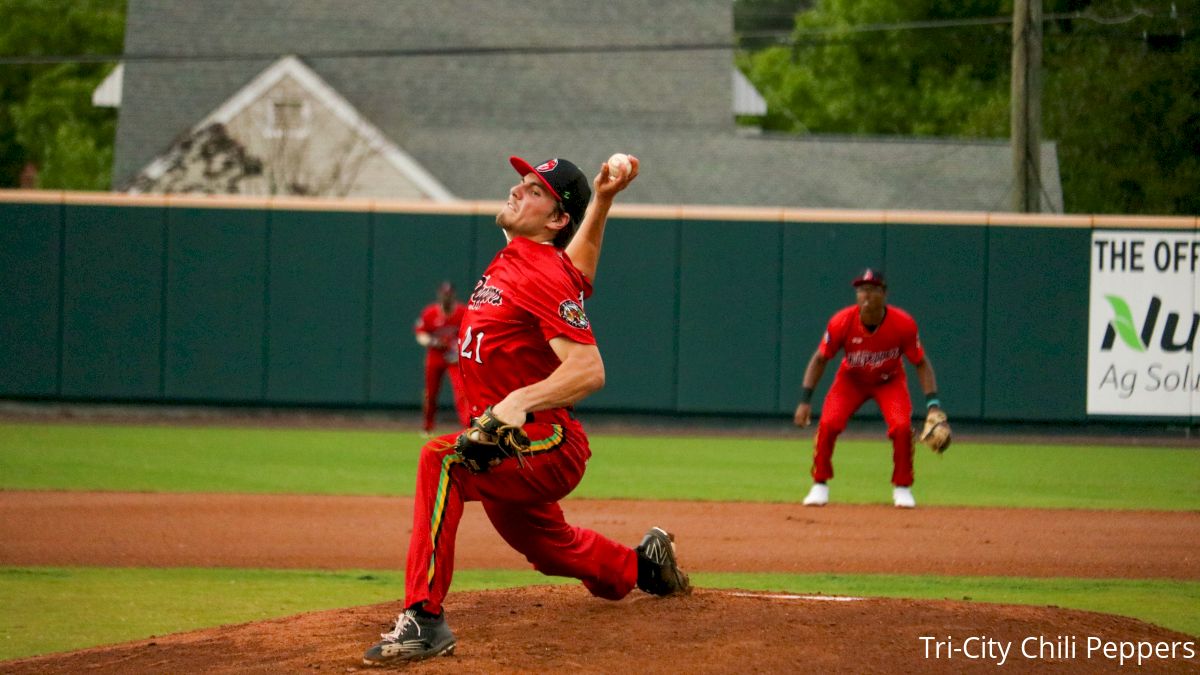 When players get voted Most Valuable Player of a game, they may get a game ball, gold star or simply the recognition of being the best player that day by teammates and coaches.
During his senior year at Stephen Decatur (Maryland) High, Tri-City Chili Peppers righthander Hayden Snelsire received something completely different following a 2019
Victory against Parkside: a stuffed monkey named Chet.
The monkey would hang in the dugout during that season and be awarded to each Game MVP. The 6-3, 210-pound Snelsire, who is about to enter his senior academic year at Randolph-Macon College, was a major contributor on the mound and at the plate in that 13-3 win. He chuckles when he recalls the memory of Chet and that season.
"I think I won him probably three or four times throughout the season," recalled Snelsire, who was named Bayside Conference Pitcher of the Year in 2019.
"He was a special part of that season and made it all fun. It was kind of our going-away present for the team."
Chet symbolized more than just a great performance for Snelsire. It was a sign that he was finally coming into his own as a pitcher following numerous arm injuries during his sophomore and junior seasons. Fortunately, he was able to remain in the lineup as an infielder during the time he couldn't pitch. He admits a lack of preparation was the main cause of his arm problems.
"At that point in my career, I didn't really know what arm care was," Snelsire explained. "I didn't know how to stretch fully when I was throwing. I would just go out and throw a ball."
Lesson learned. Snelsire worked to get bigger and stronger and concentrate more on stretching. In his senior season at Decatur, he went 3-1 in conference play with a 0.51 ERA and 67 strikeouts in 44 innings. The team went as far as the regional semifinals.
"My junior year I was good, but not our No. 1 starter," Snelsire said.
"Going into senior year, I remember being able to pitch well almost every start and getting rewarded at the end with Conference Pitcher of the Year."
Baseball has been a part of Snelsire's life for as long as he can remember. He dominated his Little League and travel teams from an early age, participating in numerous showcases. By the time he was 15, he discovered pitching came more naturally to him than hitting. That's when he began to seriously develop his skills on the mound.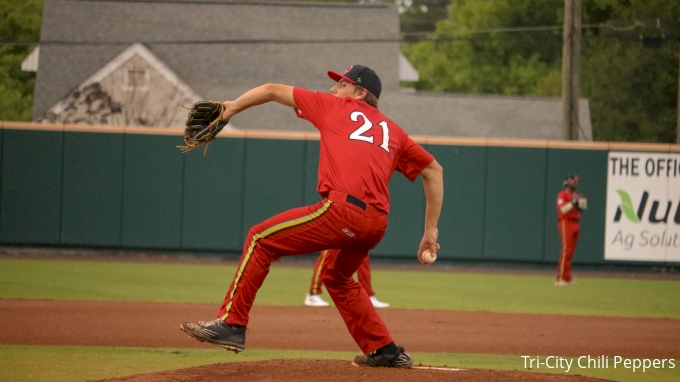 Raised in a Catholic home by his parents, Eric and Jocelyn, Snelsire's faith has played a big part in shaping his development as a player. The oldest of three children, he was a member of Fellowship of Christian Athletes and Future Business Leaders of America.
Having an assurance that God has a plan for everyone has brought him through the ups and downs of baseball and life.
"He's able to manage himself because of his mindset and his demeanor," Randolph-Macon head baseball coach Ray Hedrick said.
"He's very quiet, very reserved. He's a do-as-I-do kind of guy. He's almost cerebral in his approach to things."
It was during a baseball camp in Richmond, Virginia, that Snelsire was noticed by an assistant coach from Randolph-Macon. He took a recruiting visit and was won over by the campus and coaching staff. But what really swayed him was how genuine the coaches were about wanting him to play there.
"It seemed that they really wanted me," Snelsire recalled.
"It was an easy decision after that, just seeing how wanted I was there and how successful they had been in years prior."
Hedrick, who played first base for the Yellow Jackets and Prince George Community College, completed his 18th season as head coach in 2022 following stints as an assistant at UNC Pembroke, Shenandoah University and PGCC. He also worked with the Bowie Baysox, the Baltimore Orioles' AA Eastern League affiliate and coached three summers with the New Market Rebels of the Valley Baseball League.
Hedrick doesn't hesitate when asked what struck him most about Snelsire the first time he saw him pitch.
"Potential, potential, potential," Hedrick said.
"Looking at his body, overall build and the way his mechanics and arm worked, I saw a very high ceiling for him coming out of high school. One of my assistant coaches was like, 'this kid is going to be something down the road if he ends up being coachable and a good teammate and someone who wants to learn'."
Snelsire made just five appearances in relief during his pandemic-shortened freshman season in 2020, recording 15 strikeouts in 11.0 innings. As a sophomore, he posted a 6-2 record with a 3.75 ERA and 50 strikeouts in 50.1 innings over 10 starts. His performance earned him an All-ODAC Third Team selection.
The Yellow Jackets finished 2022 with a 26-12 overall mark and 14-6 in conference play. In 12 appearances, Snelsire went 6-3 with a 4.30 ERA and 65 K's over 60.2 innings. One of the biggest lessons he's learned playing college ball is dealing with adversity on the mound and building mental toughness.
"We train all fall and winter leading up to the season, and (Coach Hedrick) talks about how to handle that when you're pitching, not everything is going to go right," Snelsire said.
"You're going to give up hits, hard hits, runs. It's all about how you're going to face those challenges on the mound."
Week One Players of the Week go to Ben Watson of the @mhcmarlins and Hayden Snelsire of the @GoChiliPeppers

Be sure to check out the article below! https://t.co/j6PKzjp1AE pic.twitter.com/LVpcDIgC5O

— Coastal Plain League (@CPLBaseball) June 7, 2022
Following this past season, Snelsire wanted to work more on his velocity and learn to trust his pitches. Chili Peppers head coach James Bierlein immediately noticed Snelsire's competitiveness and coachability.
"I'd seen Hayden pitch over the last couple of years," explained Bierlein, who also played under Hedrick at Randolph-Macon.
"I thought he would be a good fit. To throw against competition like this, I think he needed it for his development."
Snelsire has been dazzling over his first three starts. In his Chili Peppers debut, an Opening Day victory over Martinsville, he yielded just two hits and two walks while striking out four. In his next startx at Peninsula June 2, he threw four hitless innings, striking out seven of the 13 batters he faced. Those two starts earned him CPL Pitcher of the Week honors.
Snelsire's third start was a tough 3-0 loss to the Morehead City Marlins. In five innings, he gave up just two runs, but had no offensive support.
"I wanted to keep pitching," Snelsire said of his desire to play summer ball with Tri-City.
"This season (at Randolph-Macon) was good, but it wasn't where I wanted it to be. I knew I needed to work on some things, so that's what this summer is for."
On days when he's pitching, Snelsire arrives at the ballpark about 90 minutes before the game to jog, stretch and throw. While not overly superstitious, he consumes about half of a Bang energy drink.
"Not a whole drink, just because I'll get too antsy and I can't sit still," he explained.
Snelsire will be entering his senior academic year at Randolph-Macon this fall. But due to the shortened 2020 and 2021 seasons, he still has several years left of eligibility to play with if he chooses. With college athletes now having the ability to transfer schools easily, Hedrick is well aware players like Snelsire have options.
"You always worry about bigger schools reading their information online or talking to a kid in the program," Hedrick said.
"We need to make sure that Hayden and our other guys are surrounded by people we trusted to make them better and prepare them for success. (Hayden) has an opportunity to pitch at the next level given some of his physical features and the way his arm works. There's still a lot of untapped ability that we hope to get out of him over the course of the next 10 to 12 months."