2022 Washington Wild Things vs Joliet Slammers
Rejuvenated And Refocused Rob Whalen Finding Success With Wild Things
Rejuvenated And Refocused Rob Whalen Finding Success With Wild Things
Rob Whalen is back on the mound and quickly emerging as the best starter in the Frontier League, starring for the Washington Wild Things.
Jun 13, 2022
by Mike Ashmore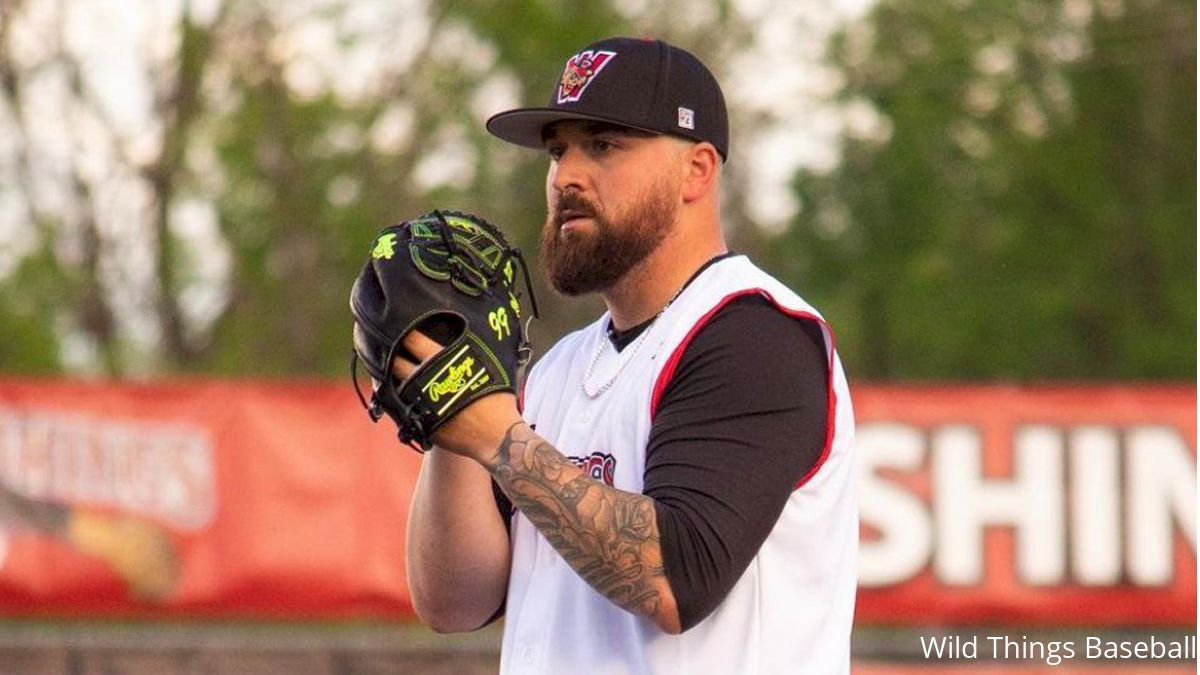 Maybe you know Rob Whalen's story.
Well, maybe you think you know Rob Whalen's story.
The Washington Wild Things starting pitcher has written a few more chapters to it since you've likely last looked.
He memorably stepped away from the game just prior to the start of the 2019 season to address his mental health - namely concerns over long battles with anxiety and depression - and doing so slightly before acceptance and understanding of those very real issues had begun to truly evolve in a positive direction.
For most, that might be the last you've heard of him.
So, maybe you don't know that after a return to baseball with the New York Mets franchise that drafted him got squashed due to COVID wiping out the minor-league season, he spent the majority of last season in the Minnesota Twins organization, spending most of that time at the Triple-A level with the St. Paul Saints.
Maybe you don't know he ended up joining the Frontier League's Wild Things at the end of that year, pitching in his home state of Pennsylvania and becoming the first former major-leaguer the team had ever signed.
Maybe you don't know he was thriving then. Maybe you don't know he's thriving now, quickly emerging as the best starter in the league with a 7-1 record and 1.72 ERA in his first eight starts, striking out 57 batters, compared to just 11 walks in 52 1/3 innings of work.
Maybe you don't know that these last few chapters have rejuvenated his career.
That putting in the work in Washington to write those next few chapters, the ones where he gets back to affiliated baseball and perhaps pitch his way back to the big leagues for the first time since 2018, is what has him in such a good place.
"On a personal level, that's something that really drives me," Whalen told FloBaseball in a cell phone conversation. "It still kind of bothers me today. Sometimes, I wonder if maybe the lack of opportunities is motivated by performance, or if it's because of the way things have gone for me personally. Maybe some decisions I'd made, or whatever it is. That's always in the back of your mind, and it's hard not to think about those things, like, 'Hey, maybe I didn't make the right decision a few years ago to take time off,' or whatever it is."
Quite the W. Here are the highlights. #WeMakeForeverFans pic.twitter.com/UyjCwJW8oV

— Washington Wild Things (@WashWildThings) June 11, 2022
At the same time now, Whalen keeps his focus on the things he can control.
"All I know is, I can't worry about those things, and I can't control those things," Whalen added. "All I can control is what I do every day in putting my best effort out there, and trying to compete at the highest level and show what I can still do on the mound. I'm in a really good place, and I'm so happy to be here. I love the game, I love competing. We have a good team here and I'm comfortable here. But the goal is always to get back and get to that next level. No matter how good or bad my outing is, I can't control any of those external things, I can just control what I do every day and just try to do the best I can."
So far, so good with that one.
Whalen's career renaissance began last year, albeit after some early struggles.
The 28-year-old right-hander initially signed with the independent Atlantic League's West Virginia Power, only to get signed by the Twins shortly before the season was to begin.
He didn't perform out of the gate, however, pitching to an 8.63 ERA in 11 outings between Double-A Wichita and Triple-A St. Paul, before ultimately getting let go in early August.
Several weeks later, he signed with the Wild Things, and that's where things started to turn around. To say he's carried the momentum from a strong finish to the season, including three playoff outings, into this year would be an understatement, but he's just as pleased the team around him has done the same.
"Things are going very well," Whalen said. "We've got a really good team here, and it's a big part of why I wanted to come back, personally. With where we left off last year, coming up a game short in the finals and having a lot of those guys coming back this year, we're excited to run it back. I think we've done a good job of building our roster, and we're off to a good start. We can always get better, and I think we're striving to get better as a whole and maybe start running away with this. Things are going really well, and we're excited to keep it going."
Whalen credits a more relaxed approach to the year for his own individual success, acknowledging that he's run into a rough patch at the higher levels of the affiliated minors over the past several years and that being able to work on some things where there's less pressure to perform in relation to promotions or demotions has helped him work on his craft.
He also says a focus on just being a good teammate and helping out a more inexperienced group around him instead of solely focusing on himself as he had at times in affiliated ball has also helped recharge his love of the game.
"I think we forget that sometimes in this sport, that is a team game, so when you focus on those things, you end up liking where your personal stats are at the end of the day," Whalen said. "I think I'm still just one of the guys, but obviously I am one of the oldest guys here on our team, and I think I have the most experience. It's nice to have some of the guys ask a lot of questions, and we do have a lot of those guys who are hungry for knowledge and hungry to get better."
Whalen has plenty to offer his younger teammates as a former big leaguer who played at the game's highest level for parts of three seasons.
He made his major-league debut with the Atlanta Braves in 2016, earning his first MLB win over five starts, and then made subsequent returns to "The Show" with the Seattle Mariners in both 2017 and 2018, the latter memorably coming after initial, public battles with anxiety.
Four scoreless innings in a mid-June game against the Boston Red Sox remains his last big league outing for the time being, though it would seem to be a matter of when, and not if, the phone might ring with an opportunity to return to the higher levels of the minors.
As much as he has enjoyed pitching away from the spotlight, a return to it is very much on his mind - one last chapter that so many who wrote him off years ago might be surprised to learn he's still very eager to author.
"I have a family to feed, and I'm getting married in November, so of course," Whalen said. "It's always the goal to get back there, to pitch at the highest level. I'm a competitor at the end of the day, and that's what I want to do. I always want to compete against the best. Again, it goes back to this year and even last year, when I came here at the end. I didn't focus on those things for the first time. I didn't focus on where I was or where I wanted to be, I was focusing on where my feet were. That's where I got back to just pitching and enjoying the game again."
I've reached the very top of the mountain in this game.

I've also been kicked right back down to the bottom.

I've been injured and defeated.

I've been judged and labeled by people who don't know anything about me.

But I keep pushing FORWARD #WildThings #MLB pic.twitter.com/4iPINnKqU8

— Rob Whalen (@RobWhalen38) June 13, 2022
In the short-term, Whalen will continue to be patient and put in the work. He'll offer his best on the mound and be the best role model and teammate he can be in the dugout and clubhouse.
"I can't control whether another team wants to sign me or if they think I'm good enough," Whalen said. "I know I'm good enough, and I'm going to keep working every five days here to audition to get to that next level for myself and my family. While I'm here, I'm going to do the best I can for my team and be the best teammate I can be."