2022 Joliet Slammers vs Lake Erie Crushers
Eric Krupa Assumes Role As Frontier League President
Eric Krupa Assumes Role As Frontier League President
Eric Krupa has enjoyed an impactful career in baseball, and he recently was named president of the Frontier League.
Jun 11, 2022
by Mike Ashmore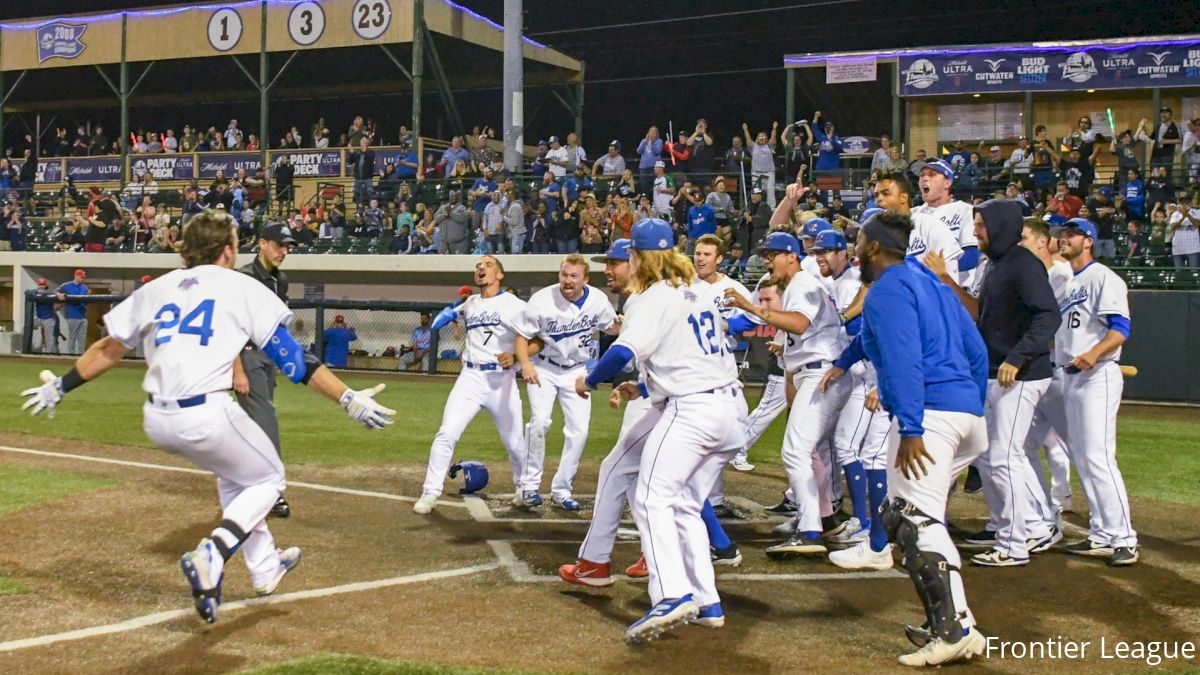 Excited.
It's a word that Eric Krupa couldn't stop using when talking about his new position as the Frontier League's president, and one that those around the league can't seem to stop using when being asked about it.
Most recently a supervisor for Major League Baseball in the Florida State League and South Atlantic League, Krupa also had spent 13 years as the president of the latter circuit. He also enjoyed a decade as MiLB's director of business and finance.
"I'm excited to return to what I enjoy doing, in the sense of wearing 24 different hats in the South Atlantic League, doing something similar on the affiliated side, so I will now look to return to do that," he told FloBaseball via cell phone. "I enjoy doing things to help the clubs get better."
Krupa officially took over in early June, replacing longtime baseball executive Jon Danos, who stepped aside to pursue other opportunities.
As Krupa takes his first steps into independent baseball - the Frontier League is considered an "MLB Partner League," but clubs still operate independently of any big-league team - he says he's seen an evolution in how those on the affiliated side have viewed the independent circuit.
"With the whole changeover and everything falling under the major-league umbrella, a lot of those distinctions have gone away," Krupa said. "With the new system, a lot of the separation that was more emphasized than it probably should have been went away. There's the Tri-City team that came from the New York-Penn League, so they were an affiliate, and the GM in Evansville, Travis (Painter) used to be the GM in Hagerstown in the South Atlantic League."
Krupa's experience on the affiliated side will only help him guide the Frontier League moving forward, though he expects things to largely be business as usual in the short term.
"The fans may see some (changes), but my intent is obviously to help the league improve in whatever form that might take," he said. "Obviously, we're looking for a 16th team and different ways to find out maybe how the club operations can be improved, but that's all very down the road. I want to visit all the ballparks, walk through the bowels of the stadiums and understand each city's unique characteristics and traits, and hopefully see some patterns there that might benefit from things. These teams have been working hard this offseason to get ready for Opening Day, and all the fans are excited to get back to baseball."
Those fans are, of course, are excited about the new league partnership with FloBaseball, which has an exclusive streaming deal to broadcast every Frontier League game, something Krupa has been looking forward to seeing, as well.
"Obviously, we like the partnership with FloSports and the fact that all the games are on and viewable by fans," he said. "We'd like for them to come out to the ballpark, but if they choose not to, and they want to watch the team, FloSports makes that very easy."
As Krupa mentioned, Flo is broadcasting from each of the 15 home markets, but the league is seeking a 16th, after the somewhat stunning departure of the Southern Illinois Miners, which forced the circuit to add a traveling "Empire State Greys" franchise that's off to an 0-23 start this season.
With the stress that a road-only club can have on a league from an operations standpoint, as well as the optics of it, it's an issue that the new president is looking to address in the near future.
"It's definitely a priority," Krupa said. "You want to solve that riddle and determine where's a good place for a team. You're hoping it's a long-term solution."