2022 Quebec Capitales vs Tri-City Valleycats
Kumar Rocker's Larger-Than-Life Arm Hits Frontier League
Kumar Rocker's Larger-Than-Life Arm Hits Frontier League
Rocker's legend continues tonight (June 10) in a start for the Tri-City ValleyCats against the Quebec Capitales.
Jun 10, 2022
by Kyle Kensing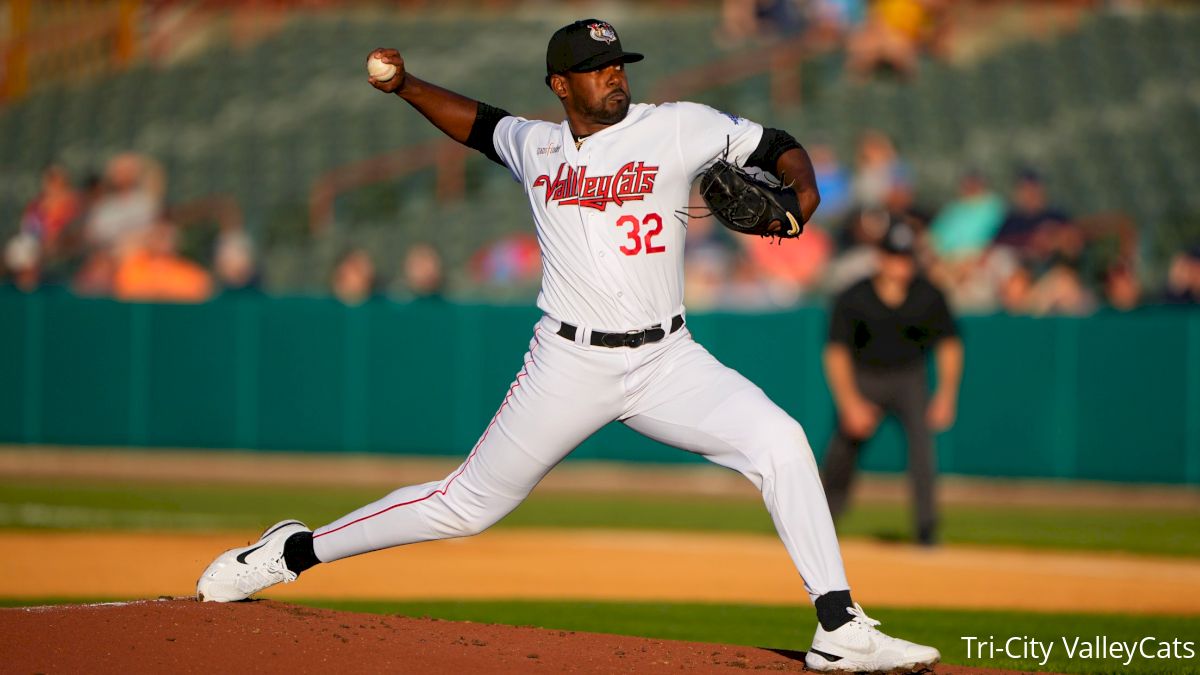 Kumar Rocker's fastball comes with a Paul Bunyan-like aura in baseball circles, but a broken glove can attest that the pitcher's stuff is no tall tale.
Rocker just broke his catcher's glove webbing.

— Geoff Pontes (@GeoffPontesBA) June 4, 2022
Add the busted catcher's mitt webbing to the fast-growing mythos of one of the most intriguing young players in the game.
Rocker's story includes a long list of impressive feats and accomplishments: 12-5 with 114 strikeouts in a freshman campaign at Vanderbilt that culminated in a College World Series championship and Rocker being named Most Outstanding Player—14-4 in 2021 with an incredible 179 strikeouts, All-SEC recognition and a return to Omaha.
Vanderbilt faces elimination tonight in the College World Series and turns to freshman RHP Kumar Rocker, our top 2021 MLB Draft prospect. Rocker was 93-95 mph with a plus slider in this late-season start. pic.twitter.com/CBe4kW6F0U

— FanGraphs Prospects (@FG_Prospects) June 25, 2019
Then, just days after a second CWS appearance, the No. 10 overall selection in the MLB Draft to the New York Mets, a natural progression toward big-league stardom for one of baseball's most promising pitchers.
But, as anyone who's ever read a tall tale knows, no Hero's Journey is ever complete without trials.
The Mets organization opted not to sign Rocker for unspecified reasons related to Rocker's post-draft physical. Rather than another season at Vanderbilt—which bowed out of the 2022 NCAA Regional to Oregon State just two days after Rocker made his return to the mound—he landed in the Frontier League with the Tri-City ValleyCats.
That's where Rocker added the footnote of his fastball snapping a glove, part of a chapter in a completely new book for the right-hander.
See, everything before—the dominance at Vanderbilt, his top 10 draft-pick status, the odd circumstances that kept him from the Mets organization—is an old book, one that Rocker's closed.
You won't hear the pitcher dwell on the past, whether it's the too-strange-to-be-fiction excellence or the unfortunate turn a surefire career took. Rocker's back, he's throwing like he never left, and he's focused on the future.
"It was awesome," he told reporters following his Tri-City debut.
"It was a long year, a lot of work being put in. Glad to see the results from it."
More than 11 months elapsed between starts for Rocker when he made his June 4 debut as a ValleyCat. Any rust that might have accumulated in that time didn't show.
Despite noting some control issues—when asked about the emotions of his first pitch, Rocker pointed out the throw was high—he mowed down six in four innings of work.
"I thought he pitched great. For a guy who hadn't pitched in a year, he had good command," Tri-City manager Pete Incaviglia said.
Incavilgia is a skipper uniquely suited to shepherding Rocker's return to the diamond, himself a former top 10 draft pick. A home run-hitting standout at Oklahoma State, Incaviglia went No. 8 in the 1985 MLB draft, then was involved in his own peculiar situation, being immediately traded from the Montreal Expos to the Texas Rangers.
The quick-switch led to a change in MLB rules regarding the movement of prospects.
"He's just going to get better every time," Incaviglia said of Rocker.
"He's got great work ethic. He's one of the guys here. He grinds every day. … But for him to go out there and pitch the way he did, with the command he had, you've got to tip your hat."
Tip your hat–and watch out for your glove.