2022 Xavier vs Creighton
Record Day For Xavier, Win For UConn Sets Stage For 2022 BIG EAST Final
Record Day For Xavier, Win For UConn Sets Stage For 2022 BIG EAST Final
Xavier and UConn picked up big wins at the 2022 BIG EAST Baseball Championship, and they'll face off for the title Sunday at Prasco Park in Ohio.
May 29, 2022
by Briar Napier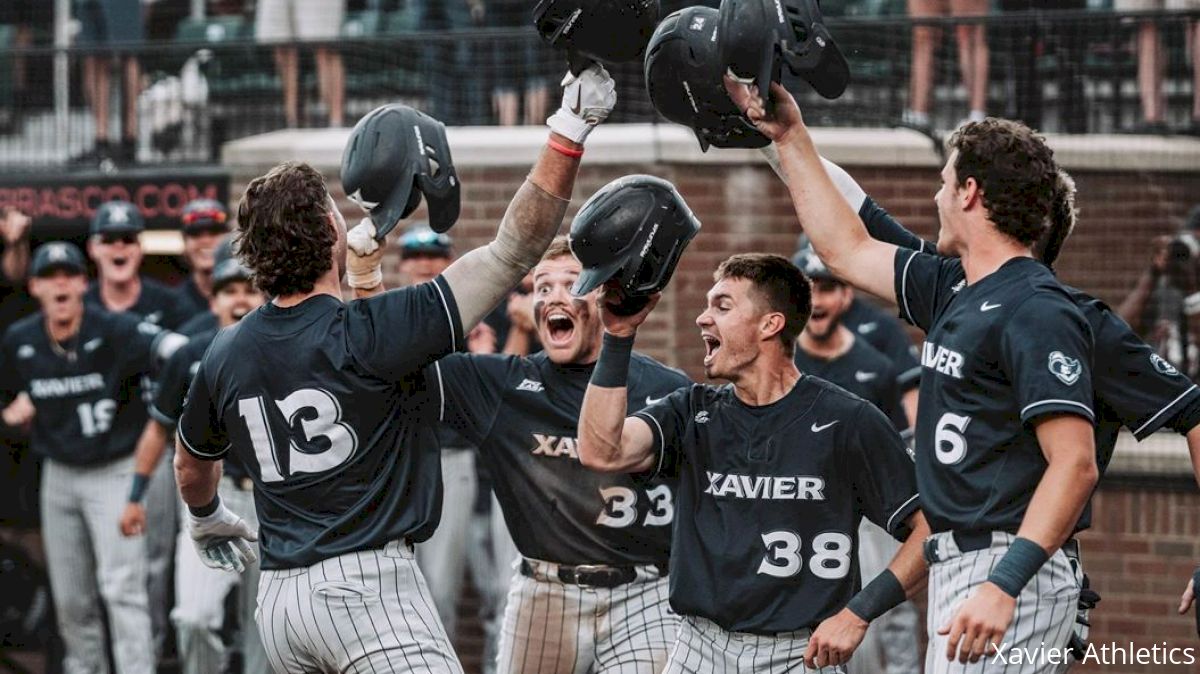 Always expect the unexpected in the BIG EAST, but Saturday proved that to be especially true.
Offense was the name of the game throughout the day, and the league's top-seeded team wasn't the most impressive in the semifinal round at the 2022 BIG EAST Baseball Championship.
That leaves the door open for what should be a wild championship series Sunday, one to determine who moves on from the BIG EAST as its representative on the grandest stage of college baseball.
Records were broken, balls were blasted and scorebooks were filled to the brim all day Saturday, but what is there to expect on Sunday?
Here's a look back on a stunning day of baseball in suburban Cincinnati as the BIG EAST's best battled it out in the league's Championship semifinals:
Xavier's Record-Smashing Day
Much has been said this season about how Xavier has been able to quickly turn games on their heads with power and production throughout the lineup, but could anyone have predicted the Musketeers to score 43 runs in two games?
That's exactly what Xavier did in a stunning display Saturday, prevailing emphatically in elimination games against Georgetown and Creighton to advance to Sunday's championship series against top-seeded UConn.
The fireworks started in Xavier's 16-8 demolition of Georgetown to kick off Saturday play, with the Musketeers scoring 14 of their runs after the fourth inning (and eight in the final two frames), to send the underdog Hoyas home packing.
The floodgates swung wide open in the nightcap against No. 2 seed Creighton, with Xavier recording an astounding 25 hits, including seven home runs, in a 27-8 smackdown to break the single-game BIG EAST Championship run record set by Seton Hall in 2018.
BIG EAST Co-Player of the Year Luke Franzoni was a monster in the second game, becoming the first player in tournament history to hit three homers in one game - two of which were grand slams - while notching another BIG EAST Championship single-game record with an eye-popping 11 RBIs.
7 𝘩𝘰𝘮𝘦 𝘳𝘶𝘯𝘴. 27 𝘳𝘶𝘯𝘴 𝘴𝘤𝘰𝘳𝘦𝘥. 𝘊𝘰𝘶𝘯𝘵𝘭𝘦𝘴𝘴 𝘳𝘦𝘤𝘰𝘳𝘥𝘴 𝘣𝘳𝘰𝘬𝘦𝘯.

A look back at last night. ⬇️ pic.twitter.com/kJm5SOGcFt

— Xavier Baseball (@XavierBASE) May 29, 2022
Already with a tournament-record 14 RBIs before even playing a Sunday game, Franzoni is nuclear-hot, but the scariest part is that the rest of Xavier seems to be following his lead.
UConn Keeps Course
Obviously, the Huskies' 7-1 win over Creighton in Saturday's second game wasn't the main story of the day, but for a UConn team needing a defiant stand in the BIG EAST Championship to prove that it belongs with the nation's best again, the result was a critical one.
Starter Pat Gallagher was stellar, tossing seven innings and allowing just one run on three hits, while reliever Devin Kirby closed the show for the second straight night out of the bullpen.
Postgame with Head Coach Jim Penders after the Huskies advance to Championship Sunday! #RollSkieshttps://t.co/Ju9HreJSbu

— UConn Baseball (@UConnBSB) May 28, 2022
The Huskies have allowed just one total run across 18 innings this tournament.
A pair of home runs from designated hitter Korey Morton, who quietly has six RBIs over two games, made it a complete performance for UConn, as it was able to advance to Sunday without a loss to its name.
Impressively, the Huskies are cruising through the BIG EAST Championship even as All-BIG EAST first-team pick and outfielder Erik Stock is hitless in seven at-bats this tournament (albeit with an RBI sacrifice fly against the Bluejays to his name, too).
Luckily for him, the bottom of the Huskies' order is responsible for eight of their 11 total runs thus far this weekend, with that quality throughout the order further showing why UConn is currently up to a 45-13 record.
Musketeers Vs. Huskies: Tale Of The Tape
Top seed vs. team surging. Shutdown pitching vs. smashmouth power. Sunday's BIG EAST Championship final to determine which school represents the league in the NCAA Tournament over the next month has two teams that have made it in vastly different ways.
In the regular-season series, UConn got the better of Xavier, 2-1, with the Huskies scoring 11 and 17 runs in back-to-back matchups two weekends ago to keep a tight grip on the tournament's No. 1 seed.
With elite pitching in tow, the Huskies will have two attempts to keep the Musketeers' bats at bay, as XU must win twice to win the BIG EAST Championship. However, as Xavier's recent form clearly shows, the task is one much easier said than done.
The obvious threat of Franzoni and company breaking a game open by themselves - Franzoni's 28 home runs on the season is tied with Texas' Ivan Melendez for the best in America - will continually be around the longer the Musketeers are playing, making it especially important to UConn to close the deal early and get back to the NCAA Tournament for the fourth consecutive time.
It's the classic case of the unstoppable force against the immovable object, but one will have to give in sometime Sunday.
Sunday's BIG EAST Baseball Championship Final Schedule
NOTE: All games are contested at Prasco Park in Mason, Ohio. First-pitch times are in Eastern Time and are subject to change.
Game 1: No. 1 UConn vs. No. 3 Xavier, noon (FS2)
Game 2 (if necessary): No. 1 UConn vs. No. 3 Xavier, 3:30 p.m.