2022 CAA Baseball Championships
Schlittler's Strong Outing Helps Northeastern Defeat Top-Seeded Charleston
Schlittler's Strong Outing Helps Northeastern Defeat Top-Seeded Charleston
Schlittler tossed seven innings of two-run ball and struck out nine Cougars while scattering four hits and two walks.
May 27, 2022
by FloBaseball Staff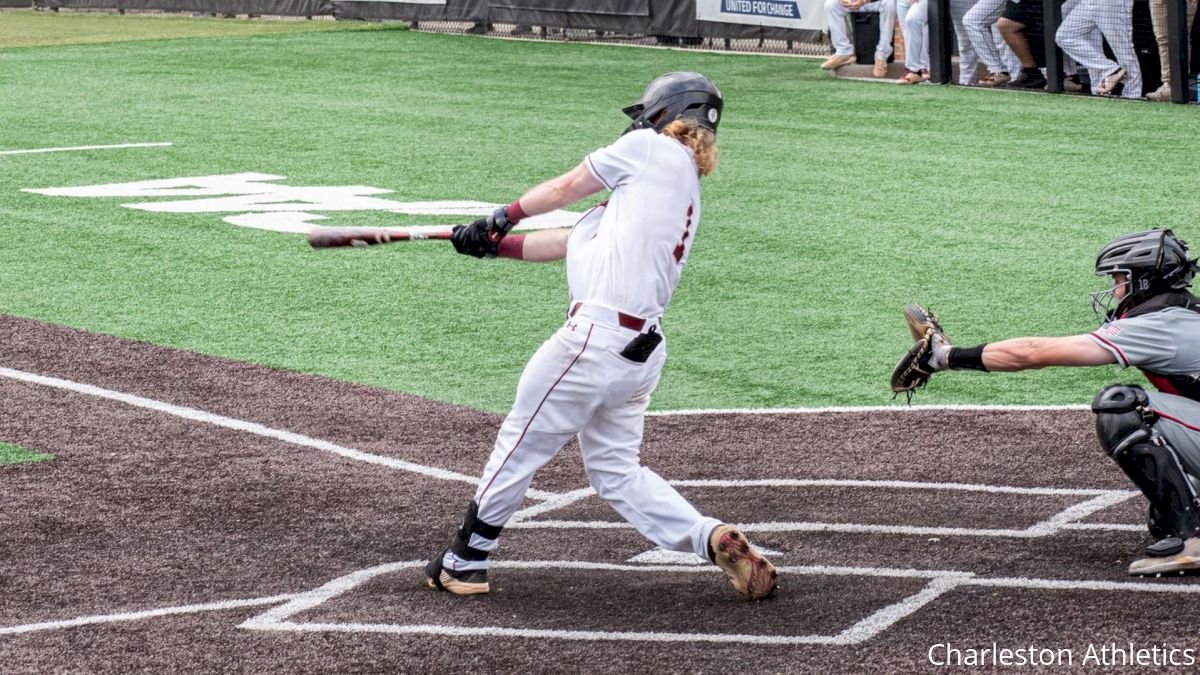 The Northeastern baseball team received a strong outing from starting pitcher Cam Schlittler and held off a late Charleston rally to grind out a 6-5 victory and advance in the winner's bracket of the Colonial Athletic Association Baseball Championship at Latham Park.
Schlittler tossed seven innings of two-run ball and struck out nine Cougars while scattering four hits and two walks. Jeff Costello and Luke Masiuk drove in two runs each for the Huskies, who toppled the regular season champions with the benefit of five walks and three errors.
Northeastern got on the board first in the second inning after capitalizing on two-on, no-out start to the frame. Danny Crossen singled to start the inning and Justin Bosland worked a walk before Luke Beckstein sacrificed the runners over. Following a strikeout, Luke Masiuk brought home Crossen and Bosland by dropping a two-run single into left-center for a 2-0 Huskies advantage.
Charleston made the most of opportunities in the third inning to pull even. Tyler Sorrentino reached on a fielder's choice and stole second before Sam Cochrane and Trotter Harlan worked a pair of walks on nine pitches. JT Marr singled to right to get the Cougars on the board and Luke Wood followed with a ground ball to the right side to score Cochrane and pull even.
Northeastern moved back in front in the top of the fourth courtesy of four free passes. Bosland and Beckstein led off the inning with a pair of walks, and after a Buddy Mrowka sacrifice and Masiuk strikeout, Spenser Smith and Jeff Costello worked back-to-back two-out walks to push across the go-ahead run in a 3-2 game. Charleston would escape further damage as Reed Parris entered in relief and induced a ground ball to get the Cougars out of the inning.
The Huskies extended the advantage in the fifth thanks in part to a pair of Cougars miscues, as a two-out throwing error on a ground ball by Beckstein allowed JP Olson to come around from second and score after Olson reached on an error to lead off the inning. Northeastern would add another run in the sixth thanks to some strong baserunning from Smith, as he followed a leadoff single with a steal of second and took third on a wild pitch before scoring on a Jeff Costello sac fly.
Northeastern added another run in the eighth, but Charleston was able to get out of further trouble, as Cole Mathis came off the mount to grab a bunt out of midair and fired to third to end the inning. The Cougars got two back in the bottom of the eighth on a Harlan two-run homer to pull within 6-4. An infield hit in the bottom of the ninth would cut the margin to one before Jordy Allard closed out the ballgame.
Schlittler earned the win to improve to 6-8 on the year, while Allard collected his second save of the season. Ty Good was saddled with the loss to drop to 10-5 in 2022; Good exited after 3 2/3 innings after allowing the first three Northeastern runs.
Northeastern will play Friday at 7 p.m. against 3rd-seeded Hofstra. Charleston will be in action at 3 p.m. against the winner of the 11 a.m. elimination game between Elon and UNCW.