2022 Macon Bacon vs Savannah Bananas
Coastal Plain League: West Division Preview
Coastal Plain League: West Division Preview
The Savannah Bananas are the reigning CPL champions, but the rest of the league has been improving and preparing for success during the 2022 season.
May 25, 2022
by Briar Napier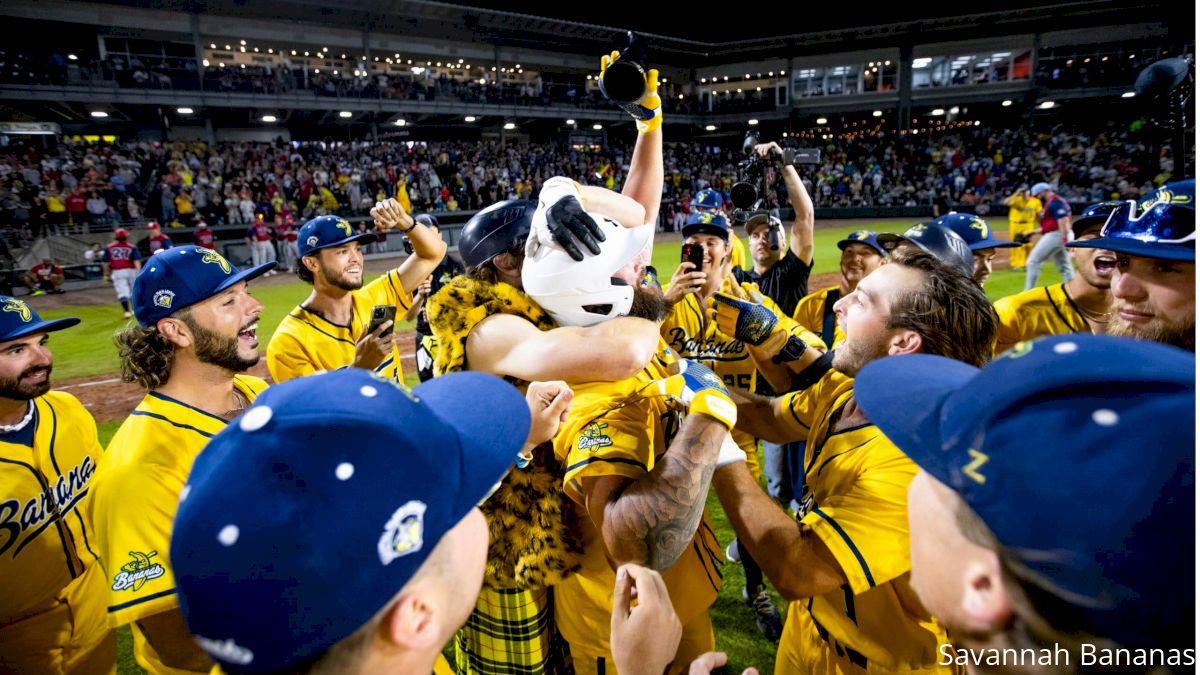 It was a Savannah Bananas world last season in the Coastal Plain League, and the rest of its teams were merely witnesses.
After one of the most dominant league campaigns in recent memory, the reigning Pettit Cup holders have a point to prove this summer as they hope to turn a title into a dynasty. However, the West Division around them has been improving steadily, too, and they'll have something to say about it on the diamond throughout the next few months.
Here's a preview of the CPL's West Division for the upcoming 2022 season - the league's first in partnership all season with FloBaseball:
Savannah Bananas (Savannah, Georgia)
Last season: 36-8 overall, Pettit Cup champions
The lowdown: The Bananas weren't technically champions until they got through the Pettit Cup playoffs to win it for the second time in team history. But, any CPL fan who watched Savannah last season knew it had title-winning material after it had one of the best regular seasons in league history.
The Bananas had the CPL's best batting average (.291), most RBIs (280), lowest ERA (2.54) and top marks in plenty of other stats.
The target now is on Savannah's back as it goes for a repeat, but one of its top hitters last season in third baseman Bryson Bloomer (.333 average, 32 RBIs), should be one of the driving forces behind the Bananas' charge.
CPL Pitcher of the Year Joe Miller doesn't appear to be returning, but plenty of high-major, experienced arms look to be taking a crack at the ace role for 2022. Banana Ball is a force in the CPL, and the team is hoping it stays that way for the extended future.
High Point-Thomasville Hi-Toms (Thomasville, North Carolina)
Last season: 25-19 overall, lost in West Divisional Championship Series
The lowdown: A team with plenty of championship pedigree - the HiToms were the first CPL team to win three straight Pettit Cup titles from 2006-08. It's likely the team isn't taking too kindly to the Bananas, who've only been around since 2016, garnering plenty of attention and titles.
As Savannah knocked out High Point-Thomasville in the postseason this past summer, there's added motivation to upend the upstarts, as well.
The Hi-Toms' M.O. last summer was that they specialized in the deep ball, hitting a CPL-high 65 home runs with three different players reaching double-digits in the category. None of those players have appeared to return, however, but that doesn't mean there won't be any offensive production to go around.
First baseman Chase Evans won an NAIA national championship in 2021 as one of the top stars at small-school power Georgia Gwinnett, while left-handed pitcher Sam Garcia from nearby High Point University is hurling an ERA of under 2.00 this spring.
After Bananas domination in 2021, the Hi-Toms are out to prove that the gap between them and the top isn't as big as some may think.
Lexington County Blowfish (Lexington, South Carolina)
Last season: 24-19 overall
The lowdown: Named after South Carolina music stalwarts Hootie and the Blowfish, Lexington County is approaching two decades in the CPL and consistently features one of the league's most consistent and high attendance numbers.
That loyalty recently has been rewarded with some winning baseball again, as the Blowfish narrowly missed out last summer on their first trip back to the Pettit Cup playoffs since 2015.
The aim this season is to complete the mission, and a pair of returning Lexington natives are looking to finally achieve the goal.
Catcher Jared Kirven returns to the Blowfish this year after being named to the All-CPL first team with them back in 2020, while right-handed pitcher Dalton Mims is arguably the league's top returning pitcher after going 5-0 with a 1.66 ERA in 2021.
Is this the year that the Blowfish finally blow up—pun intended—and take the CPL by storm?
Asheboro Zookeepers (Asheboro, North Carolina)
Last season: 23-21 overall
The lowdown: The former Asheboro Copperheads underwent an offseason rebrand, giving the team a refresh following a 2021 season in which it was fairly middle of the road on paper among the rest of its CPL competition.
Hitting was Asheboro's strong suit a year ago, however, and with four of its top five hitters all appearing to not return, change will be coming in more than just the club's branding.
Nonetheless, the one that is confirmed to return is a big one: catcher Justin Wilcoxen, who hit .339 last season and looks to be a big piece of the puzzle ahead for second-year head coach and general manager Jeremy Knight.
Pitching also could be much, much better (6.33 ERA last summer), and the many small-school hurlers on the Zookeepers' roster at the moment could be boom-or-bust candidates that could result in the new era for the club going to a sinking-or-swimming start.
Forest City Owls (Forest City, North Carolina)
Last season: 22-22 overall
The lowdown: How do you instantly improve one of the weakest rotations in the CPL, one that had an ERA of over 6.00 and the second-fewest strikeouts (333) last season? By getting one of the best pitchers from the best staff in college baseball this spring.
Highly-regarded left-hander Kirby Connell, who has a 1.17 ERA over 25 appearances this year for national-title hunters Tennessee, only got to play one game for the Owls last summer but will hope for more of an extended crack at the CPL after the No. 1-ranked Vols finish their season.
Connell undoubtedly will have plenty of eyeballs on him this summer, but with some UT teammates (including utility player Angus Pence and right-hander Ethan Smith) joining him, along with a host of other high-major, highly-experienced players, the Owls could be a sleeper team for success in 2022.
Macon Bacon (Macon, Georgia)
Last season: 15-26 overall
The lowdown: Entertaining name aside, Macon's sheer lack of offensive production was no laughing matter, as it only hit .209 as a team with a CPL-low 4.3 runs per game last season.
Former Bacon assistant, and last year's Holly Springs Salamanders head coach, Kevin Soine, will be aiming to create a boost of offense out of the lineup this year, and he's brought along bench coach Kianna Jones—the first female coach in CPL history—to try and help him do it.
Loading ⬆️ for Opening Night 👀 pic.twitter.com/NpBGr9xVms

— Macon Bacon 🥓 (@GoMaconBacon) May 25, 2022
As for the hitting, Ohio catcher Mason Minzey (.304 this spring) could help out matters, as that mark would've been the best on the Bacon last year. But, any sort of power boost from the roster this year is especially needed—Macon's summer leaders in 2021 had just three home runs and 19 RBIs to their names. Yikes.
Martinsville Mustangs (Martinsville, Virginia)
Last season: 15-28 overall
The lowdown: Martinsville struggled mightily on the mound a year ago, so picking up some battle-tested arms for the summer was on the minds of those assembling the team.
The Mustangs may have found a gem in that regard with Arkansas right-hander Will McEntire, who's hurled a 2.67 ERA over 27 innings for a Hogs team that has College World Series aspirations.
That also may mean Martinsville may not get its man until later this season, however, but it's also where Duke left-hander Caleb McRoy - a returnee who was one of the CPL's few players to throw over 50 strikeouts a year ago - could shine, as the grad student has the time and innings against the league to back it up.
Back in the batter's box, outfielder Christian Easley, now in his third year with the Mustangs, could be in line for a breakout year after hitting a solid .317 last summer.
Don't let the poor record from 2021 deceive you: the Mustangs very well may be running and gunning with the best of them over the next few months.