CAA Baseball
UNCW's Baldwin Named 2022 CAA Baseball Player Of The Year
UNCW's Baldwin Named 2022 CAA Baseball Player Of The Year
Baldwin led the CAA with a .348 batting average and ranking among the league's top five in hits (65), runs (44), homers (11) and stolen bases (16).
May 24, 2022
by FloBaseball Staff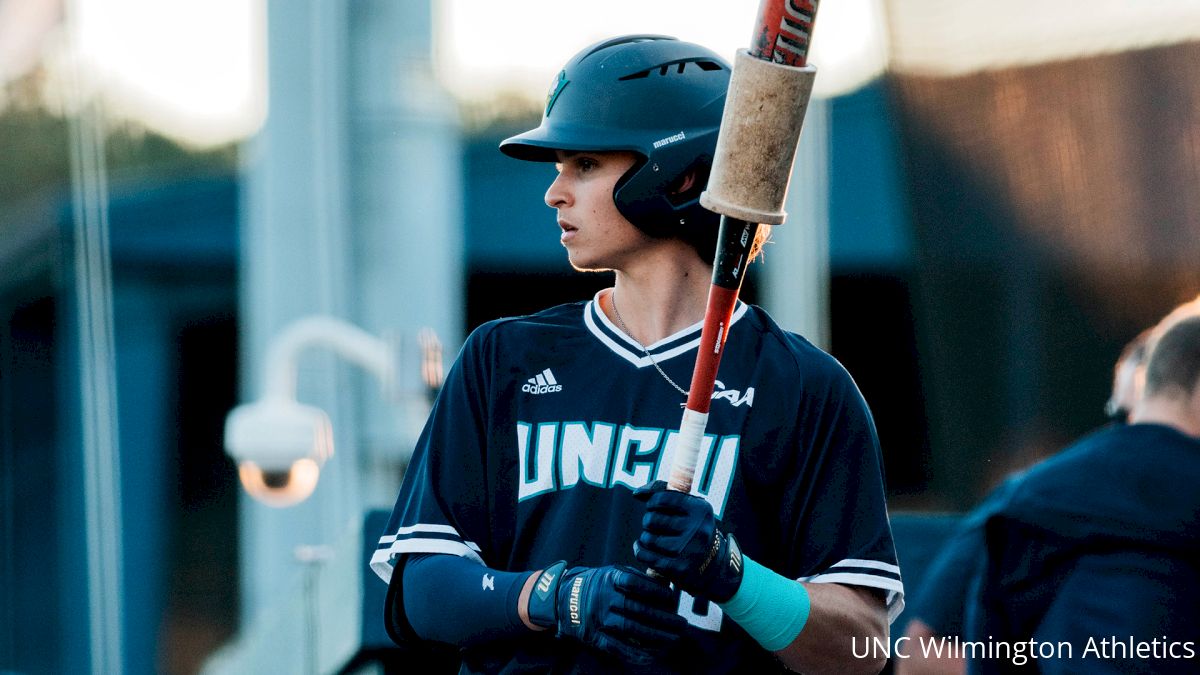 UNCW junior second baseman Brooks Baldwin was chosen as the 2022 CAA baseball Player of the Year, while Charleston sophomore right-hander William Privette was selected as the CAA Pitcher of the Year as the conference announced its post-season award winners on Tuesday.
Other top honors went to Charleston freshman outfielder Tyler Sorrentino and Elon freshman pitcher Shea Sprague as CAA Co-Rookies of the Year, William & Mary junior infielder Ben Williamson as CAA Defensive Player of the Year and Charleston's Chad Holbrook as CAA Coach of the Year.
Baldwin turned in an outstanding season offensively, leading the CAA with a .348 batting average and ranking among the league's top five in hits (65), runs (44), homers (11), stolen bases (16), total bases (114) and slugging (.630). The junior closed the regular season on an 11-game hitting streak and had 17 multi-hit contests in 2022. He moved from the outfield to second base this season and excelled defensively, committing only eight errors and compiling a .962 fielding percentage. Baldwin is UNCW's fourth CAA Player of the Year since 2016.
Privette had one of the top seasons of any relief pitcher in the nation in 2022. The sophomore right-hander was 3-1 with a league-high 12 saves and he leads the country with a 0.95 ERA. He also ranks second in Division I in WHIP (0.81) and ninth in saves. Privette recorded 77 strikeouts with only 15 walks over 57.0 innings, and didn't allow a run in 17 of his 23 appearances. Privette is Charleston's first CAA Pitcher of the Year since 2015.
Sorrentino started 52 games and excelled as Charleston's leadoff hitter, batting .292 and ranking second in the CAA with 45 runs scored. The Cougars' outfielder contributed eight doubles, four triples and 31 RBI's, and also stole 13 bases. Sorrentino is Charleston's first CAA Rookie of the Year since 2014.
Sprague went 5-3 on the mound for Elon and ranked second in the CAA and 11th in the nation with a 1.77 ERA. The left-hander limited opponents to a .213 batting average and played a part in three Phoenix shutouts. He tallied 39 strikeouts and walked only 11 in 56.0 innings of work. Sprague is Elon's third CAA Rookie of the Year since 2017.
Williamson was sensational defensively for William & Mary, posting a .975 fielding percentage while playing the majority of his games at shortstop after moving from third base. The junior committed just four errors in 161 chances and topped the Tribe with 108 assists. It's the second consecutive season that W&M has had the Defensive Player of the Year.
Holbrook received CAA Coach of the Year accolades for the first time after guiding Charleston to a 36-17 overall record. The Cougars captured the CAA regular-season title for the first time since 2015 after posting a 19-5 mark, which included sweeps in five of their eight conference series. Charleston also recorded significant non-conference victories over Texas, Clemson and East Carolina.
UNCW placed a league-high four players on the All-CAA first team as Baldwin was joined by junior infielder Taber Mongero, graduate student outfielder Ethan Baucom and freshman pitcher RJ Sales. Three other teams had three players recognized on the first team. Privette was joined by Charleston junior catcher JT Marr and junior pitcher Ty Good. Hofstra was represented by senior outfielder Brian Morrell, senior pitcher Brad Camarda and sophomore reliever Michael O'Hanlon. Selected from William & Mary were Williamson, senior infielder Cole Ragone and senior outfielder Matt Thomas.
Rounding out the first team were Sprague and sophomore outfielder Alex Iadisernia from Elon, junior utility player Travis Reifsnider and freshman designated hitter Ryan Dooley from James Madison, and Delaware sophomore infielder Joey Loynd.
The 2022 CAA Baseball Championship gets underway on Wednesday from Elon's Latham Park in Elon, N.C. Six teams will battle for the league title and an automatic berth in the NCAA Tournament in the double-elimination event.
2022 ALL-CAA BASEBALL TEAM
(selected by CAA Head Baseball Coaches)
FIRST TEAM
Player, School Pos. Cl. Hometown/High School
JT Marr, Charleston C Jr. Fort Mill, S.C./Fort Mill
Brooks Baldwin, UNCW IF Jr. Whiteville, N.C./Whiteville
Joey Loynd, Delaware IF So. Doylestown, Pa./Central Bucks South
Taber Mongero, UNCW IF Jr. St. Simons Island, Ga./North Hall
Cole Ragone, William & Mary IF Sr. Richmond, Va./Collegiate
Ben Williamson, William & Mary IF Jr. Chantilly, Va./Freedom
Ethan Baucom, UNCW OF Gr. Rockingham, N.C./Richmond Senior
Alex Iadisernia, Elon OF So. Jackson, N.J./Jackson Memorial
Brian Morrell, Hofstra OF Sr. Shoreham, N.Y./Shoreham-Wading
Matt Thomas, William & Mary OF Sr. Lovettsville, Va./Lake Braddock
Travis Reifsnider, James Madison UT Jr. Richmond, Va./Collegiate
Ryan Dooley, James Madison DH Fr. Reston, Va./South Lakes
Brad Camarda, Hofstra SP Sr. Dix Hills, N.Y./Half Hollow Hills West
Ty Good, Charleston SP Jr. Rock Hill, S.C./South Pointe
RJ Sales, UNCW SP Fr. Pinehurst, N.C./Pinecrest
Shea Sprague, Elon SP Fr. Hanover, Mass./Boston College HS
Michael O'Hanlon, Hofstra RP So. Glendale, N.Y./Xavierian
William Privette, Charleston RP So. Chapin, S.C./Chapin
2022 BILL BROOKS CAA PLAYER OF THE YEAR: Brooks Baldwin, 2B, UNCW
2022 CAA PITCHER OF THE YEAR: William Privette, RHP, Charleston
2022 CAA DEFENSIVE PLAYER OF THE YEAR: Ben Williamson, SS/3B, William & Mary
2022 CAA CO-ROOKIES OF THE YEAR: Tyler Sorrentino, OF, Charleston and Shea Sprague, LHP, Elon
2022 CAA COACH OF THE YEAR: Chad Holbrook, Charleston
SECOND TEAM
Player, School Pos. Cl. Hometown/High School
Kevin Bruggeman, Hofstra C Jr. Trumbull, Conn./Trumbull
Joseph Carpenter, Delaware IF Jr. Cornwall, Pa./Cedar Crest
Trevon Dabney, James Madison IF Jr. Douglassville, Pa./Berks Catholic
Cam Dean, Charleston IF Sr. Surfside Beach, S.C./St. James
Jack McLaughlin, Towson IF Sr. Golden, Colo./Golden
Kyle Novak, James Madison IF Jr. Oakton, Va./James Madison
Joseph Mershon, Charleston IF Jr. Taylors, S.C./Eastside
Sam Cochrane, Charleston OF Gr. Ocala, Fla./Belleview
Chase DeLauter, James Madison OF So. Martinsburg, W.Va./Hedgesville
Trotter Harlan, Charleston OF Jr. Fountain Inn, S.C./Hillcrest
Tyler Sorrentino, Charleston OF Fr. West Essex, N.J./West Essex
Jack Cone, William & Mary UT Sr. Fairfax Station, Va./South County
Chris Thorburn, UNCW DH Jr. Raleigh, N.C./Cardinal Gibbons
Brian Edgington, Elon SP Sr. Hatboro, Pa./Hatboro-Horsham
Liam McDonnell, James Madison SP Sr. Oak Hill, Va./Paul VI
Wyatt Scotti, Northeastern SP So. Barnstable, Mass./St. Mark's
Carter Lovasz, William & Mary RP Fr. Midlothian, Va./Midlothian
Ben Simon, Elon RP So. East Windsor, N.J./Hightstown
HONORABLE MENTION:
Matt Suggs, C, UNCW; JJ Freeman, IF, Delaware; Ryan Morash, IF, Hofstra; Joe Delossantos, OF, William & Mary; Elijah Dickerson, OF, Towson; Dominic Ragazzo, OF, Delaware; Jake Liberatore, UT, Hofstra; Luke Stephenson, DH, Elon; Eric Yost, SP, Northeastern; Jordy Allard, RP, Northeastern; Hunter Hodges, RP, UNCW; Reed Parris, RP, Charleston
CAA ALL-ROOKIE TEAM
Player, School Pos. Cl. Hometown/High School
Daniel Brooks Charleston SP Fr. Mt. Pleasant, S.C./Bishop England
Ryan Dooley, James Madison DH Fr. Reston, Va./South Lakes
Charlie Granatell, Elon OF Fr. Franklin Lakes, N.J./Don Bosco Prep
Carter Lovasz, William & Mary RP Fr. Midlothian, Va./Midlothian
Cyle Phelan, UNCW SP Fr. Fuquay-Varina, N.C./Fuquay-Varina
RJ Sales, UNCW SP Fr. Pinehurst, N.C./Pinecrest
Mike Sirota, Northeastern OF Fr. Broad Channel, N.Y./The Gunnery
Tyler Sorrentino, Charleston OF Fr. West Essex, N.J./West Essex
Shea Sprague, Elon SP Fr. Hanover, Mass./Boston College HS
Fenwick Trimble, James Madison OF Fr. Virginia Beach, Va./Cox