CAA Baseball
CAA Baseball Weekly Report | May 23
CAA Baseball Weekly Report | May 23
Catch up on the CAA Baseball weekly news, notes, and awards.
May 24, 2022
by FloBaseball Staff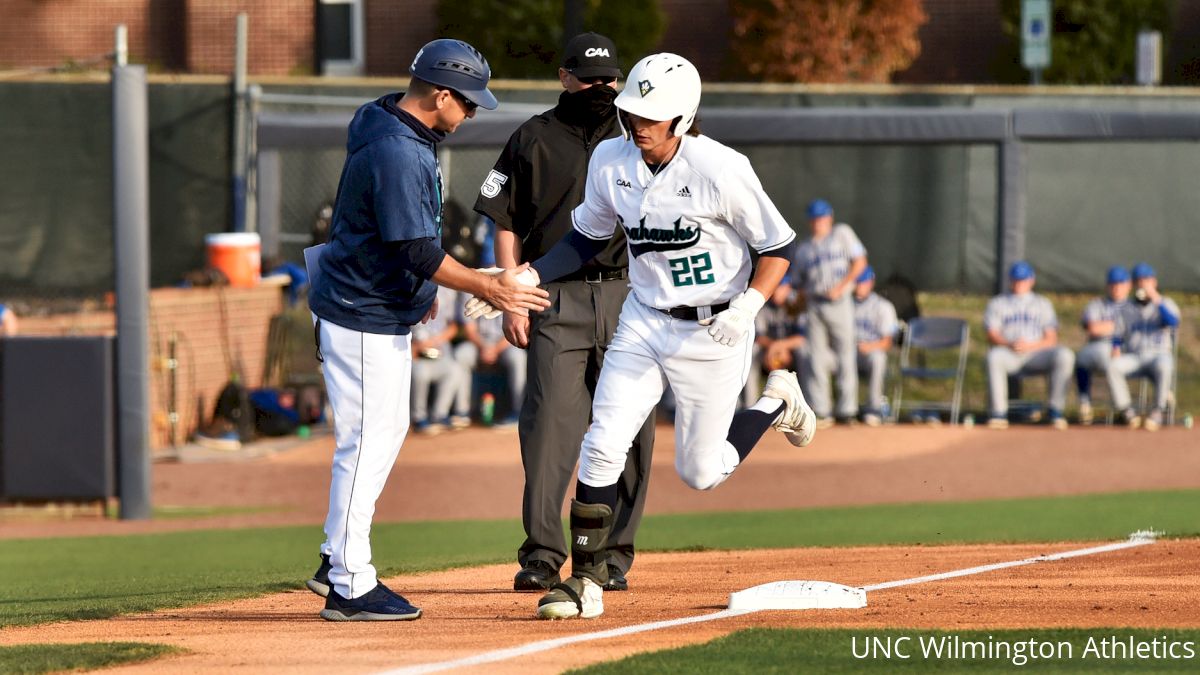 CAA PLAYER OF THE WEEK
Noah Bridges | OF | UNCW
Sr. - Benson, N.C./South Johnson
Bridges batted .545 (6-11) with three homers, five runs scored and four RBI's as UNCW secured the #2 seed in the CAA Tournament with a series win at JMU. The outfielder went deep twice in Thursday's 7-4 victory, including a 2-run shot in the 10th to break the game open. He added a solo homer in Saturday's 9-2 win. Bridges had two hits and scored at least one run in all three games.
CAA PITCHER OF THE WEEK
Zach Klapak | RHP | Delaware
Jr. - Milford, Pa./Delaware Valley
Klapak recorded his team-leading sixth victory of the year after firing 7.0 shutout innings in Delaware's 4-0 win over Northeastern last Thursday. The right-hander scattered three hits and fanned six over his season-long outing. He didn't allow a runner to get past second base and was aided by three double plays. Klapak finished 6-4 on the season.
CAA ROOKIE OF THE WEEK
Brett Seils | RHP | Towson
Fr. - Brookeville, Md./Sherwood
Seils earned his second win of the year after limiting Charleston to one hit over 5.1 shutout innings in Towson's 8-3 triumph over the Cougars last Friday. Making his second career start, the freshman right-hander didn't allow a hit over the first five frames and fanned five before giving up a leadoff single in the sixth. Seils tossed 14.1 scoreless innings in his final four appearances of the season.
CONFERENCE NOTES:
FIELD SET FOR CAA BASEBALL CHAMPIONSHIP: The field is set for the 2022 CAA Baseball Championship, which will be held May 25-29 at Elon's Latham Park. The six-team double-elimination event starts at Noon on Wednesday with #4 William & Mary facing #5 Northeastern, followed at 4 p.m. by #3 Hofstra against #6 Elon. Top-seeded Charleston and #2 UNCW received first-round byes, with the Cougars taking the field at 3 p.m. on Thursday and the Seahawks playing at 7 p.m. on Thursday. A complete bracket is included in the release. Tickets are available at elonuniversitytickets.com. All games will be streamed live on FloBaseball.tv.
MAMULA CHOSEN AS HEAD COACH AT DELAWARE: Delaware has named former assistant Greg Mamula as its new head baseball coach. Mamula has spent the past seven years as the associate head coach at Florida Atlantic, and also been an assistant coach at Cincinnati and head coach at West Chester. He was an assistant at Delaware from 2002-06 under Jim Sherman, who retired at the conclusion of the 2022 season with more than 600 victories.
CHARLESTON'S MARR NAMED POSEY AWARD SEMIFINALIST: Charleston junior JT Marr was named one of 16 semifinalists for the Buster Posey Award, which is given to the nation's top collegiate catcher. Marr is batting a team-best .310 with nine doubles, four triples, seven homers and 40 RBI's. He's also 12-for-12 in stolen bases and has committed just two errors defensively.
CHARLESTON (36-17, 19-5 CAA): The Cougars split four games last week, beating local rival The Citadel (15-9) and taking the series opener at Towson (15-3) before dropping the final two contests. Sam Cochrane drove in four, while Tyler Sorrentino and Jared Kirven were each 3-for-5 with a pair of RBI's in the Citadel victory. Reed Parris improved to 6-0 after throwing 6.0 shutout innings with six strikeouts against the Bulldogs. Cochrane was 3-for-5 with three RBI's and Trotter Harlan was 4-for-5 and knocked in three in the opener at Towson. Ty Good (10-4) recorded his CAA-best 10th win after limiting the Tigers to three runs over 7.0 frames and fanning nine. Charleston will be the #1 seed for the CAA Tournament.
DELAWARE (25-26, 8-15 CAA): The Blue Hens took two-of-three over Northeastern, but fell one win shy of a CAA Tournament berth. Zach Klapak (7.0 IP, 3 H, 6 K's) and Mike Biasiello (2.0 IP, 0 H, 4 K's) combined on a shutout as Delaware captured the opener, 4-0. Klapak earned his team-best sixth win. Aidan Kane and Nick Vera each went 2-for-4 and drove in a run. Bryce Greenly was 2-for-2 with a double, two runs scored and two RBI's in Friday's 5-4 triumph over NU and also earned the save after throwing 1.2 shutout innings to close the contest. Biasiello got the start on Sunday and held NU to one run over the first 6.0 innings, but UD fell 8-1. The games were the last at UD for head coach Jim Sherman.
ELON (25-26, 9-14 CAA): The Phoenix dropped three games by a total of five runs in their CAA series with William & Mary last weekend. Luke Stephenson drove in six runs in the series, including a grand slam on Thursday that gave Elon a two-run lead. Justin Cassella had a hit in all three games, highlighted by a two-run homer on Thursday. The Phoenix got some strong bullpen performances against the Tribe. Kyle Greenler threw 3.0 shutout innings on Friday, Liam Dabagian fired 2.1 frames without allowing a hit on Thursday and Joe Savino and Ben Sieracki each tossed 2.0 innings without giving up a run. Sixth-seeded Elon meets #3 Hofstra at 4 p.m. on Wednesday.
HOFSTRA (26-21, 15-9 CAA): The Pride, which ended the regular season on a five-game winning streak, was off last week. Hofstra finished tied for second in the CAA, but will be the #3 seed for the CAA Tournament. Mark Faello (7-3) and Brad Carmada (7-1) have both earned seven wins this season, which is tied for the 3rd-most on Hofstra's season list. Michael O'Hanlon has recorded six saves, which ranks 4th in HU history. Hofstra batted a CAA-best .294 as a team in conference play. Will Kennedy (.400), Jake Liberatore (.341), Kevin Bruggeman (.333) and Ryan Morash (.330) ranked among top nine individually in batting average in CAA action. The Pride faces #6 Elon on Wednesday.
JAMES MADISON (27-26, 12-11 CAA): The Dukes had a 1-3 week, but picked up a 15-6 victory over UNCW on Friday. Trevon Dabney and Kyle Novak each went 3-for-5 with a homer and three RBI's in the win, while Carson Bell was 3-for-5 and drove in two. Novak, who batted .500 (6-12) in the UNCW series, finished the season with 19 multi-hit games. Travis Reifsnider smacked a two-run homer vs. UNCW on Thursday and had a league-high 8 HR's in CAA play. Anthony Piccolino earned the win on Friday after giving up just two hits over 5.2 scoreless innings, which were a career-high. Liam McDonnell allowed four runs in 7.0 innings vs. UNCW on Thursday. He closed the year with a 6-1 record and a 2.83 ERA.
UNCW (31-22, 15-9 CAA): The Seahawks earned the #2 seed and a first-round bye for the CAA Tournament after winning two-of-three at JMU. Noah Bridges batted .545 (6-11) with a pair of hits in all three games. He belted three homers, including a 2-run shot in the 10th as the Seahawks took the opener, 7-4. Brooks Baldwin scored five runs and drove in four from the leadoff spot vs. the Dukes. Baldwin tops the CAA with a .348 batting average. Freshman Zane Taylor (4-1) scattered six hits and gave up one run over 5.0 innings to get the clinching win on Saturday. Hunter Hodges threw 3.0 scoreless innings in the series and fanned five. He's 3-1 with a team-high seven saves and has 50 K's in 28.2 innings.
NORTHEASTERN (28-27-1, 10-14 CAA): The Huskies secured the #5 seed in the CAA Tournament after pulling out an 8-1 win at Delaware on Saturday. Northeastern broke the game open with seven runs in the 8th, keyed by a 2-run double by Jeff Costello and a 3-run homer by Buddy Mrowka. Eric Yost held UD to three hits and no earned runs over the first 6.0 innings and Jordy Allard finished with 3.0 scoreless frames and four strikeouts. Allard also picked up the victory against UMass Lowell. Spenser Smith batted .400 (6-15) for the week with two doubles and five runs scored. Owen Langan limited the Hens to one hit and no runs in 3.0 innings of work on Friday. NU meets William & Mary in the tourney opener.
TOWSON (14-39, 4-19 CAA): The Tigers closed the season in impressive fashion, winning two-of-three against first-place Charleston. Chandler Castleberry smacked a 3-run homer and Burke Camper added a 2-run shot as Towson defeated the Cougars, 8-3, on Friday. Making his second career start, freshman Brett Seils (2-1) didn't allow a hit over the five innings and fanned five. Castleberry came up big again on Saturday, hitting a game-winning walk-off homer after Jack McLaughlin had connected on a game-tying solo shot. Nick Janowicz threw 4.1 scoreless frames with five strikeouts and Cam Clark blanked CofC over the final two innings. Castleberry finished the season with 9 HR's.
WILLIAM & MARY (26-21, 14-10 CAA): The Tribe extended its season-best winning streak to eight games after a 3-game sweep at Elon last weekend. Matt Thomas batted .533 (8-15) in the series with four RBI's, while David Hogarth contributed five hits and drove in four at Elon. Thomas had multiple hits in all three games and finished with 42 hits in CAA play, which was 10 more than any other batter. Jack Cone launched a three-run homer in the 9th to give W&M a 9-6 victory on Thursday. Nate Knowles (2-2) tossed 3.0 scoreless innings to get the win on Thursday. Seven W&M relievers combined to hold Elon to two hits and no earned runs over the final 7.0 innings in Saturday's 3-2 triumph. W&M faces defending champ Northeastern in the CAA Tournament opener.