BIG EAST Baseball
BIG EAST MLB Prospects To Watch: Stock Rising
BIG EAST MLB Prospects To Watch: Stock Rising
UConn's Erik Stock stands out in the crowd, but there's plenty for MLB franchises to like among BIG EAST prospects.
May 21, 2022
by Briar Napier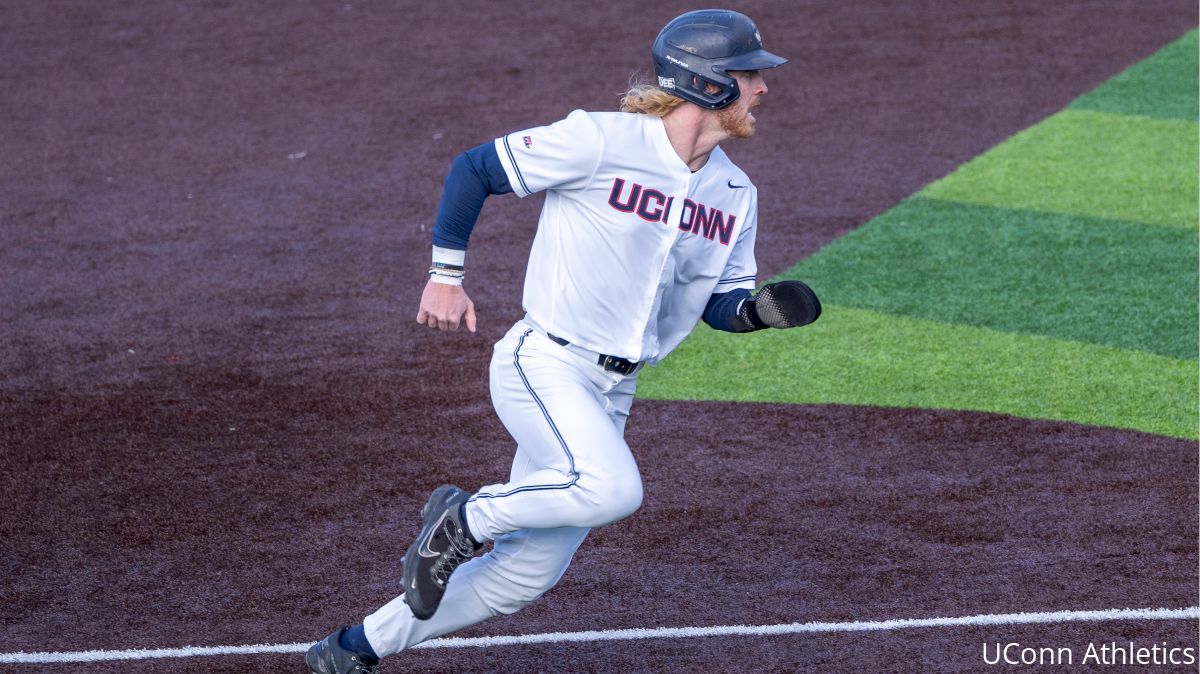 At nearly every corner in the BIG EAST this year, fans have been able to find plenty of emerging talent.
So too have MLB scouts.
With the MLB Draft looming this summer, many players across the league seem to be taking notice and showing out in style ahead of the spectacle. There's still plenty to play for across the league as it heads into its final weekend of the regular season, but for some players the grind has only just begun.
Among the many standouts across the BIG EAST in 2022, here's a look at five players in particular who've proven that their names should be taken seriously once franchises are on the clock in July.
NOTE: All statistics are accurate as of Friday morning.
Erik Stock, OF, UConn
How did Stock respond to not even being drafted last year following a season in which he hit .364 en route to a First Team All-BIG EAST appearance? By having one of the best seasons in league history on a nationally-ranked Huskies squad. Stock's current .396 average is just a hair below .400, which he batted for most of the season. The 6-foot-2 senior has been the engine on a 43-11 UConn offense that has ranked in the top-15 of the D1Baseball Top 25 for much of the season.
Stock's base hits come in bunches as he has an incredible 29 multi-hit games this year, on his way to being one of the favorites for the BIG EAST Player of the Year award—if he isn't a surefire lock for it already. His 51 RBI this year is also a career high, making him the conference's only player to both be hitting over .390 and to have knocked in at least 50 RBI. Stock is rising, indeed.
Luke Franzoni, OF, Xavier
Raw power doesn't grow on trees, and Franzoni has oodles of it. The New Jerseyite entered 2022 with a respectable 23 home runs across 99 games in his first three collegiate seasons, but has more long bombs this year alone—and in just over half the time. Franzoni's 24 homers in just 52 games this season rank tied for third nationally and have made him unquestionably the league's most feared long-ball hitter.
Having shattered Xavier's previous single-season high of 17 home runs, Franzoni is rewriting the school's record books and catching scouts' attention with an eye-popping slash line of .356/.485/.796—with the bump in average particularly impressive as Franzoni's career high before was merely .279. As a reliable part of the defense (.987 fielding percentage, five errors) on top of it all, Franzoni is liable to have a major-league franchise take a swing on him in July. With the tools he possesses, he might reward that team with plenty of swings out of the park in turn.
🚨 🆕 𝗦𝗖𝗛𝗢𝗢𝗟 𝗥𝗘𝗖𝗢𝗥𝗗! 🚨

Check out Luke Franzoni's 17th home run of the season, a new single-season record! pic.twitter.com/UVczaXFsbz

— Xavier Baseball (@XavierBASE) May 2, 2022
Reggie Crawford, LHP/IF, UConn
Crawford hasn't appeared in a game for the Huskies all season—he's amid recovery from Tommy John surgery—and has thrown less than eight innings in his college career. So why is the Pennsylvania native considered the No. 73 overall prospect in MLB's official 2022 Prospect Rankings? The flashes of what Crawford showed in 2021 were just that good.
A 37th round draft pick of the Kansas City Royals in 2019, Crawford's stock ballooned last summer when his fastball occasionally crossed the 100 mph barrier while he was hurling for USA Baseball and in the Cape Cod League. That number will almost certainly see the 21-year-old drafted and developed as a pitcher, but Crawford can hold his own at the plate, too, slamming 13 homers and 62 RBI as a first baseman for the Huskies in 2021—the most RBI by a UConn player in a single season since future World Series MVP George Springer's 62 in 2010. Major-league scouts will hope Crawford's recovery goes well in time for him to be a potentially dominant force on the mound for years to come.
Austin Peterson, RHP, UConn
The Huskies' ace and Friday-night starter, Peterson isn't just making his mark as a force to be feared across the BIG EAST—his numbers are among the best in the country. The Indiana native ranks in the top 10 nationally in numerous pitching categories, perhaps most notably his gaudy 121 strikeouts this year that have him placed fifth in America.
Peterson's control (12 walks) and ability to find the strike zone is top-notch, and though his ERA of 3.46 in 2022 is a bit high for a shutdown starter, his 16-3 career record in Storrs largely speaks for itself. At a towering 6-foot-6, Peterson doesn't usually have blazing heat trailing behind his pitches, but does get wicked movement on some throws that go semi-viral on social media. Transferring out of his home state after a freshman season at Purdue, UConn welcomed him with open arms and to fruitful success—and it might just carry Peterson to the big time.
Alan Roden, OF, Creighton
The BIG EAST's reigning Freshman of the Year had some high standards to live up to this season following a season in which he was named a Collegiate Baseball First Team Freshman All-American. Would being the league's hitting champion suffice? Roden's battle with Stock in that category is probably going to go down to the wire, but as of Friday morning the advantage goes to Creighton's man, currently batting .397.
But Roden's discipline is a big reason behind that plate efficiency. The Wisconsin-native is the second-hardest player to strike out in the country, whiffing at the plate once in every 24.9 at-bats with just seven strikeouts this year on his resume. Consistent with under-utilized speed (Roden had 28 stolen bases in 39 games last year in summer ball season), patience is a virtue when it comes to Roden's game. Will the patience pay off in the MLB Draft this summer?