CAA Baseball
CAA Baseball Weekly Report | May 16
CAA Baseball Weekly Report | May 16
Catch up on the CAA Baseball weekly news, notes, and awards.
May 17, 2022
by FloBaseball Staff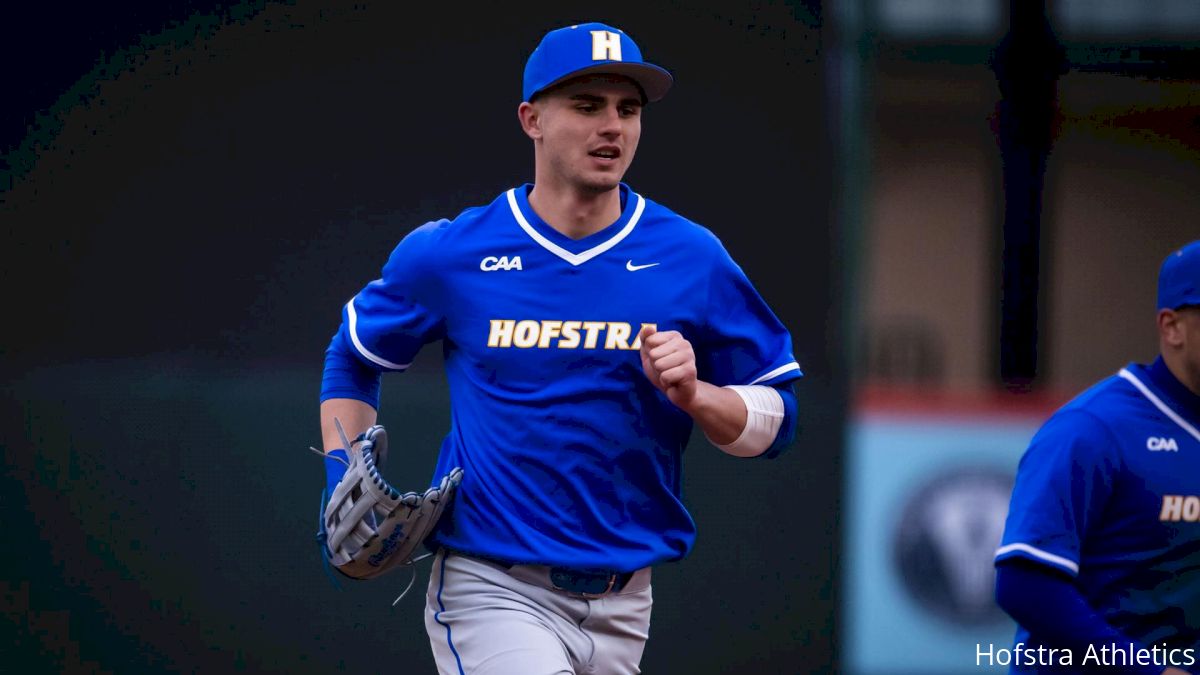 CAA CO-PLAYER OF THE WEEK
Will Kennedy | OF | Hofstra
Jr. - Smithtown, N.Y./Smithtown East
Kennedy batted .526 (10-19) with four doubles, a triple, seven runs scored and six RBI's in Hofstra's 4-0 week. The junior was 9-for-15 (.600) in the Pride's three-game sweep of JMU, including the first two four-hit games of his career. He doubled and scored a run in all four games and had a pair of multi-RBI contests.
CAA CO-PLAYER OF THE WEEK
Cole Ragone | 3B | William & Mary
Sr. - Richmond, Va./Maggie Walker
Ragone batted .357 (5-14) with two doubles, two homers, five runs scored and 10 RBI's in W&M's 4-0 week. The senior went 3-for-3, homered and drove in four in a 13-0 win over Delaware on Friday and smacked a 3-run homer in Sunday's 10-5 victory vs. the Hens that secured a CAA Tournament berth.
CAA PITCHER OF THE WEEK
Ethan Chenault | RHP | UNCW
So. - Forest, Va./Miller School
Chenault went 2-0 in three relief outings last week, allowing two hits and no runs over 7.1 innings while striking out 11. The right-hander didn't give up a hit and fanned four over 2.1 frames to earn a win against NC State. He surrendered just two hits and struck out seven over 5.0 scoreless innings in two outings at NU.
CAA ROOKIE OF THE WEEK
Charlie Granatell | OF | Elon
Fr. - Franklin Lakes, N.J./Don Bosco Prep
Granatell batted .400 (6-15) with a double, triple, three homers, seven runs scored and 10 RBI's in Elon's 3-1 week. The freshman helped EU secure a CAA Tournament berth on Sunday by going 4-for-5 with a double, 2 HR's and 7 RBI's in an 11-6 victory over Towson. He was a2-for-3 with a two-run blast in a win over NC A&T.
CONFERENCE NOTES:
FIVE TEAMS EARN TOURNAMENT BERTHS: The field for the 2022 CAA Baseball Championship is nearly complete after three more teams locked up berths over the weekend. UNCW, William & Mary and Elon joined Charleston and Hofstra in the six-team event, which will be held May 25-29 at Elon's Latham Park. Either Northeastern or Delaware will complete the field, with the Huskies needing one win in their head-to-head three-game series that starts on Thursday in Newark, Del.
CHARLESTON CAPTURES REGULAR-SEASON TITLE: Charleston captured its first CAA regular-season championship since 2015, and second overall, after a series victory at UNCW on May 8. The Cougars have gone 14-1 in CAA play since dropping their only series at Hofstra on April 2. Charleston, which has climbed to #51 in the latest NCAA RPI rankings, will be the top seed for the CAA Baseball Championship and receives a first-round bye
HISTORIC SEASON FOR HOFSTRA: Hofstra went 4-0 last week, including a CAA series sweep over JMU, to end the regular season with a 26-21 overall record and a 15-9 mark in league play. The Pride secured its first winning season since 2012, earned a CAA Tournament berth for the first time since 2018 and recorded its most CAA victories since 2012.
PERFECT WEEK IN NON-CONFERENCE PLAY: CAA teams were a perfect 10-0 against non-conference foes last week. Five of those wins came against Top 50 teams in the NCAA RPI: Charleston over #22 Clemson (7-5), UNCW over #35 NC State (13-11), Northeastern over #43 UConn (9-4), William & Mary over #49 Old Dominion (5-0) and Delaware over #50 Penn (6-5).
CHARLESTON (34-15, 18-3 CAA): The Cougars stayed hot last week, knocking off ACC foe Clemson (7-5) and beating Charleston Southern twice. Jared Kirven went 2-for-3 and drove in four to lead CofC past Clemson. Tyler Sorrentino was 2-for-4 with a double, three runs scored and four RBI's in Saturday's 10-6 victory at CSU. Tanner McCallister was 2-for-4 and knocked in five and Joseph Merson was 3-for-4 and brought in four in Sunday's 14-9 win over the Bucs. It was another dominant week for closer William Privette, who allowed just one hit over 4.1 scoreless innings and struck out 10 while earning saves vs. Clemson and CSU. He's now 3-0 with 12 saves and a nation's best 0.70 ERA for the season.
DELAWARE (23-25, 6-14 CAA): The Blue Hens defeated Penn, 6-5, to end a seven-game slide, but suffered three CAA losses at William & Mary. Joey Loynd belted a go-ahead two-run homer in the 8th against Penn and finished with four RBI's. He also hit a two-run shot on Saturday at W&M and has moved up to third in the CAA with 44 RBI's for the year. Aidan Kane and Jordan Hutchins each smacked two-run homers in Sunday's 10-5 setback to the Tribe. Dom Velazquez was solid out of the pen on Sunday, limiting W&M to two runs over 6.1 innings and striking out six. Delaware hosts Northeastern to close the regular season and needs a sweep of the Huskies to make the CAA Tournament.
ELON (25-23, 9-11 CAA): The Phoenix had a 3-1 week, capped by a series win over Towson that locked up a seventh straight CAA Tournament berth. Freshman Charlie Granatell batted .400 with three homers, seven runs and 10 RBI's last week. He went deep twice and drove in seven in Sunday's 11-6 win over TU, which was the most RBI's by an Elon player since 2016. Cole Reynolds was 6-for-9 with a pair of doubles in the final two games vs. TU. Luke Stephenson was 3-for-5 for with a homer and four RBI's in Saturday's setback to the Tigers. Alex Iadisernia had three RBI's, including the game-winner on a HBP, in Friday's 5-4 win. Shea Sprague improved to 5-2 after holding TU to two runs over 5.0 frames on Sunday.
HOFSTRA (26-21, 15-9 CAA): The Pride ended the regular season on a 5-game winning streak after a CAA sweep of JMU. Jake Liberatore hit his second walk-off homer in 11 days to give Hofstra a 6-5 victory over the Dukes on Saturday. It was the Pride's sixth walk-off win of 2022. Will Kennedy batted .526 (10-19) for the week with four doubles and six RBI's. He had a pair of four-hit games, which were the first of his career. Mark Faello (7-3) and Brad Carmada (7-1) both earned their 7th wins vs. JMU, which is tied for the 3rd-most on Hofstra's season list. Faello held the Dukes to two runs over 6.0 innings on Friday and struck out five. Michael O'Hanlon recorded his sixth save on Friday, which ranks 4th in HU history.
JAMES MADISON (26-23, 11-9 CAA): The Dukes dropped a three-game series at Hofstra, which was their first CAA series setback since April 10. Travis Reifsnider smacked his team-leading 12th homer on Sunday, which is the most by a JMU player since 2011. Mason Dunaway went 5-for-11 at Hofstra with three RBI's. Kyle Novak had a hit in all three games and ranks fifth in the CAA with 58 hits for the season. Liam McDonnell provided another solid start on Friday, holding the Pride to one run over 5.0 innings. He's 6-1 with a 2.54 ERA for the year. Ryan Murphy gave up three runs over 6.1 frames on Saturday and is 4-2 with a 3.19 ERA. JMU will honor softball player Lauren Bernett with No. 22 decals this weekend.
UNCW (29-21, 13-8 CAA): The Seahawks swept their series at Northeastern for the first time since 2012 as part of a 4-0 week. UNCW extended its streak of qualifying for all 36 CAA Tournaments. The Seahawks scored 34 runs in the four games. Chris Thorburn batted .467 (7-15) and drove in five. Brooks Baldwin homered twice and extended his hitting streak to eight games last week. Taber Mongero had six hits and scored five runs. Matt Suggs was 3-for-5 with his league-leading 13th homer and four RBI's in Sunday's 7-4 win. Ethan Chenault went 2-0 in three relief outings and gave up just two hits over 7.1 scoreless innings and struck out 11. Hunter Hodges added a win and two saves with 3.1 shutout innings.
NORTHEASTERN (26-25-1, 9-12 CAA): The Huskies knocked off No. 13 UConn, 9-4, last Tuesday, but fell in all three CAA games to UNCW over the weekend. Freshman Justin Bosland was 3-for-4 with a grand slam and five RBI's in the UConn win and batted a team-best .462 for the week. JP Olson contributed six hits over the four games, while Danny Crossen had a pair of two-hit contests and drove in three. Cam Schlittler turned in a strong performance vs. UNCW on Saturday, blanking the Seahawks for the first six frames and striking out eight over 7.2 innings. Owen Langan gave up just five hits over 6.1 shutout innings in a pair of relief appearances. He struck out four and walked one.
TOWSON (12-38, 2-18 CAA): The Tigers split four games last week, beating Richmond, 8-4, in their home finale, and topping Elon, 12-6, on Saturday for their first road victory of the year. Chandler Castleberry batted .357 (5-14) with three homers and six RBI's for the week. He went deep twice against UR and hit a 3-run shot in the victory at Elon. Jack McLaughlin also smacked a 3-run homer and Burke Camper added a 2-run homer in the Elon win. Freshman Brett Seils earned his first collegiate win vs. UR after throwing 3.0 scoreless innings and followed with his first save at Elon by tossing 4.0 shutout frames and striking out four. He surrendered just six total hits over the two outings.
WILLIAM & MARY (23-21, 11-10 CAA): The Tribe had a 4-0 week, beating rival ODU (5-0) on the road before sweeping a three-game series from Delaware to clinch a CAA Tournament berth. Cole Ragone homered twice and drove in 10 last week, with eight RBI's coming in the UD series to increase his team-best total to 43. Matt Thomas was 5-for-5 and scored four times in the opener vs. the Hens and was 2-for-3 with three runs on Sunday. David Hogarth had five hits and five RBI's in the Delaware series. W&M's pitching staff put together a stretch of 31.0 shutout innings before having the streak end on Saturday. Matt Howat gave up just two hits over 5.1 scoreless innings and struck out five in two outings.