2022 St. John's vs Xavier
BIG EAST Baseball Games Of The Week: The Scramble For Final Spots
BIG EAST Baseball Games Of The Week: The Scramble For Final Spots
The final week of the regular-season slate is here, and there's only a few certainties in the field for next week's BIG EAST Baseball Championship.
May 19, 2022
by Briar Napier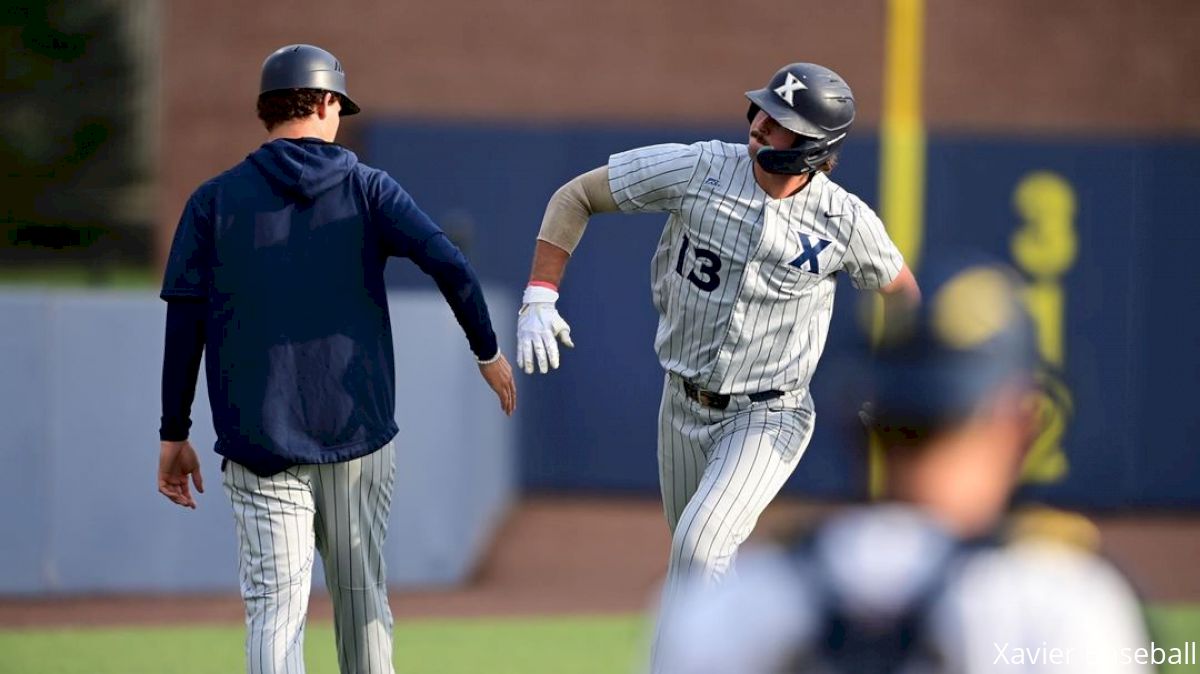 Prepare your nails for biting, BIG EAST baseball fans.
The final week of the league's regular-season slate is here, and with little certainty in the field for next week's BIG EAST Baseball Championship, things are about to get wacky. Some combination of seven different teams (of eight total in the league) could be playing for the league's automatic bid to the NCAA Tournament—a testament to the conference's skill and parity.
Some schools will be hoping they can finish the job off this week and extend their seasons, while others may be hoping opposing teams help them out. Regardless, keep glued to the screen this weekend—business has just picked up.
Here's a look at some of the BIG EAST games to keep an eye on throughout the upcoming weekend on FloBaseball.
NOTE: All first pitch times are in Eastern Time and are subject to change. All records and statistics are accurate as of Monday morning.
Creighton Vs. Villanova
Thursday, May 19 at 3 p.m.; Friday, May 20 at 3 p.m.; Saturday, May 21 at 11 a.m.
Creighton and Villanova is the the BIG EAST series this weekend with the most obvious postseason implications. Villanova—after originally starting the season 1-9—is level on league win-loss record (8-10) with current No. 4 seed Georgetown headed into the final stretch of games in the regular season. The Hoyas hold the tiebreaker over the Wildcats, having won the head-to-head series this year 2-1, meaning that 'Nova must win more games this weekend against the Bluejays than Georgetown does against UConn—the Huskies have only lost two BIG EAST games all season.
The burning question will be what kind of lineup Creighton, which has already clinched a spot in next week's BIG EAST Championship, trots out for this weekend's series. Do the Bluejays believe their No. 2 seed is safe and they can opt to give some star contributors rest, or does the possibility of a Xavier sweep over St. John's (and the third-seeded Musketeers subsequently leapfrogging them) worry them enough to bring out the big guns this weekend in Pennsylvania? Regardless, the goal is the same for Villanova, no matter what happens—win out.
Seton Hall Vs. Butler
Thursday, May 19 at 4 p.m.; Friday, May 20 at 4 p.m.; Saturday, May 21 at 1 p.m.
Seton Hall needs a lot of help to pull off a miraculous surge to the BIG EAST Championship after sitting second-to-last entering the final weekend of the regular season. The Pirates have the favorable conditions as possible to pull it off. For starters, their final series will be against last-placed Butler, who is outright eliminated from postseason contention at 2-15-1 in BIG EAST play and is competing for pride at this point.
The Bulldogs are on a miserable 13-game winless run against league foes (0-12-1) and seemed to have lost the spark, meaning Seton Hall gets a vulnerable opponent. At 6-11 against league opposition, the Pirates are still merely two games back of fourth-seed Georgetown. The three teams directly ahead of Seton Hall (St. John's, Villanova and Georgetown), meanwhile, play Xavier, Creighton and UConn, respectively—the current top-three seeds in the BIG EAST. The Pirates need to win out and then hope the powers of the league dominate this weekend in order to get to the postseason. It's a tall ask, but if Seton Hall wants a seat at the table, it needs others' help to do it.
St. John's Vs. Xavier
Saturday, May 21 at 1 p.m.
It's not just about qualifying for the BIG EAST Championship for Xavier, it's about being able to compete for a spot in the NCAA Tournament in their own backyard. The league's berth to the national postseason will be decided at Prasco Park in Mason, Ohio (a suburb of Cincinnati), meaning that there would be plenty of hometown support behind the Musketeers if they were to grab a bid to a regional round.
For now, Xavier is relatively safe in terms of its standing—at 10-8 overall in BIG EAST play, it is two games ahead of both Villanova and Georgetown as the No. 3 seed. St. John's may have helped the Musketeers after winning two out of three against the Hoyas this past week, but now Xavier must do the same to the Red Storm if it is to clinch an outright spot in the BIG EAST Championship.
To anyone that's pitching to Xavier senior outfielder Luke Franzoni, good luck. The New Jersey native snapped a stunning streak Sunday of seven straight games with a home run to give him a total of 23 on the season, a mark that is currently tied for third-best in the country. His love of moon shots—and Xavier's overall strength of hitting the ball long (82 home runs)—is effective enough to make the Musketeers dangerous opponents for anyone, especially in potential winner-take-all scenarios.