Frontier League
Frontier League: East Division Pitchers To Watch
Frontier League: East Division Pitchers To Watch
The Frontier League's East Division features some new aces and returning veteran pitchers, here are some of the arms to watch this season.
May 11, 2022
by Mike Ashmore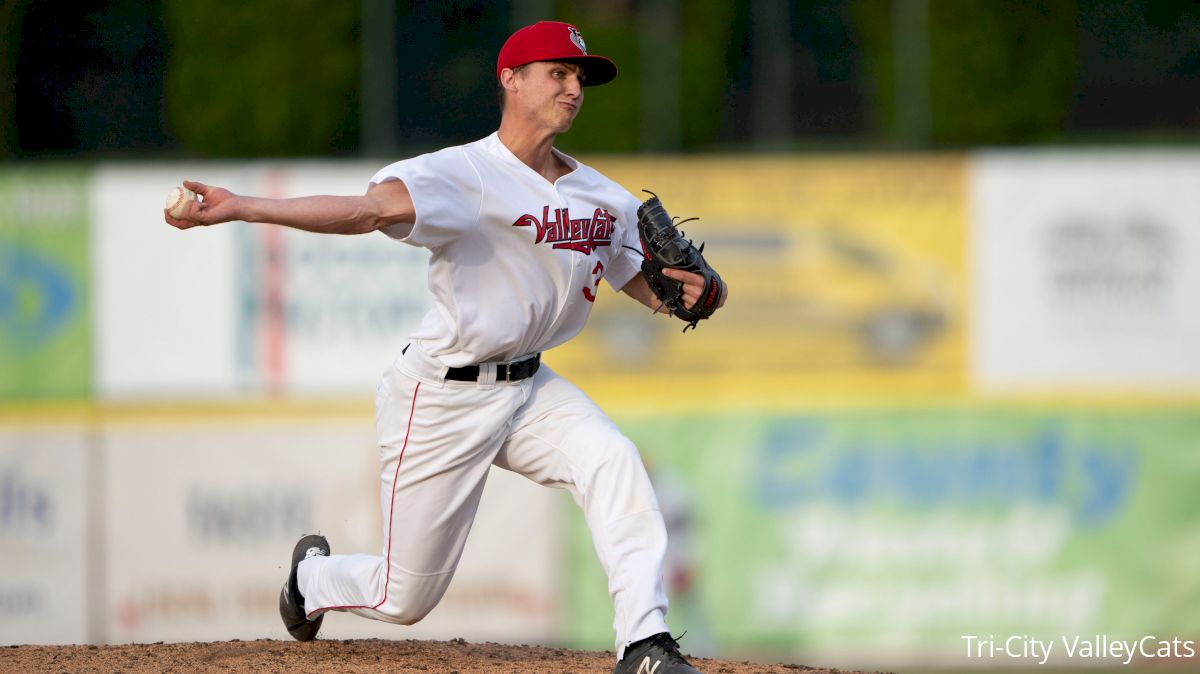 If there's been a staple to the success of the Frontier League over the years, it's been quality pitching.
All but five of the players who've gone from the independent circuit to the major leagues have been pitchers, including the most recent success story, Tyler Danish, signed out of Sussex County Miners spring training last year and is now in the Boston Red Sox bullpen.
Here are some intriguing arms to watch this season in the Frontier League's East Division.
Brandon Sattenfield, LHP, Empire State Greys
A traveling team put in place to keep a balanced schedule this year, the Greys don't have a single pitcher on their roster with either an "Experienced" or "Veteran" classification.
Depending on how you look at it, it'll either be a long year over there, or an opportunity for some younger arms to shine.
Sattenfield, a 26-year-old lefty, was named the Empire League's Reliever of the Year in 2021, posting a 2-1 record and two saves with a 2.44 ERA in 26 appearances with the Tupper Lake Riverpigs. He struck out 33 batters over 48 innings, allowing only one home run along the way. Facing better competition this season, it'll be interesting to see how his stuff translates.
Hansel Rodriguez, RHP, New Jersey Jackals
Last season, the Jackals finished last in the league with a 5.99 ERA, leading to a much-needed overhaul of the pitching staff headed into 2022.
Rodriguez could provide a stabilizing force to the New Jersey staff, bringing seven years worth of experience in the affiliated minors, both as a starter and a reliever. Most recently in Double-A in the Los Angeles Angels system, the 25-year-old Dominican-born righty appeared in over 100 games with the Toronto Blue Jays and San Diego Padres organizations, including a 2017 season in which he racked up over 100 strikeouts splitting time between in the rotation and bullpen with the Fort Wayne TinCaps.
Zach Schneider, RHP, New York Boulders
On another staff that struggled last year, Schneider was a bright spot, posting a 3-1 record with five saves and a 3.18 ERA in 24 relief appearances for the Boulders in 2021. A former Red Sox farmhand who performed very well for their Gulf Coast League club two years prior, Schneider recently turned 25, and the right-hander could be an option for a major-league organization looking for an arm for one of their lower-level clubs if he's able to maintain his impressive track record.
In 57.2 professional innings pitched, Schneider has allowed just one home run and issued just 12 walks, but did post a relatively high 10.3 H/9 with New York last year.
Zac Westcott, RHP, Ottawa Titans
Westcott has never received an opportunity in affiliated baseball, but it certainly hasn't been for a lack of success in indy ball. One of the hottest commodities on the free agent market at this level, the 30-year-old righty is fresh off helping the Atlantic League's Lexington Legends to a championship, joining them late in their season after a great year with the Southern Illinois Miners. He went a combined 15-5 with a 3.57 ERA between the two stops, and finished as the runner-up for Frontier League Pitcher of the Year honors.
He led the league in wins with 14, and returns to Ottawa for the first time since 2019, when he pitched for then-Ottawa Champions of the Can-Am League.
Joel Huertas, LHP, Quebec Capitales
Huertas is a 26-year-old lefty with five years of experience in the New York Mets system, and was recently signed after two scoreless outings with the expansion Staten Island Ferryhawks in the Atlantic League. A 16th round pick of the Mets back in 2014, the Puerto Rican-born hurler has struggled to find consistency throughout his career, pitching to a 6.99 ERA in the affiliated minors. but has found success of late in the Puerto Rican Winter League after a brief stint with the Lincoln Saltdogs in the American Association last year.
James Mulry, LHP, Sussex County Miners
Mulry has been one of the better arms at the independent level for the past several years, and joins the Miners after spending the past three years with division-rival Boulders. He made over 100 appearances for them, posting a sub-2.00 ERA twice, and will likely be used in high-leverage situations with Sussex County.
The 28-year-old lefty was a four-year starter at Northeastern, and made his professional debut with Ottawa in 2017. He struggled there before putting together an impressive sophomore season with the Frontier League's Schaumburg Boomers, posting a 2.30 ERA in 40 appearances out of the bullpen in 2018.
Ryan Williamson, LHP, Tri-City Valleycats
Williamson was set to pitch for the ValleyCats last year before the Chicago White Sox came calling, signing him and assigning him to their High-A affiliate in Winston-Salem for the season. The 27-year-old Cranford, New Jersey native is back this year, however, set to make his first appearance in a full-season independent ball setting after a brief stint in the 2020, COVID-inspired All-American Baseball Challenge.
As a 15th round pick of the Washington Nationals in 2016, Williamson spent two seasons in their system, advancing to A-Ball with Hagerstown. He went 7-2 with a 2.69 ERA in his junior year at North Carolina State, making him a hot commodity for that year's draft after turning down an offer from the Texas Rangers three years prior after they selected him out of high school in 2013.
Kyle Thomas, RHP, Trois-Rivieres Aigles
A Mississauga native, Thomas returns home to pitch in Canada for another year after splitting last year between Quebec and Winnipeg in the American Association. As a 30th round pick of the Detroit Tigers back in 2017, Thomas spent two seasons in their farm system, advancing to short season A-Ball in 2019.
The 6-foot-3, 200 pound righty posted a 1.54 ERA in 17 appearances that year, but wasn't able to replicate that success in 2021, struggling to an over-seven ERA between his two stops. If he's able to get back on track, however, he'll be a key part of the Trois-Rivieres pitching staff this year.