2022 UNC Wilmington vs Northeastern
CAA Games Of The Week: Marquee Non-Conference Prelude
CAA Games Of The Week: Marquee Non-Conference Prelude
The CAA is set up for a strong run of games this week, which should transition nicely into the postseason as teams fall into place.
May 10, 2022
by Kyle Kensing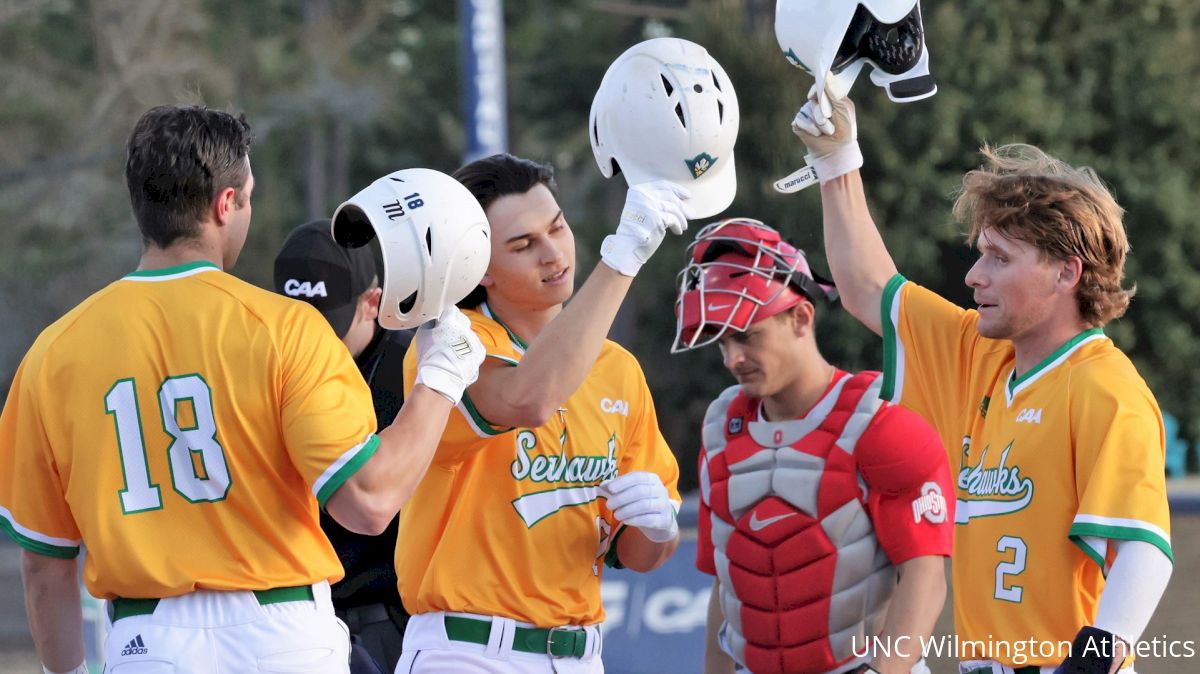 Before the penultimate weekend of Colonial Athletic Association regular-season competition pares down the field to those that will vie for the league championship, CAA teams compete in some intriguing non-conference matchups.
The upcoming midweek slate is perhaps the best collectively for the Colonial all season, and comes at an opportune time with the NCAA Tournament starting this month. Whichever team advances to the tournament may have an invaluable tune-up to its credit as a result of this week's docket.
But until the postseason rolls around, there's still an unclear picture in a competitive conference race. Only Charleston has locked up a berth in the CAA Championship, leaving five bids for seven teams and a variety of seeding combinations.
Hofstra sits in the No. 2 spot currently, but a series loss to the suddenly red-hot Northeastern Huskies has the surprising Pride in a precarious spot. Preseason favorite NU has come charging up to the fourth spot, just one game behind UNC Wilmington and tied in the loss column with Hofstra.
William & Mary and Elon occupy the last two bids if the CAA Championship starts today. However, don't count out Delaware. The Blue Hens are right behind the Tribe and Phoenix, with a pivotal road series at William & Mary coming up this weekend.
UNC Wilmington Vs. NC State
The Seahawks have played a demanding non-conference docket all season, and it doesn't stop this week. NC State, a 2021 College World Series participant, visits Brooks Field firmly in the NCAA Tournament conversation, with an RPI of 31 and 30-15 overall record. UNCW gave State all it could handle and more when these teams met April 12 in Raleigh, with the Seahawks building a 6-2 lead through six innings. Ethan Buacom homered and Jac Croom went 2-for-4 with RBI, while the Seahawk pitching staff struck out the Wolfpack's potential All-American Tommy White three times. A five-run NC State rally in the seventh and ninth innings spoiled the upset bid. UNCW will look to finish strong this time.
Northeastern Vs. UConn
Tuesday, May 10 at 6:05 p.m. ET
When these teams met last month, Northeastern took UConn to extra innings. The NU Huskies visit Storrs for the rematch, looking to continue building on their impressive play of late and add another signature win to an impressive resume that includes victories over other likely NCAA Tournament teams, NC State and Clemson.
UNC Wilmington Vs. Northeastern
Friday, May 13 at 2 p.m. ET; Saturday, May 14 at 2 p.m. ET; Sunday, May 15 at 1 p.m. ET
Following their high-profile non-conference games, UNCW and Northeastern meet for a high-stakes conference series. The Seahawks' visit to Boston has major implications both for CAA Championship positioning, as well as building some invaluable momentum ahead of the postseason. Brooks Baldwin ended last week on a four-game hitting streak, which included games with two and three hits against CAA-leading Charleston. That hot hitting counters the outstanding pitching that has elevated Northeastern right back into the NCAA Tournament chase. The Huskies have given up just 12 combined runs—four of those in a 12-run rout of Towson—over their last seven wins.
Delaware Vs. William & Mary
Friday, May 13 at 5 p.m. ET; Saturday, May 14 at 2 p.m. ET; Sunday, May 15 at 1 p.m. ET
While Delaware enters the week on the outside looking in, the Blue Hens can quickly turn that around with a strong series at William & Mary. UD trails the Tribe, who would be the No. 5 seed if the CAA Championship started this week, but by just 1.5 games. Current No. 6 Elon is just a half-game ahead of the Blue Hens. William & Mary looks to snap out of a recent downturn in which they dropped 9-of-11. Despite the dip, Cole Ragone heads into the week with a four-game hitting streak for the Tribe.