2022 Xavier vs Connecticut
BIG EAST Baseball Games Of The Week: UConn's Statement Series
BIG EAST Baseball Games Of The Week: UConn's Statement Series
UConn hasn't quite met it's match in conference play, but Northeastern and Xavier will give it their best shot this week.
May 10, 2022
by Briar Napier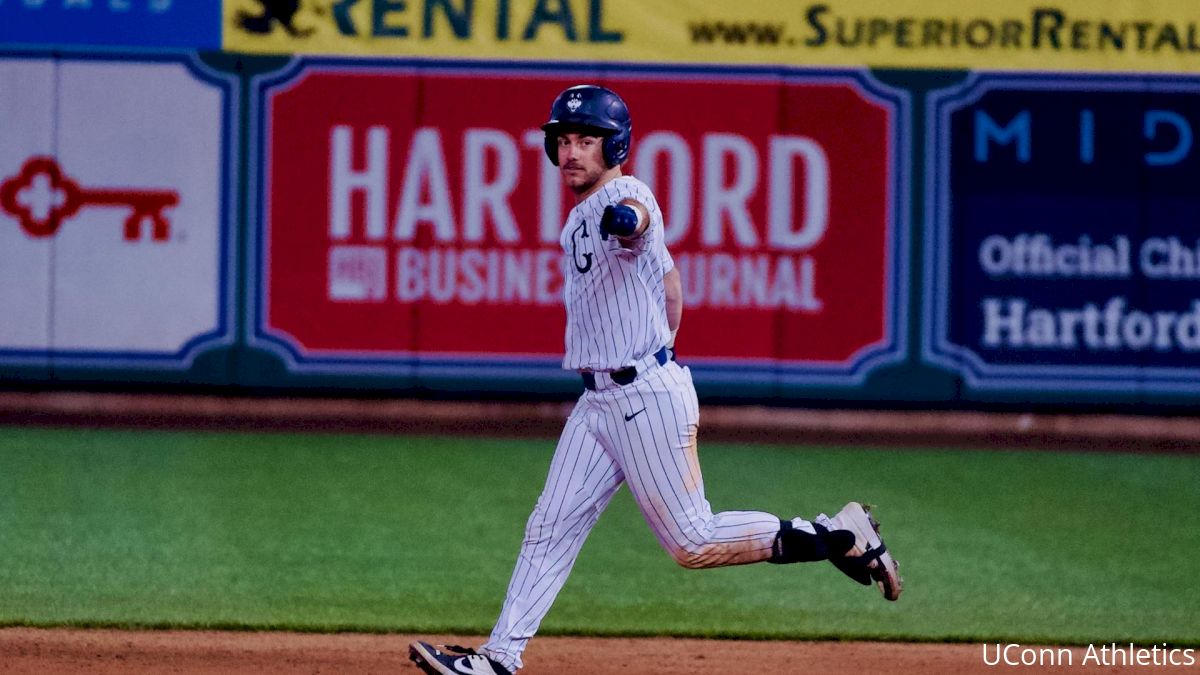 Sometimes, you've just got to tip your hat to the competition.
And with the way UConn baseball is playing right now, it's that much easier to do so.
Coming off a dominant performance all weekend against its most fierce title rival, little looks to be impeding the Huskies as they pursue not just another league title—but prominence and attention on the national stage as one of America's best college baseball teams.
Here are some of the matchups to check out this week across the league, all live on FloBaseball.
NOTE: All statistics are updated as of Monday morning. First pitch times are listed in Eastern Time and are subject to change.
Northeastern Vs. UConn
This past weekend against second-placed Creighton, in the most highly-anticipated series of the BIG EAST season, UConn swept the Bluejays in a shocking statement—and made it nine wins straight with an astounding run of 21 victories in 22 games. Coach Jim Penders' team became the second team in America (along with No. 1 Tennessee) to hit the 40-win mark this season with the sweep in Storrs. The team hit that win total for just the third time in program history and the first time since 2011.
One game in UConn's current winning streak came against Northeastern in a 5-2, 10-inning thriller back on April 26, and the two Huskies-branded schools will do battle again Tuesday in the UConn leg of the team's home-and-home this year. Northeastern, the defending Colonial Athletic Association champions, have fallen down a couple of pegs since a 36-12 season a year ago, but they gave UConn a scare last month as it needed a late-game comeback to keep its winning run going. UConn has won 11 in a row across the past 26 years against Northeastern, and the way the No. 13-ranked Huskies are playing at the moment, it's hard to see that streak ending anytime soon.
Butler Vs. Creighton
Friday, May 13 at 7:30 p.m. ET ; Sunday, May 15 at 1 p.m. ET
Creighton needs a pick-me-up. The Bluejays had a massive opportunity to butt their way into the BIG EAST title race this past weekend, but the might of UConn sent them home to Omaha with a trio of defeats and four games back. A series against the BIG EAST's last-placed team might be a good way to rekindle spirits. Creighton returns to Charles Schwab Field, where it is 14-3 this season, to play the Butler Bulldogs.
The Bulldogs are in a brutal slump of seven straight losses (winless in 10, counting a 12-12 tie against St. John's). Surprisingly, the Bluejays are themselves on a four-game slide while Xavier, Georgetown and Villanova loom in the shadows within three games of second place. Which is to say, taking full marks in this weekend's series against a lowly opponent is that much more critical.
Bluejays junior outfielder Jared Wegner hasn't lost his touch, however, notching a hit in all three games against the Huskies to go along with four total RBI in the series. With a team-high 10 home runs, expect the Nebraska native to be swinging for the fences this weekend and try and help his team put away any adversity.
UConn Vs. Xavier
Saturday, May 14 at 1 p.m. ET ; Sunday, May 15 at 1 p.m. ET
As the Huskies proved emphatically in their last BIG EAST series, no program in the league is totally safe from the team's wrath. Step right up to test yourself, Xavier. If there's any team in the conference not named UConn that has a right to be feeling good about itself lately, it's the Musketeers.
Coach Billy O'Conner's squad is on a four-game winning run that includes a 9-3 win over Creighton to close out their series on May 1. But UConn is an entirely different monster, featuring America's second-best pitching staff by team ERA (3.03) and an average of 8.2 runs scored per game. Both of which aren't ideal for a Musketeers team that both has a shaky rotation (5.73 ERA) and relatively average offensive stats—with one exception.
Xavier has power for days, with outfielder Luke Franzoni's 20 home runs this year both the best in the BIG EAST and tied for sixth nationally, while infielder Jack Housinger's 13 blasts make for an impressive mark to be second-best on his team. On the other side, UConn senior star outfielder Erik Stock (.411 average) is likely headed toward an All-America honor.