CAA Baseball
CAA Baseball Weekly Report | May 9
CAA Baseball Weekly Report | May 9
Catch up on the CAA Baseball weekly news, notes, and awards.
May 10, 2022
by FloBaseball Staff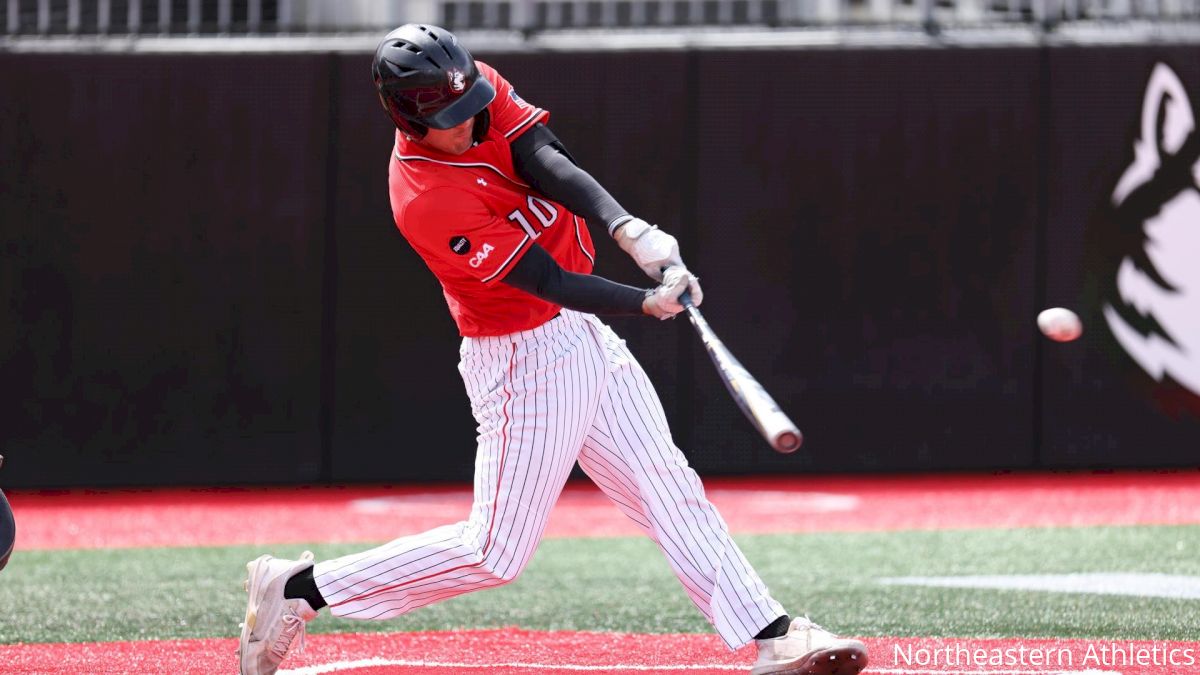 CAA PLAYER OF THE WEEK
Corey DiLoreto | DH | Northeastern
Jr. - Reading, Mass./Reading Memorial
DiLoreto batted .417 (5-12) with two doubles, a homer, four runs scored and three RBI's as Northeastern won 2-of-3 at Hofstra last weekend. The junior DH was a triple short of the cycle in the opening game of the series, going 4-for-5 with a solo homer and a pair of doubles. He reached base in all three contests and raised his batting average to .273 for the season.
CAA PITCHER OF THE WEEK
Brad Camarda | RHP | Hofstra
Sr. - Dix Hills, N.Y./Half Hollow Hills West
Camarda fired a complete-game, five-hit shutout on Sunday as Hofstra blanked Northeastern, 5-0, in the series finale. It was the first career shutout for Carmada, who allowed just one extra-base hit over 9.0 innings and struck out six. The right-hander improved to 6-1 on the season with a 3.31 ERA.
CAA CO-ROOKIE OF THE WEEK
Tyler Sorrentino | OF | Charleston
Fr. - West Essex, N.J./West Essex
Sorrentino batted .462 (6-13) with four runs scored, an RBI and two stolen bases as Charleston secured the CAA regular-season title with a pair of road wins at UNCW. The freshman contributed two hits from the leadoff spot in all three games and is batting .360 in CAA play. He's among CAA leaders with 13 stolen bases.
CAA CO-ROOKIE OF THE WEEK
Shea Sprague | LHP | Elon
Fr. - Hanover, Mass./Boston College HS
Sprague fired 5.0 scoreless innings to help lead Elon to a 4-0 shutout victory at Delaware on Sunday. The left-hander limited the Blue Hens to four hits and struck out three as the Phoenix moved ahead of UD in the standings. Sprague is now 4-2 on the season with a 1.29 ERA and has held foes to a .196 batting average.
CONFERENCE NOTES:
CHARLESTON CAPTURES REGULAR-SEASON TITLE: Charleston captured its first CAA regular-season championship since 2015, and second overall, after a series victory at UNCW on Sunday. The Cougars have gone 14-1 in CAA play since dropping its only series at Hofstra on April 2. Charleston, which climbed to #61 in the latest NCAA RPI rankings, will be the top seed for the CAA Baseball Championship and receives a first-round bye.
HOFSTRA CLINCHES TOURNAMENT BERTH: Hofstra became the second team to clinch a spot in the CAA Baseball Championship with its 5-0 victory over Northeastern on Sunday. The Pride, which is 12-9 and finishes league play against JMU this weekend, will be making its first tournament appearance since 2018.
CHARLESTON (31-15, 18-3 CAA): The Cougars won a series at UNCW for the first time, capturing the final two games to clinch the CAA title. Tyler Sorrentino had two hits in all three games and batted .462 in the series. He's riding an 8-game hitting streak. Landon Choboy was 5-for-10 with a homer and three RBI's vs. UNCW, while Cam Dean also contributed five hits in the series. Trey Pooser (4-1) held the Seahawks to four hits over 6.0 shutout innings on Saturday and William Privette recorded his league-best 10th save. Emmett Bice (3-0) made another strong start, allowing one run over 5.0 innings. Cole Mathis blanked UNCW over the final 4.0 frames. The Cougars held UNCW to a .161 average with runners on base.
DELAWARE (22-22, 6-11 CAA): The Blue Hens lost a Sunday twinbill to Elon on Sunday and have dropped their past seven contests. Mike Biasiello gave up just one hit over 4.0 scoreless innings out of the pen in the nightcap and struck out four. He lowered his ERA to 2.95 for the season and has 55 K's in 39.2 innings. Dom Velazquez tossed 2.0 shutout innings in the opener. Zach Klapak fanned seven in 4.0 innings. Catcher Nick Vera went 3-for-5 on the day. Aidan Kane provided a RBI double in the opener that plated Joseph Carpenter, who also doubled, with the only run of the day. The Blue Hens left 12 runners on base in the doubleheader.
ELON (22-22, 7-10 CAA): The Phoenix swept a key doubleheader from Delaware on Sunday and has won four of its last five in CAA play. Elon's pitching staff gave up only one run in the twinbill. Brian Edgington (6-3) held UD to one run on five hits over 7.0 innings and struck out five in the opener. His 79 K's leads the league and the complete game was the second of his career. Five Phoenix pitchers combined on a 5-hit shutout in the nightcap. Shea Sprague (4-2) threw the first 5.0 frames and lowered his ERA to 1.29 for the season. Parker Haskin drove in three runs over the two games. Alex Iadisernia contributed a hit in each contest and added a RBI, run scored and stolen base. He's batting a team-best .311.
HOFSTRA (22-21, 12-9 CAA): The Pride went 2-3 last week, opening with a 6-4 win over Iona and closing with a 5-0 shutout of Northeastern. Brad Camarda moved to 6-1 after firing a complete-game, 5-hit shutout vs. NU on Sunday with six strikeouts. John Mikolaicyk didn't allow a hit in 3.2 innings of relief in Game 2 of the NU series. Brian Morrell batted .333 for the week with a homer and three RBI's, while Will Kennedy hit .313 and drove in three. Nick Marrero made three starts last week and went 6-for-11 (.545). Jake Liberatore smacked a walk-off homer in the bottom of the 9th against his former team, Iona. The Pride defense committed just two errors over the five games last week.
JAMES MADISON (26-20, 11-6 CAA): The Dukes moved into second place in the CAA after a doubleheader sweep of Towson on Sunday. JMU is 7-1 over its past eight league games. Travis Reifsnider went 2-for-3 and scored twice as the Dukes took the opener, 4-2, and added a solo homer in a 5-4 win in Game 2. Mason Dunaway was 2-for-3 with a homer and three RBI's in the nightcap. Justin Showalter (4-6) threw his first complete game since 2020, holding Towson to four hits and one earned run over 7.0 innings and fanning eight. Ryan Murphy (4-2) provided 5.0 shutout innings of relief in the second game with five strikeouts. Eli Ottinger picked up his third save with 2.0 perfect frames.
UNCW (25-21, 10-8 CAA): The Seahawks went 1-3 last week, but ended Charleston's 12-game CAA winning streak with a 4-3 victory last Friday. R.J. Sales moved to 5-1 after giving up only two runs over 6.2 innings. He's 3-0 with a 2.45 ERA in CAA play. Brooks Baldwin was 6-for-11 in the series with two homers and four runs scored. The effort raised his season average to a team-best .351. Ethan Baucom belted his 11th homer on Saturday and drove in four in the series. He's batting .365 and has gone deep seven times in CAA games. Freshman John Newton delivered a key two-run single in Friday's win. Jason Hudak limited CofC to one run in 3.2 innings of relief on Saturday.
NORTHEASTERN (25-22-1, 9-9 CAA): The Huskies won two-of-three at Hofstra last weekend and are 6-1 over their past seven CAA games. Corey DiLoreto went 4-for-5 with two doubles, a homer and three RBI's in Friday's 13-1 victory over the Pride and hit .417 in the series. Luke Masiuk batted .364 (4-11) and drove in two vs. the Pride while extending his hitting streak to six games. Jeff Costello was 5-for-10 and scored three times from the leadoff spot. The Huskies' pitching staff gave up just three earned runs in the series. Eric Yost (4-2) allowed two hits and one run over 5.1 innings to get the win on Friday and Cam Schlittler (4-7) held HU to two runs over 6.0 frames in Sunday's opener.
TOWSON (10-36, 1-16 CAA): The Tigers were beaten 8-6 at George Mason last Tuesday and then dropped a twinbill to James Madison on Sunday. Nolan Young went 4-for-5 in the finale vs. JMU, while Elijah Dickerson doubled and had three RBI's in the two games. James Moses was 3-for-7 and scored three times against the Dukes. Nate Nabholz threw 4.0 shutout innings of relief and fanned four in the nightcap vs. JMU and Cam Clark didn't allow a run in the final 2.1 innings of the opener. Jack McLaughlin homered and drove in three in the setback at Mason and Dickerson was 3-for-4 with two RBI's.
WILLIAM & MARY (19-21, 8-10 CAA): The Tribe was off last week after its originally scheduled weekend series with Notre Dame was cancelled and replacement games with Radford and Navy were rained out. W&M closes non-conference play at rival Old Dominion on Wednesday before playing a pair of critical conference series with Delaware and Elon. The Tribe has two of the league's top eight hitters in CAA play in outfielder Matt Thomas (.342) and infielder Ben Williamson (.339). Joe Delossantos has contributed five homers and 18 RBI's vs. CAA foes. On the mound, freshman Carter Lovasz has a 1.42 ERA in 19 innings of work in conference action and Jack Cone is 1-1 with a 2.49 ERA.