2022 Tri-City Valleycats vs Florence Y'Alls
Frontier League: Rookies To Watch
Frontier League: Rookies To Watch
Rookies, who make up a sizable portion of Frontier League rosters, will look to standout as the season gets underway this week.
May 9, 2022
by Mike Ashmore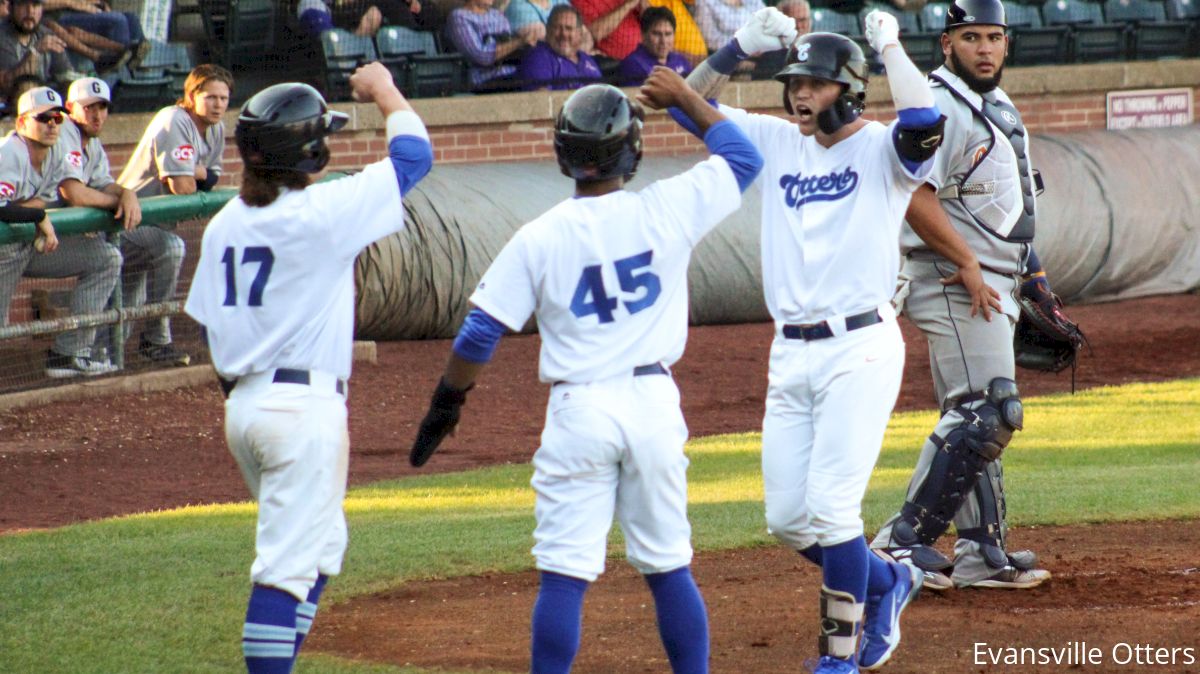 To produce a list of "rookies" to watch this season, one must first delve into the unique roster rules of the Frontier League.
According to the league's website, "each club must carry a minimum of ten (10) rookies (combination of Rookie-1 and Rookie-2 players). The Rookie classification will be split into two sub-classifications, Rookie-1 and Rookie-2. The Rookie-1 sub-classification will be for players who made their professional debut in the current season and therefore have no prior professional experience, or whose experience does not meet the minimum appearances listed below. The Rookie-2 sub-classification is for players who have one year of professional experience."
In short, a player classified as a rookie in the Frontier League might not necessarily be a rookie in traditional terms. Here are five to keep an eye on as the 2022 season is set to get underway later this week, as seen exclusively on FloBaseball.
Joe Riley, RHP, Evansville Otters
Riley falls into the Rookie-2 category, set to enter what will be his second full season in professional baseball, and third overall. The 26-year-old righty reliever was undrafted out of Lewis-Clark State (Idaho) where he served as their closer, helping them to the NAIA World Series.
After a brief stint with Sioux City of the American Association in 2019, Riley returned there last year, but was dealt to Evansville mid-season and immediately established himself as one of the club's more reliable arms out of the bullpen; he posted a 2.51 ERA in ten appearances, striking out 18 batters in 14 1/3 innings compared to just five walks.
Lucas Burton, RHP, New York Boulders
Burton is a 25-year-old Rookie-2 right-handed reliever, set for his fourth year out of the Boulders bullpen. Burton is a frequent darling of the scouting community with some impressive metrics and often throws and works out at long-time Indy ball pitcher Greg Modica's facility in Queens. The Molloy College standout had a bit of a tough season in 2021, but still has a chance to get an opportunity in affiliated baseball with a rebound campaign this year.
Even with an inflated 5.77 ERA last year in the Frontier League, Burton still struck out 45 batters in 39 innings of work, and was re-signed by the team in March with the hopes of finally unlocking his potential.
Brennan Price, INF, Florence Y'alls
No matter what you're looking for, you won't be able to miss Brennan Price. Listed at 6-foot-9, 290 pounds, Price is considered a Rookie-1 despite several years of experience in the Toronto Blue Jays system, where he didn't advance above the rookie ball level.
Price is a dual threat as a hitter and a pitcher—he was used strictly as a reliever in the USPBL in 2019, but as a two-player in both the COVID-one off All-American Baseball Challenge and Washington League circuits in 2020. The Middlesex, NJ native graduated Felician University and was a 29th round draft pick of the Milwaukee Brewers back in 2016, but did not end up signing.
John Baker, RHP, Sussex County Miners
Baker is an intriguing arm, a former 29th round draft pick of the Miami Marlins in 2019, he ultimately did not sign with the team, electing to instead stay at Ball State, where he put up dazzling numbers over a five-year run. A two-time All-MAC first-teamer, the 6-foot-3, 208 pounder led the Mid-American Conference with a 2.13 ERA in 2019 and finished with a 27-14 record and over 400 strikeouts at the NCAA level before joining the American Association's Chicago Dogs last season.
Now considered a Rookie-2 because of that experience, Baker was acquired by the Miners in an off-season trade, and at just 24 years old, should draw some attention from big league scouts. He went 4-3 for the Dogs with a 3.72 ERA in 21 appearances last season, including four starts.
Hanley Acevedo, OF, Empire State Greys
The traveling nature of the Greys means they'll likely have more rookies than anyone, and Acevedo is one of many with an intriguing background.
Just 22 years old, Acevedo has retained Rookie-1 status despite two seasons in the Toronto Blue Jays system, first with one of their Dominican Summer League teams in 2018, and then their Gulf Coast League club in rookie ball the following year. He was most recently seen in the independent Empire League in 2021, where the outfielder hit .232 in 38 games for the Plattsburgh T-Birds.