2022 St. Joseph's vs Villanova
BIG EAST Games Of The Week: UConn & Creighton Finally Clash
BIG EAST Games Of The Week: UConn & Creighton Finally Clash
Crunch time is here for BIG EAST baseball. Here are the games to watch for this week.
May 3, 2022
by Briar Napier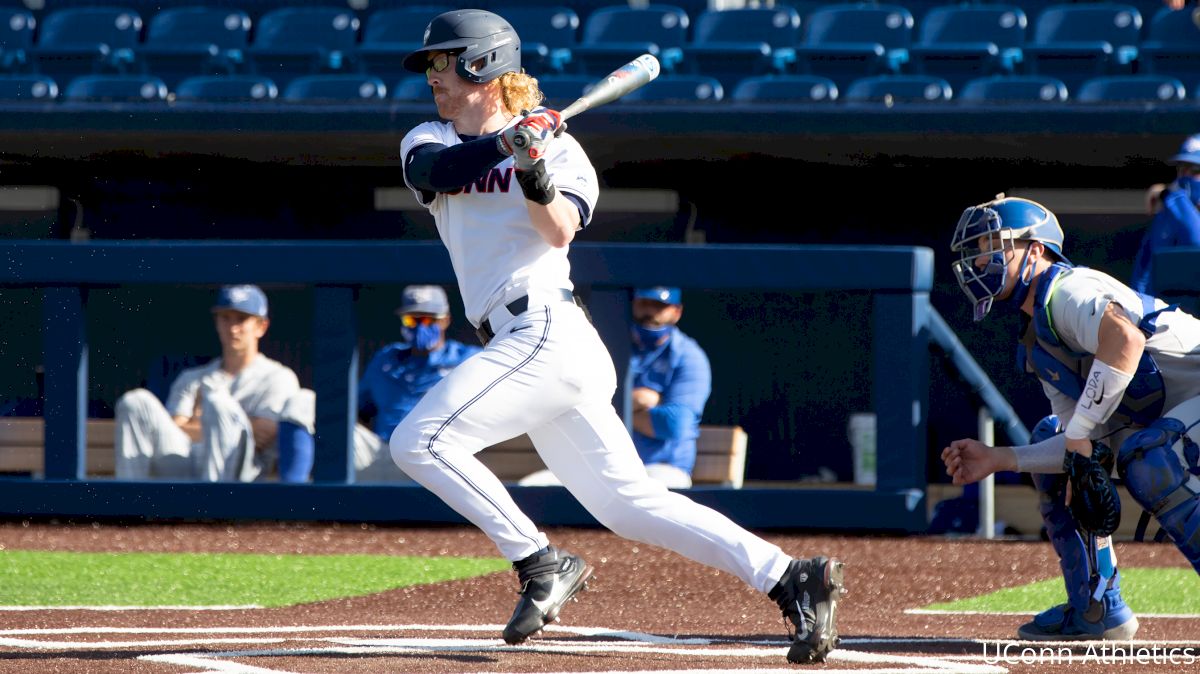 Crunch time is here for BIG EAST baseball.
With just three weekends in the regular season to go before the all-important BIG EAST Tournament later this month, arguably the most important stretch of matchups of the year is ahead. And there is none more important than a series featuring the league's top two teams this weekend.
Dark horses still lurk, however, and with postseason seeding and dreams in the balance, much is left to be decided as the final days tick down.
NOTE: All statistics and records are updated as of the conclusion of Monday's games. First pitch times are listed in Eastern Time.
Saint Joseph's Vs. Villanova
A little bit of animosity in the City of Brotherly Love. Sure, Villanova is currently under .500 and trying to find its way within the middle of the pack in the BIG EAST standings, but a game against a Big 5 rival — no matter the sport — is always a big deal in the city of Philadelphia. The two city rivals squared off once already this season, with the Hawks getting the 11-7 win on March 15 despite a four-RBI day from Villanova shortstop Cameron Hassert. 'Nova will aim for redemption in Round 2 — and to keep a grip on a narrow 16-14 all-time series lead against SJU — in the first of a stretch of four nonconference meetings in a row as the Wildcats are off from conference play this weekend, instead playing Virginia Tech twice.
There is a burning question in regards to the Wildcats, however: which team will show up? Will it be the team that defeated BIG EAST kings UConn 4-1 in Storrs last month (the only league team to beat the Huskies thus far) or the squad that lost 11-8 to basement-dweller St. John's just this past Sunday to ruin a chance at a series sweep? Maybe one statistic in coach Kevin Mulvey's squad's favor is that it hasn't lost a non-conference game since mid-March, going 6-0-1 after being defeated by Tulane on March 19. Still, St. Joe's definitely enters this rivalry meeting as the hotter team overall, having won four of its past five games — including a series win over Fordham in Atlantic 10 play — entering its rubber match with its crosstown rival.
Xavier Vs. Butler
Friday, May 6 at 4 p.m.; Sunday, May 8 at 1 p.m.
As the BIG EAST's two heavyweights duke it out in what should be an explosive set of games this weekend — more about that down below — Xavier can sense opportunity. In fact, as much as a six-game swing could be in effect if absolutely everything goes to plan for the Musketeers, meaning this weekend's series against last-placed Butler has much more meaning and tension to it than it normally would. Xavier is currently the BIG EAST's "best of the rest" in third place with a 6-6 (.500) record in conference play, sitting only behind Creighton and UConn though at an admittedly-sizable deficit with the runner-up Bluejays sitting at 10-2 against league foes. But if Xavier gains ground in a favorable series while Creighton — or even UConn — loses it in a competitive one, it could throw another wrench into seeding implications for the BIG EAST Tournament later this month.
The Musketeers having some potent power at the plate helps matters, as well. Senior outfielder Luke Franzoni is still going amid a monster season in which he's hitting .365 with a BIG EAST-leading 17 home runs, while senior shortstop Jack Housinger isn't too far behind in terms of going yard with 12 homers to his name this year. Butler, meanwhile, got swept by UConn this past weekend and is winless in seven straight games (including a 12-12 tie with St. John's on April 24). The Musketeers should roll, even in Indianapolis, but they'll likely be keeping an eye on scores elsewhere this weekend, too.
Creighton Vs. UConn
Friday, May 6 at 6 p.m. ET; Saturday, May 7 at 1 p.m. ET, Sunday, May 8 at 1 p.m.
It had to happen sometime. The BIG EAST baseball scene has clearly had two teams above the rest all year, and now they'll finally get to face off in a three-game series to establish the true top dog of the league. Right now, it's UConn, a fact few can argue as the Huskies are a stunning 37-8 overall with no consecutive defeats and a near-unblemished (11-1) mark against the rest of the conference this season, catapulting their way to No. 15 in the latest D1Baseball Top 25. The first 40-win season since 2011 — when UConn made its first and only Super Regionals appearance to date — is almost certainly in the cards, and when Erik Stock (.412, 41 RBI) and Co. tear apart opponent after opponent, it feels as if no school until the postseason hits can stop it. Except maybe Creighton.
At 10-2 in BIG EAST play, the Bluejays have largely kept pace with the Huskies, and with a series win would surpass the reigning league champions for the top spot in the current standings. Junior right-hander Dylan Tebrake (6-1, 2.76 ERA, 71 strikeouts) is widely considered the top ace in the conference as the rotation's 3.88 team ERA is a top-20 mark nationally. The only one better than it in the BIG EAST? UConn's stellar mark of 3.01 across the pitching staff, ranking second nationally behind only Tennessee (2.20) and its historic year. Expect three games of high drama, elite baseball, and plenty of stakes; whoever comes ahead after this weekend is probably bound for some type of silverware.