CAA
CAA Baseball Weekly Report | May 2
CAA Baseball Weekly Report | May 2
Catch up on the CAA Baseball weekly news, notes, and awards.
May 3, 2022
by FloBaseball Staff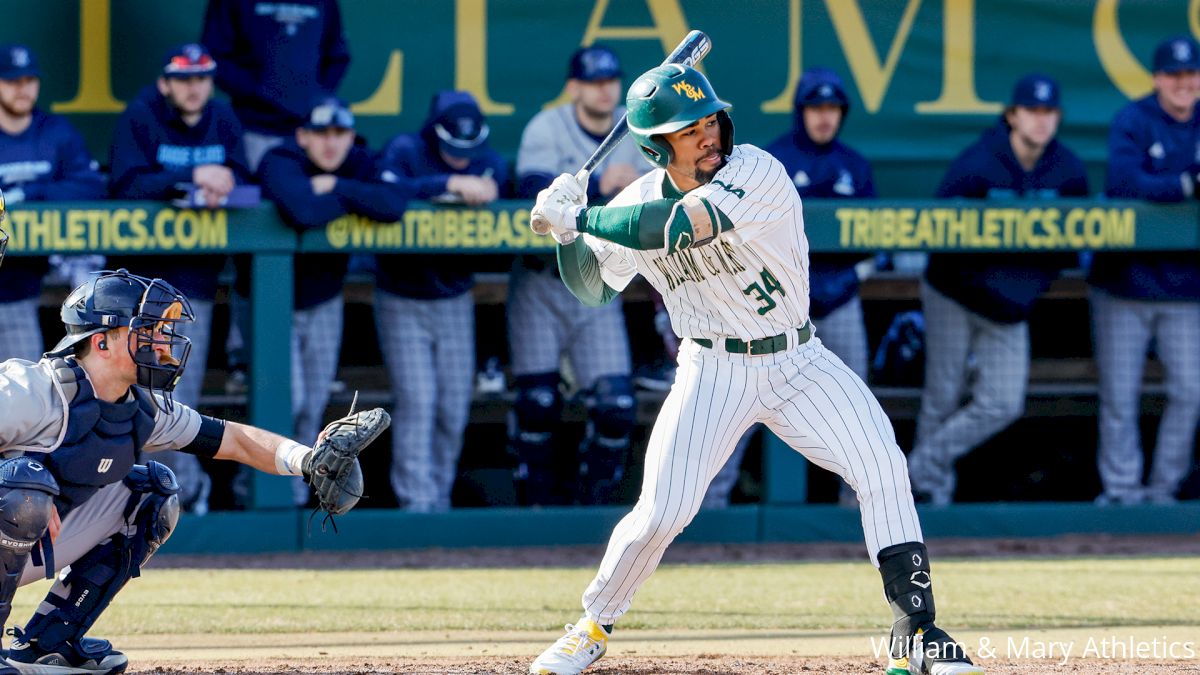 CAA PLAYER OF THE WEEK
Joe Delossantos | OF | William & Mary
Jr. - Creedmore, N.C./Granville Central
Delossantos batted .400 (6-15) with 2 doubles, 2 homers, 7 runs scored, and 8 RBI's in W&M's 2-2 week. The junior went 3-for-4 and scored twice in an 11-6 win at VCU, belted two homers, and drove in seven in the Tribe's series with Hofstra. His 3-run shot in the 7th on Sunday helped break open a one-run game. He also walked three times and stole a base.
CAA CO-PITCHER OF THE WEEK
Emmett Bice | RHP | Charleston
Jr. - West Chester, Pa./Archmere Academy
Bice went 1-0 and didn't allow an earned run in 10.1 innings of work over two appearances last week. The junior made his first career start against Delaware on Sunday and gave up just three singles over 7.1 shutout frames and struck out five in a 9-0 victory. He also fanned five in 3.0 innings of relief work vs. Coastal Carolina.
CAA CO-PITCHER OF THE WEEK
Ryan Murphy | RHP | James Madison
So. - Vienna, Va./James Madison
Murphy held Presbyterian to two singles over 8.0 shutout innings in JMU's 4-0 win on Sunday. The sophomore carried a no-hitter into the seventh and didn't allow a runner to reach second base until the eighth. It was a career-long outing for Murphy, who struck out four and improved his record to 3-2.
CAA ROOKIE OF THE WEEK
Grant Painter | OF | James Madison
Fr. - Staunton, Va./Riverheads
Making his first two collegiate starts, Painter went 6-for-6 with a walk, sacrifice bunt and run scored in JMU's games at Presbyterian last weekend. The freshman was a team-best 3-for-3 in both contests and reached base in seven consecutive plate appearances. The hits were the first of his collegiate career.
CONFERENCE NOTES:
CHARLESTON KEEPS ROLLING: Charleston extended its CAA winning streak to 12 games after sweeping its fourth straight series against Delaware last weekend. The Cougars, who improved to 16-2, have built a five-game lead over second-place Hofstra and were the first team to clinch a spot in the CAA Baseball Championship. The 16 CAA wins are Charleston's second-most since joining the league in 2014 and the Cougars were undefeated (12-0) at home in CAA play for the first time.
PRIVETTE, PECILUNAS NAMED TO STOPPER WATCH LIST: Charleston's William Privette and Towson's Jake Pecilunas were named to the NCBWA Midseason Stopper of the Year Watch List last week. Privette is 3-0 with nine saves and a 0.81 ERA in 18 appearances. He has 56 strikeouts in 44.1 innings. Pecilunas is 1-2 with four saves and a 2.55 ERA in 18 appearances. He has 18 strikeouts in 24.2 innings.
CLOSE GAMES IN CAA PLAY: Four conference games played last weekend were decided by three runs or less. For the season, nearly half of all league contests (35-of-72) have had margins of three runs or fewer.
CHARLESTON (29-14, 16-2 CAA): The Cougars fell to Coastal Carolina, but have won 10 of their last 11 after a weekend sweep of Delaware. CofC's pitching staff held the Hens to seven runs on 16 hits in the series. Ty Good moved to 7-3 after giving up one run on two hits over 6.1 innings on Friday. Emmett Bice made his first career start on Sunday and allowed just three singles over 7.1 shutout innings in a 9-0 victory. William Privette recorded his league-leading 9th save on Saturday after throwing 2.2 scoreless frames, dropping his ERA to 0.81. Tyler Sorrentino had two hits in all three games vs. UD and drove in four. Tanner McCallister, Cam Dean, and Landon Choboy each had four hits in Friday's 13-2 win.
DELAWARE (22-20, 6-9 CAA): The Blue Hens went 0-4 last week, including three losses at Charleston. Freshman Carter Welch tossed 4.0 shutout innings and struck out a career-best seven in a 4-2 setback to Saint Joseph's last Tuesday. Zach Klapak provided 5.0 scoreless innings from the pen at Charleston on Sunday and fanned seven. Joey Loynd had a hit in three of the four games last week, including a 3-for-4 effort against SJU. He's batting .311 with a team-high 37 RBIs for the year. Jordan Hutchins hit his second homer of the season at CofC on Saturday, tying the game at 2-2. Joseph Carpenter was 3-for-5 in the same contest with two runs scored and an RBI. He's hitting .331 this season.
ELON (20-22, 5-10 CAA): The Phoenix won their first CAA series of the year, taking two-of-three at UNCW. Griffin Arnone's two-run single in the 8th lifted Elon to a 3-1 win on Sunday, while Luke Stephenson smacked a game-tying solo homer in the 9th on Friday as the Phoenix picked up a 2-1 victory in 10 innings. Ben Simon (3-0) earned the win in both games after giving up just two hits over 5.0 shutout innings and striking out four. Brian Edgington held the Seahawks to one run on three hits over 6.2 innings and fanned eight on Friday. Freshman Shea Sprague gave up one run over 5.1 frames on Sunday. Sprague is 3-2 with a 1.43 ERA for the year, while Edgington is 5-3 with a 2.98 ERA and a team-best 74 K's.
HOFSTRA (20-18, 11-7 CAA): The Pride split four games last week, but won their fifth CAA series at William & Mary to move into second place. The five series wins are the most since 2012 and allowed Hofstra to reach 20 overall victories for the first time since 2018. Brian Morrell batted .438 for the week, including a 4-for-5 effort with two homers and four RBIs in an 18-7 triumph at W&M on Friday. Zack Bailey also had four hits on Friday and belted his first homer on Saturday. The Pride offense scored 33 runs vs. the Tribe. Anthony D'Onofrio saw his 25-game on-base streak end on Sunday. Mark Faello improved to 6-2 on Friday and eclipsed 100 strikeouts (103) for his career. Ryan Morash had six RBIs in the series.
JAMES MADISON (24-20, 9-6 CAA): The Dukes went 1-3 on the road, but capped the week by shutting out Presbyterian, 4-0, on Sunday. Ryan Murphy (3-2) took a no-hitter into the 7th and surrendered just a pair of singles over a career-best 8.0 innings. Trevon Dabney who leads the CAA with 50 runs scored, contributed a two-run double in the victory and Kyle Novak had his league-best 44th RBI. Novak was also 3-for-4 with a double and four RBIs in an 11-8 setback to #7 Virginia Tech. Liam O'Donnell limited PC to two runs in 6.1 innings on Saturday and fanned eight. Grant Painter made his first two career starts at PC and was 6-for-6, reaching base in seven straight plate appearances.
UNCW (24-18, 9-6 CAA): The Seahawks had a 1-3 week, including a CAA series setback to Elon. UNCW rolled past the Phoenix, 16-7, on Saturday as Ethan Baucom went 4-for-5 with three RBIs and Matt Suggs smacked his league-leading 11th homer and drove in three. Baucom hit his 10th homer of the year on Sunday, while Suggs finished the week with six RBIs to raise his season total to 41. Freshman R.J. Sales scattered four hits over 7.1 scoreless innings vs. Elon on Friday and struck out five. He's 2-0 with a 2.40 ERA in five CAA starts. Freshman Zane Taylor held EU to one run on three hits over 6.2 innings on Sunday and fanned six. Jason Hudak (4-1) limited EU to one run over 4.1 frames on Saturday.
NORTHEASTERN (23-21-1, 7-8 CAA): The Huskies swept a CAA series from Towson to highlight a 4-1 week. NU's pitching staff held opponents to 13 runs over the five games. Cam Schlittler held the Tigers to two runs over 8.0 innings and struck out seven in a 6-2 win on Saturday, while Wyatt Scotti and Eric Yost combined on a six-hitter in Friday's 6-1 triumph. Jordy Allard threw 4.0 shutout innings vs. UConn. Catcher JP Olson batted .636 (7-11) for the week with five runs scored and three RBIs. He also caught three runners trying to steal. Freshman Luke Masiuk hit .286 and drove in four last week. Danny Crossen was 4-for-4 with three RBIs vs. TU on Sunday and drove in a run in all three games of the series.
TOWSON (10-33, 1-14 CAA): The Tigers dropped all four games last week, including their CAA series at Northeastern. Jordan Peyton led Towson offensively at NU, batting .364 (4-11) with three doubles. Nolan Young and Chandler Castleberry each contributed a pair of hits and drove in a run in Sunday's setback. The Tigers hit eight doubles in the NU series, with five coming on Sunday. Ethan Pecko allowed only four hits and no earned runs over 4.0 innings in the series opener vs. the Huskies. Nick Janowicz held NU to two earned runs on four hits over 6.0 innings on Saturday.
WILLIAM & MARY (19-21, 8-10 CAA): The Tribe split four games last week, beating defending A-10 champ VCU and taking the finale of their CAA series with Hofstra. W&M's offense plated 36 runs in the four games. Joe Delossantos batted .400 with two homers, seven runs scored, and eight RBIs. Matt Thomas extended his hitting streak to 10 games last week and scored a run in each contest. Mark Trotta was 4-for-5 and drove in two in Sunday's win over the Pride. David Hogarth batted .600 (6-10) in the Hofstra series. Freshman Carter Lovasz allowed just one run on three hits over 6.0 innings in two relief outings last week. He earned the win at VCU and picked up a nine-out save against Hofstra.