2022 Coastal Carolina vs Charleston
CAA Games Of The Week: Two Big Non-Conference Contests
CAA Games Of The Week: Two Big Non-Conference Contests
Less than a month remains in the CAA baseball regular season, and Charleston continues to put distance between itself and the rest of the league.
Apr 25, 2022
by Kyle Kensing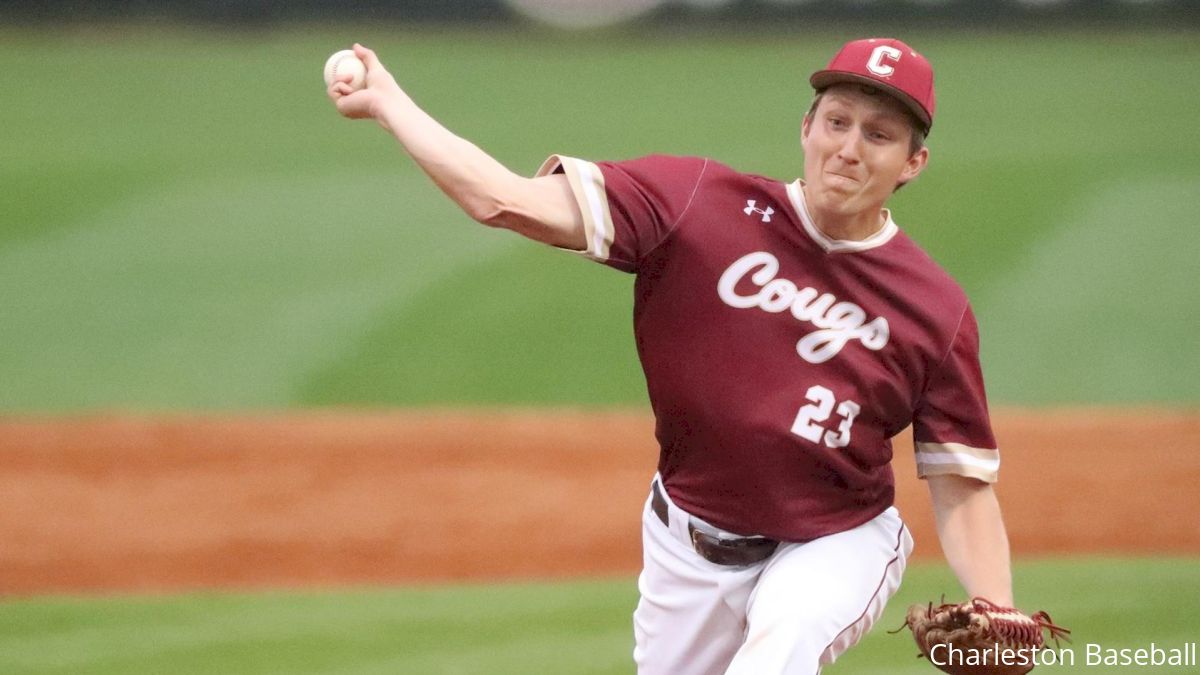 Less than a month remains in the Colonial Athletic Association baseball regular season, and Charleston continues to put distance between itself and the rest of the league.
The Cougars went on the road to sweep Elon this past weekend, extending their longest winning streak of the season to seven games overall. In Colonial play, Charleston is undefeated since April 2 and has three consecutive series sweeps to its credit.
A huge stretch awaits Charleston as April gives way to May and the Cougars aim to solidify themselves as NCAA Tournament contenders, starting with a four-game homestand beginning April 26.
And Charleston isn't the only CAA team with some marquee matchups in the coming week.
Northeastern Vs. Connecticut
Tuesday, April 26 at 3 p.m. ET
BIG EAST-leading Connecticut visits Boston for a regional showdown in non-conference play. Erik Stock has been central to UConn's outstanding campaign, batting a staggering .422 in 161 at-bats. Stock and Casey Dana, who is batting .311, have combined for 79 RBI through 40 games.
In its last Tuesday contest, UConn gave up five runs in the first inning against UMass—then proceeded to outpace the Minutemen 28-5 the rest of the way. While the Huskies can put up runs with remarkable efficiency, that game was an outlier—UConn's pitching has typically been excellent throughout the season.
To that end, expect the battle of the Huskies to be low-scoring. Northeastern has struggled to defend its CAA crown, but not due to pitching. Three of NU's primary starters sport ERAs ranging from 1.89 to 3.26.
Charleston Vs. Coastal Carolina
Tuesday, April 26 at 6 p.m. ET
Coastal Carolina ranks among the nation's most powerful programs of the 21st Century, a distinction cemented with the Chanticleers' 2016 College World Series championship.
This Palmetto State showdown offers Charleston an opportunity to make its mark on the local scene. The Chanticleers come in outside of the postseason chase, sitting in fourth in the Sun Belt Conference race. Coastal remains a dangerous opponent all the same, thanks in part to the hitting of Tyler Johnson and Eric Brown.
The two are batting .331 or better to lead the Chants, while Austin White—hitting a shade below .300—has 24 stolen bases on 27 attempts.
Hofstra Vs. William & Mary
Friday, April 29 at 5 p.m. ET; Saturday, April 30 at 2 p.m. ET; Sunday, May 1 at 1 p.m. ET
William & Mary hit a rough patch after starting CAA play at the top of the standings. The Tribe come into this week looking to snap a seven-game losing skid and get back on track for the final stretch to the CAA Tournament.
Hostra, meanwhile, has played its way into the upper-half of the conference and can make a run at the league title with a strong finish. The Pride boast a trio of .300-plus batters leading the lineup in Kevin Bruggeman, Brian Morrell and Jake Liberatore, while pitcher Brad Camarda ranks among the tops in the CAA with 50 strikeouts.
Elon Vs. UNC Wilmington
Friday, April 29 at 6 p.m. ET; Saturday, April 30 at 4 p.m. ET; Sunday, May 1 at 1 p.m. ET
UNC Wilmington comes into the final days of April second in the CAA, with a monster series against Charleston looming. Before the Seahawks get a crack at the Cougars, however, they must take care of business against Elon.
The Phoenix bats struggled against Charleston's tough pitching staff in last weekend's series. UNCW, meanwhile, is seeing its pitching staff step up recently. Cyle Phelan has come on strong, not giving up a run in any of his last three outings that span 17 innings. RJ Sales has two games with nine strikeouts in his last three starts, and a third appearance striking out five this month.