2022 Connecticut vs Butler
How Butler's Aaron Steinhart Rediscovered His Love For The Game
How Butler's Aaron Steinhart Rediscovered His Love For The Game
This season, Steinhart is slashing .299/365/515 with seven homers, 27 RBI and 19 runs through 35 games. He's tied for the team lead in hits with 40.
Apr 21, 2022
by Stephen Kerr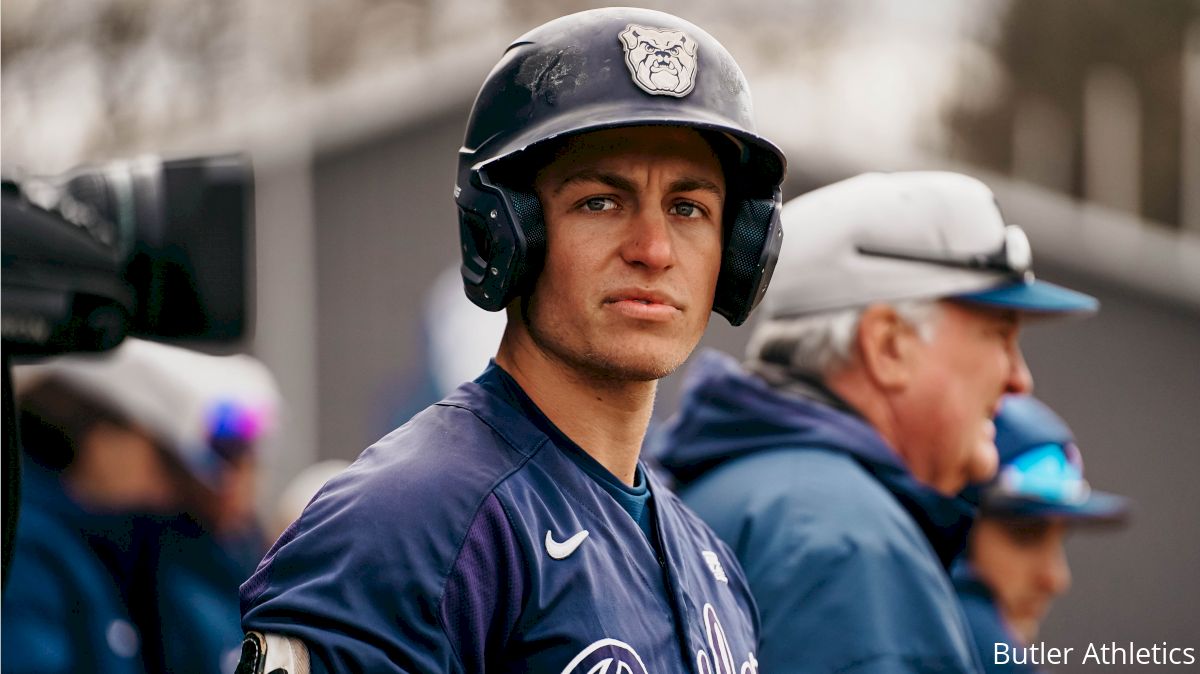 Over the past several years, Butler designated hitter/outfielder Aaron Steinhart constantly thought about walking away from baseball. The 5-11, 190-pound left handed-hitting junior from Jupiter, Florida was having a difficult time finding his place and rhythm in a sport filled with roller coaster rides and high expectations.
Steinhart initially committed to play for Stetson after considering Davidson, Columbia and Army, but quickly discovered it was not a good fit. He saw action in only 10 games, mainly as a pinch-hitter and backup catcher, getting three hits in six at-bats with an RBI.
After the season, Steinhart transferred to Pasco-Hernando State Junior College in New Port Richey, Florida. He played in 23 games, hitting .198 with two doubles, two triples, a homer and nine RBI before COVID-19 put an end to the season.
To make matters worse, Steinhart developed a serious case of the yips, which hampered his ability to perform his duties behind the plate.
"I've been pretty back-and-forth since my freshman year at Stetson about if I wanted to continue playing," explained Steinhart, who was switched to designated hitter this season to alleviate the pressure of playing defense full-time.
"The game kind of beats you up. I went through the yips for a really long time, it was like seven or eight years. It got good for a little bit, got bad, and that's what ended up bringing me to stop catching."
Although Steinhart struggled at Pasco-Hernando, he and head coach Lyndon Coleman became close. Coleman, who earned a master's degree in sport psychology at Capella University, understood the mental toll the yips and the game in general had taken on Steinhart.
"He was lost when he showed up here," recalled Coleman, who played at Pasco-Hernando and Barry University in Miami.
"He didn't know if he wanted to catch, play first, the outfield… The thing about Aaron is that he loves people. People love him, and he's a very good communicator. He gets along with everyone. He was focusing too much of his career, his life and his self-worth based upon one simple thing, which was throwing a baseball. I think I kind of got through to him that there is so much more to life and so much more to the game of baseball than just that one issue."
Coleman's assessment of Steinhart's personality is easy to spot. He's a self-proclaimed open book and isn't afraid to be candid about his struggles or how he believes others view him. He credits Coleman for helping him see baseball in a completely different light.
"He taught me a lot mentally about the game," Steinhart said.
"I struggled a little bit that year in the spring offensively. But I think it was another stepping stone not just about baseball but in life. It was a good experience. I was happy with it."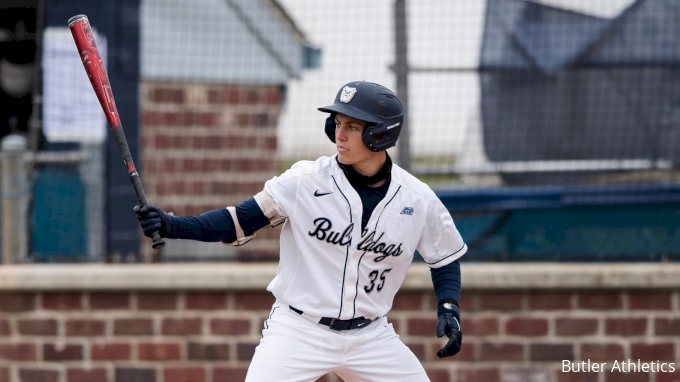 Since taking over the Butler baseball program as head coach in the summer of 2016, Dave Schrage has already moved up to fourth on the Bulldogs' all-time wins list. At the same time Steinhart was exiting Stetson, Schrage was in the market for a catcher, someone with divisional experience who had also played juco ball. Assistant coach Matt Kennedy happened to be in Florida and had some familiarity with Steinhart through a relationship with Coleman. The prospect of having a left handed-hitting catcher was also intriguing to the coaching staff.
With Schrage's help, Steinhart went to see a sports psychologist. The visits helped, along with Schrage's suggestion to switch to DH and play a little outfield to take the stress off.
"As a coach, I never like to see kids say, 'hey, I'm done'," Schrage explained.
"Last year, he came in and did a really good job behind the plate for us."
Steinhart started 30 of the 32 games he played in 2021, slashing .262/.395/.466 with 22 runs scored. He ranked second on the team with 24 RBI, and ended the season with 48 total bases, four doubles, a triple and five home runs. He went on one of the longest hitting streaks of the season of any Bulldog that covered six games, and had a .974 fielding percentage behind the plate.
Under Schrage, Steinhart has learned to trust himself and be confident in his ability.
"That's what I feel like I'm really good at, just being mentally in a good mindset each game, trying to have fun," Steinhart said.
"Obviously you have to care, but you have to know that failure is going to happen seven out of 10 times. You've just got to keep going, and the game eventually evens out."
Like many kids, Steinhart developed his love for baseball through playing catch with his father. Conrad Steinhart played baseball and football at Bucknell, and has run his own business selling Christmas trees for 40 years. Growing up in Florida allowed Aaron to play the game year-round. A three-year letter winner at the Benjamin School, he batted .382 with 23 runs and 30 RBI in 30 games his senior year. He was a two-time first team All-County selection, and was named to the 4A-6 All-District team twice.
Steinhart's resilience can perhaps be traced to watching the example his dad set growing up. He remembers Conrad putting in 18-hour workdays, yet still making time for the family. That made a lasting impression on Aaron.
"He's influenced me a lot as far as baseball, but I think the more influence he's had on me is just as a person and as a leader," Aaron explained.
"Those things are more important than how you are as a baseball player. If you can influence others, baseball comes easily."
Schrage, who employs a leadership committee rather than one team captain, noticed almost immediately that Steinhart's outgoing personality meshed well with the team. The players noticed, too, voting him to the committee this season.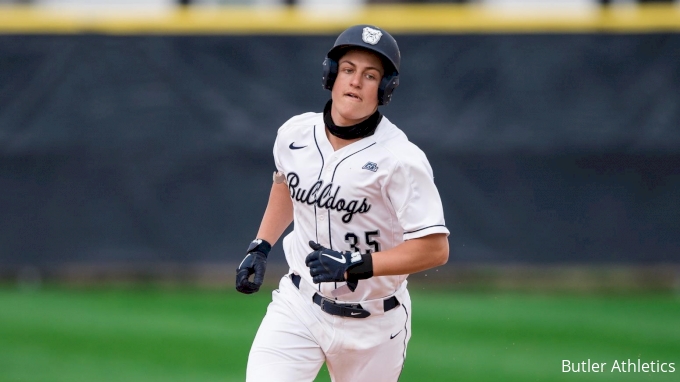 "He's the guy in the dugout that gets everybody going," Schrage said.
"He's the guy who always says, 'hey, let's go, let's pick it up'. No matter what the score, he's always encouraging his teammates. He's got a little sense of humor to him, too. He says some really funny things in the dugout that kind of relaxes the moment, takes the edge off the team."
This season, Steinhart is slashing .299/365/515 with seven homers, 27 RBI and 19 runs through 35 games. He's tied for the team lead in hits with 40, and has hit safely in eight straight games. He's the only Bulldog this season to get four hits in a game, going 4-for-5 with two homers, five RBI and 10 total bases in a 13-8 loss to Northern Kentucky on March 1.
Steinhart is at his best when getting first-pitch fastballs. Like many left handed hitters, he struggles against lefty pitchers, but has worked on becoming more comfortable in those situations.
"I definitely see a lot of left handed sliders," he explained.
"Sometimes, I will sit on that pitch. It's helped me a lot, (but) sometimes I've been late on an 84-mile-an-hour fastball. It's frustrating, but it's another thing I have to improve on."
Away from the game, Steinhart is an avid golfer, taking every opportunity he can to get on a course during off-days. A business major, he hopes to create something special the way his dad did by starting his own business.
Coleman, who continues to follow Steinhart's career at Butler, believes his ability to overcome the struggles that plagued him at the collegiate level will take him anywhere he wants to go.
"I'm very happy for him," Coleman said.
"I truly believe he found himself here (At Pasco-Hernando), which allowed him to change scenery again, go up to Butler and get a fresh start and implement some of the things he learned here."